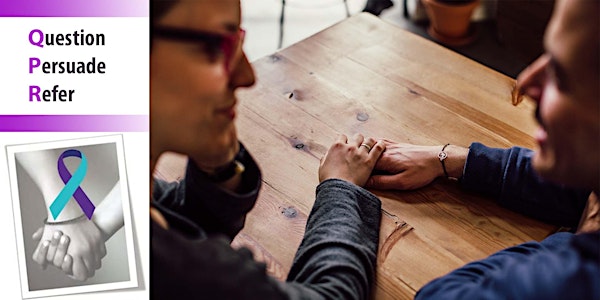 Question Persuade Refer (QPR) Training with Janet Mason
Question, Persuade, and Refer — Learn the 3 steps to recognize warning signs of a suicide crisis and refer to services to help save a life.
About this event
QPR stands for Question, Persuade, and Refer — the 3 steps anyone can learn to help save a life from suicide.
People trained in QPR learn how to recognize the warning signs of a suicide crisis and how to question, persuade, and refer someone to help.
Each year thousands of people, like you, are saying "Yes" to saving the life of a friend, colleague, sibling, or neighbor.
QPR can be learned in our Gatekeeper course. A gatekeeper is someone in a position to recognize a crisis and the warning signs that someone may be contemplating suicide. Gatekeepers can be anyone, but include parents, friends, neighbors, teachers, ministers, doctors, nurses, office supervisors, squad leaders, foremen, police officers, advisors, caseworkers, firefighters, and many others who are strategically positioned to recognize and refer someone at risk of suicide.
QPR is a community training that helps participants to learn how to recognize and refer people at risk of suicide to support services, before an adverse event occurs.  The hope is that the more people trained in recognizing and referring at-risk people, the more likely at-risk people will be supported and referred and before an attempt at suicide.
In this training you can expect to learn to ask key questions and actively listen to their responses so people will be more likely to open up to you.  You'll learn the importance of means reduction, e.g. removing the means by which someone would attempt suicide.  And you'll understand the importance of compassionate connection and referring to community agencies. 
1) How to Question, Persuade, and Refer someone who may be suicidal
2) How to learn more about preventing suicide
3) The common causes of suicidal behavior
4) The warning signs of suicide
5) How to get help for someone in crisis
TRAINER BIO
Janet Mason, MSW, ACSW, MAC, CAADC
Janet Mason teaches as Professor Emeritus in the Human Services and Social Work Departments at the College of Lake County after recently retiring as a full-time faculty and department chair. Her passions and specialty areas include social justice and equity issues, substance use and co-occurring disorders, suicide awareness and prevention, criminal justice, and women's issues. As an instructor for over twenty years, she has inspired and prepared students to work in the social services field, building upon their strengths, and empowering them to empower others.
Janet helped to initiate CIT (Crisis Intervention Team) Training in Lake County, including teaching for a pilot program to develop the National Curriculum for Law Enforcement for community-based responses to mental health crises. Other professional experience includes twenty years of positions in direct service counseling and/or administration in areas of domestic violence, substance use/addictions, prevention, and community corrections/residential programs. Throughout her career, she has worked to create partnerships with social service agencies, the mental health community, and the people we serve. She participates on numerous community committees including Lake County Suicide Prevention Task Force, SUSTAIN (Lake County Substance Use Services Training and Information Network), the Lake County Opioid Initiative, and the Illinois Association of Addiction Professionals. In her spare time, Janet enthusiastically facilitates an ongoing community educational group on justice and equity issues.
This training is sponsored by the Lake County Suicide Prevention Task Force. 
AGENDA
Login opens 10 minutes prior to QPR Training
QPR training- 1 hour and 30 minutes
Who should sign up for this event?
Parents, friends, neighbors, teachers, librarians, first responders, public employees, religious leaders--anyone who cares and wants to make a difference--can sign up. The idea is to get trained to recognize signs of suicidal ideation or mental health emergencies in friends, family, colleagues, and neighbor; then, to get comfortable with offering support and helping connect people to community services.  
How can I contact the organizer with any questions?
If you are no longer able to attend, please contact prevention.lcsptf@gmail.com.  Please do not hesitate to reach out should you have questions about this online training.