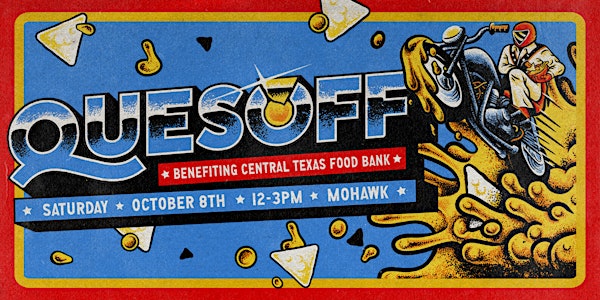 Quesoff 2022
Quesoff is a celebration of the phenomenon of melted cheese, benefiting the Central Texas Food Bank
When and where
Location
Mohawk Austin 912 Red River Street Austin, TX 78701
About this event
Quesoff, a celebration of all things melted cheese, will take place at The Mohawk (912 Red River in Austin, TX) on Saturday, October 8th from noon to 3pm. Restaurants, top chefs, home-cooks, neighbors, brothers, sisters, pets will all go head to head in four categories - Meaty, Spicy, Veggie and Wild Card. A Best in Show will also be awarded to the overall top queso dish as decided by the esteemed panel of judges. DJ uLOVEi will furnish the soundtrack to it all. Franklin Barbecue will be providing the Quesoff house queso this year.
Quesoff is honored to benefit the Central Texas Food Bank.
As always, Quesoff will feature restaurants, chefs, hotels and a whole host of home cooks vying for glory. Past champions Better Half, Eldorado Cafe and Cheesus Queso will be joined by Chef Flaco's Salsa, Dough Squad's El Queso, Fundudos, FC Queso, La Condesa, Up To No Gouda, Team Indigo, Vamonos, Cielito Lindo, J.A.M. Catering's The C.U.L.I.N.A.T.O.R.S., Howdy Print Shop, NaughtyPug, OMG Queso, Creole Queso, Trudy's Del Mar, Trudy's Tex Mex, Burning Ring of Queso (Lenoir, Vixen's Wedding), Distant Relatives, Huckleberry, Carpenters Hall (Thomas Malz), Team Fairmont Austin, Credo Foods, The Cheese of Late Night (Nickel City & Delray Cafe), Oseyo, Tejas Birria, Summer House on Music Lane, Dirdie Birdie, Hawk's Hot Chicken, ONETACO., Goodburn Sauce Co., Downtown Cheesy Brown, Da Crack Houze, Le Pera, Shady Villa Hotel, Yellowbird, Smiley's Grill and Vicious & Delicious.
Aaron Franklin (Franklin Barbecue, Hot Luck Fest), Luis 'Beto' Robledo (Cuantos Tacos), Matthew Odam (Austin American-Statesman / Austin360.com), Rosa de Lima H (La Santa Barbacha) and Vanessa Fuentes (Austin City Council) comprise this year's judges panel.
Quesoff and the food bank would like to thank our partners Lone Star Beer, Tito's Handmade Vodka, Hornitos Tequila, Rambler Sparkling Water & Rambler Energy, World Centric, H-E-B, Hot Luck Fest, #LunchWithAdi & The Mohawk. H-E-B will be providing chips for the attendees.