About this Event
Join Quesnay and Rise Barclays on November 12 as we explore the Future of Work in Financial Services.
Technology has led us to a crossroads in the workplace.
Unpack the trends impacting the workforce and how financial services firms need to adapt to meet related talent and market needs. Stefanie Coleman, director, financial services advisory, PWC, headlines this dynamic half-day event on the future of work in financial services.
Join the conversation to learn about and debate the implications of:
The growing perceived "skills shortage" among financial services corporations and its implications.
The rise of the gig economy, with gig economy employees anticipated to perform 15% to 20% of the work of a typical institution by 2024.
The impact of automation. A recent PWC report found 37% of respondents are worried about automation putting jobs at risk.
Hosted by

Agenda
8:30 - 9:00 a.m. Breakfast, registration and networking
9:00 - 9:10 a.m. Welcome Remarks
9:10 - 9:30 a.m. Keynote, Stefanie Coleman, Director, Financial Services Advisory, PWC
9:30 - 10:15 a.m. Panel
Karen Bhatia, SVP, Tech, NYCEDC
Birgit Elchoueri, Chief of Staff, Allianz Global Corporate & Specialty
Stefanie Coleman, Director, Financial Services Advisory, PWC
Sarah Hinawi, People Lead, GGHC
Peter Shanley, New Business Development, Meetup / WeWork
10:15 - 10:30 a.m. Break
10:30 - 11:15 a.m. Future of Work Startup Showcase: Meet the companies anticipating the changes and already adapting to the future of work.
Glenn Laumeister, CEO, AllWork
Tyler McIntyre, CTO and co-founder, Bank Novo
Jay Widlitz, co-founder, Braindrop
Oona Roktya, CEO and co-founder, Lance
11:15 a.m. - 12:30 p.m. Additional networking and refreshments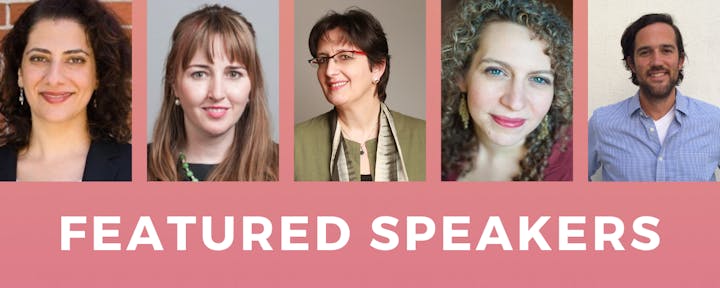 Karen Bhatia is Senior Vice President at the New York City Economic Development Corporation, leading Creative and Applied Tech strategies to promote economic development and entrepreneurship throughout the city. This includes emerging tech initiatives such as NYC's blockchain strategy, launching the first publicly-funded VR/AR Lab in the country, and spearheading the City's strategy for responsible development of AI & data. Karen is also an attorney, entrepreneur and startup advisor. She was the principal of her own law firm advising tech startups on corporate issues, financing and overall business strategy.
Stefanie Coleman is a Director in PwC's People and Organization practice based in New York. Originally from Australia, she has designed and implemented talent strategies -- including performance, rewards, culture, learning and diversity for the world's largest financial services companies in North America, Europe, Middle East and AsiaPac. In 2019, she was recognized as a Workforce Game Changer by Workforce Magazine, and is a frequent external speaker on the topics of digital workforce transformation and workforce of the future.
Sarah Hinawi is the Head of People and Culture at Gilder, Gagnon, Howe & Co. LLC (GGHC), where she focuses on building individual and organizational capacity, fostering a vibrant and forward-thinking culture, humanistic and impactful hiring, and developing ongoing learning for the firm's population of quirky risk-takers and game changers. In addition to GGHC, she is the founder of Purpl, a non-profit, small business incubator helping inspire creativity and productivity in over 4,000 constituents and supporting hundreds of individuals in actualizing their dreams of self-led work. Out of this work grew the GELL (Gig Economy Learning + Leadership) program, which provides facilitated group coaching for self-direction and growth in business and professional ventures as well as organizational consulting. Sarah's original competency model for becoming Self-Led (the basis of the GELL program) was the subject of a TED talk in 2016.
Peter Shanley focuses on new business development at Meetup and WeWork. on In his 15+ year career, h has launched innovative products and services for Fortune 500's, startups, and non-profits. Peter's expertise and passion lie at the intersection of Business Model and Revenue Strategy, Partnership, Product and Program Development, and Organizational Capacity and Culture Building.
Birgit Elchoueri serves as Chief of Staff for Allianz Global Corporate & Specialty. She joined joined Allianz in 2009, currently providing strategic counsel to the CEO and other members of the executive team. Birgit provides oversight and guidance to strategic projects, collaborates on programs that appeal to multi-generational workforces and drives organizational redesign initiatives and integrations with cross divisional organizational boundaries.
AllWork helps companies more efficiently hire and manage temporary and flexible labor without the need for antiquated and expensive temporary staffing agencies. AllWork provides one end-to-end platform combining data, workforce management software, and payments to make it easier for companies and workers to connect in the Gig Economy.
Braindrop is a corporate learning platform that connects business teams with virtual experts, coaches and speakers to solve challenges and improve employee mindset.
Lance provides freelancers with a path to financial success. From setting up LLCs and business banking accounts to suggesting real-time tax savings and insurance policies, Lance provides new and transitioning freelancers with clear financial backend management.
Novo is a NYC-based fintech startup offering an improved and innovative small business banking experience by providing an AI-powered business checking account that helps businesses understand their finances better. Novo accounts provide a real-life, comprehensive financial picture using cutting edge, data-driven technologies.