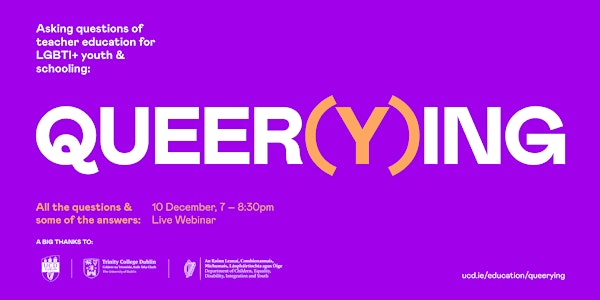 QUEER(Y)ING - Teacher, School Leader Education for LGBTI+ Youth & Schooling
Register now and don't miss 'QUEER(Y)ING: Asking questions of teacher, school leader education for LGBTI+ youth and schooling'
About this event
We would be delighted for you to join us at our live, online webinar 'QUEER(Y)ING: Asking questions of teacher, school leader education for LGBTI+ youth and schooling' on December 10th from 7-8.30pm.
This event is the culmination of our Department of Children, Equality, Disability, Integration and Youth funded research project that mapped, examined gaps in, and generated resources for teacher and school leader education for LGBTI+ youth in schools in Ireland.
At the webinar, you'll hear from leading national and international researchers, including:
• Dr Declan Fahie, University College Dublin
• Dr Aoife Neary and Dr Ruairi Santaigo McBride, University of Limerick
• Prof Jonathan Glazzard, Edge Hill University
We look forward to hearing from our speakers and launching our project website on the day.
To register, please follow the link. We look forward to seeing you there!
Best,
Dr Gavin Murphy, School of Education, Trinity College Dublin
Dr Declan Fahie, School of Education, University College Dublin