About this event
Celebrate Pride from the socially distanced safety of your living room with Queerantine, Stomping Ground Comedy's all-queer sketch comedy show. From drive-by Pride Parades to online dating woes, the show looks at today's world through the LGBT+ perspective. Featuring writers and performers from Dallas and beyond, it's a chance to spend the evening relaxing, laughing, and healing through humor.
The show's creators are dedicated to using their platform to enact social change and are pledging donations from the show to support two Dallas nonprofit organizations: Promise House, supporting their LGBTQ+ homeless youth program, and House of Rebirth, a housing initiative and community safe space created for and led by Black trans women.
Directed by: Diane Michelle and Jamie Zeske
Written by: Charlotte Parker, Jada Pinkett Fox, Diane Michelle, Haley Riemer, Jacie Hood, Jamie Zeske, Liz King, and Saria AlMidany
Performed by: Caroline Cole, Charlotte Parker, Diane Michelle, Haley Riemer, Jacie Hood, Jamie Zeske, Jeny Siddall, John Dixon, Liz King, Nathaniel Weathersby, and Saria AlMidany.
This show is rated M for Mature.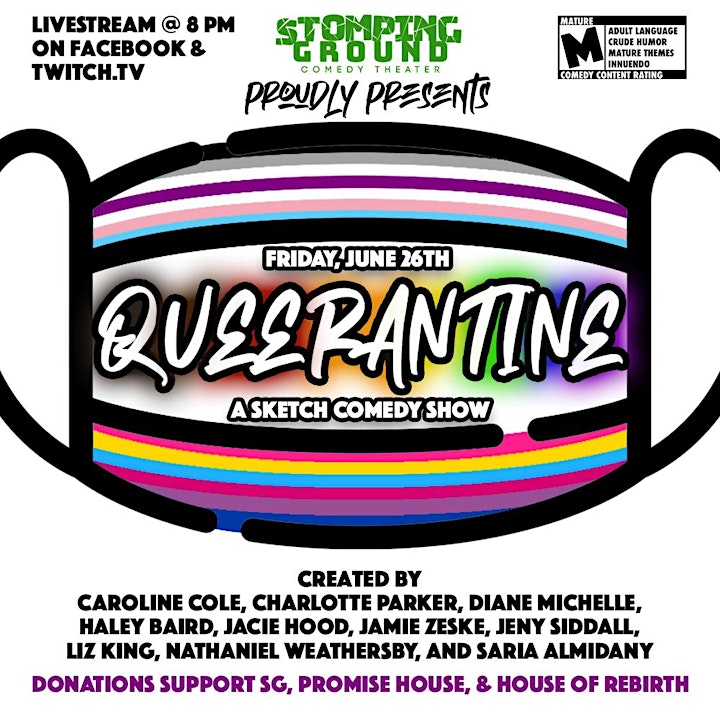 Organizer of Queerantine Sketch Comedy Show