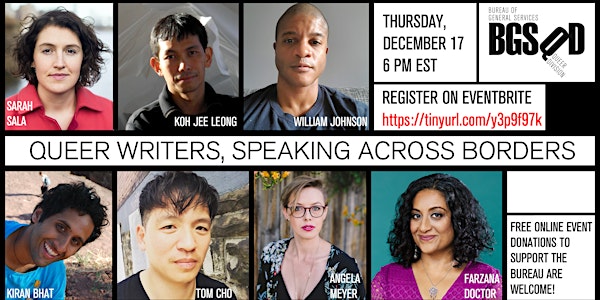 QUEER WRITERS, SPEAKING ACROSS BORDERS
Kiran Bhat, Tom Cho, Farzana Doctor, Jee Leong Koh, Angela Meyer, & Sarah Sala read on Thurs., Dec. 17. Moderated by William Johnson
Refund Policy
Contact the organizer to request a refund.
About this event
Six authors from four time zones share their writing, and talk about how queerness operates in their work and how this has changed over time.
Join Kiran Bhat, Tom Cho, Farzana Doctor, Jee Leong Koh, Angela Meyer, and Sarah Sala for a group reading and a conversation moderated by William Johnson, Deputy Director of Lambda Literary.
Suggested donation of $5 to benefit the Bureau of General Services—Queer Division
All are welcome to join, with or without a donation
Registration on Eventbrite is required in order to receive the Zoom link on the day of the event.
The Bureau's online store features books by several of the participating authors. See links beneath each person's biography below for books that you can purchase from our store.
Thank you for supporting the Bureau by purchasing books from us!
Kiran Bhat is an Indian-American traveller, polyglot, and author. He is primarily known as author of the English-language story cycle, we of the forsaken world... (Iguana Books, 2020), but he has penned four other books in four different languages, and he has had his writing published at The Brooklyn Rail, The Colorado Review, The Florida Review, Eclectica, Waxwing, The Free State Review, Cha, The Mascara Literary Review, The Chakkar, and several other places. You can currently find him nested in Melbourne, but he calls Mumbai his eternal home.
Kiran Bhat's we of the forsaken world... is available for purchase on the Bureau's online store--click here to purchase.
Tom Cho is the author of the collection of fictions Look Who's Morphing, originally published in Australia and later released by Arsenal Pulp Press for North America. Tom's fiction pieces have appeared in Electric Literature's Recommended Reading and The Best Australian Stories series, among many others. His current fiction project is a novel that mashes up fiction, pop culture, philosophy of religion, and much more besides. tomcho.com
Tom Cho's Look Who's Morphing is available for purchase on the Bureau's online store--click here to purchase.
Farzana Doctor is the Toronto-based author of four novels: Stealing Nasreen, Six Metres of Pavement and Seven, which has just been named a Chapters-Indigo Best Book of 2020. The Globe and Mail listed it as a Best Independent Read to Pick Up This Fall, and Ms. Magazine called it "fully feminist and ambitiously bold". She is also an activist, part-time psychotherapist and amateur tarot card reader. farzanadoctor.com
Farzana Doctor's Seven is available for purchase on the Bureau's online store--click here to purchase.
William Johnson is the Deputy Director of Lambda Literary, an organization dedicated to promoting LGBTQ literature.
Koh Jee Leong is the author of Steep Tea (Carcanet), named a Best Book of the Year by UK's Financial Times and a Finalist by Lambda Literary in the US. He has published four other books of poems, a volume of essays, and a collection of zuihitsu. His latest book is a work of hybrid fiction called Snow at 5 PM: Translations of an insignificant Japanese poet. He has been translated into Japanese, Chinese, Vietnamese, Malay, Russian, and Latvian. Originally from Singapore, Koh lives in New York City, where he heads the literary non-profit Singapore Unbound and runs the Asian indie press Gaudy Boy.
Koh Jee Leong's Snow at 5 PM: Translations of an insignificant Japanese poet and his Connor & Seal are both available for purchase from the Bureau. Click on either title to purchase.
Angela Meyer is an Australian author and editor. Her debut novel, A Superior Spectre (Ventura Press), was shortlisted for an Aurealis Award, the MUD Literary Prize, an Australian Book Industry Award, the Readings Prize for New Australian Writing and a Saltire Literary Society Award (Scotland). She is also the author of a novella, Joan Smokes, which won the inaugural Mslexia Novella Award (UK), and a book of flash fiction, Captives. She works as a freelance editor and consultant.
Sarah M. Sala is the author of Devil's Lake (Tolsun Books 2020). The founding director of Office Hours Poetry Workshop, and co-poetry editor for The Bellevue Literary Review, she teaches expository writing at New York University. Her work appears or is forthcoming in BOMB, The Southampton Review, and The Brooklyn Rail. www.sarahsala.com
Sarah M. Sala's Devil's Lake is available for purchase from the Bureau--click on this link to purchase.