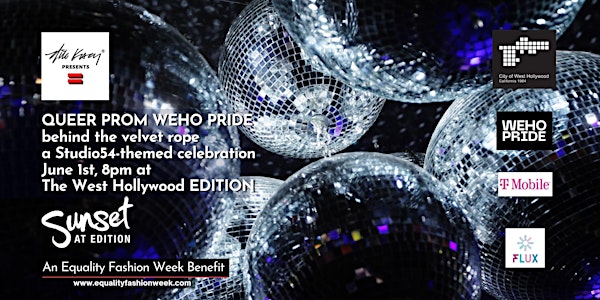 Queer Prom 2023 - Behind the Velvet Rope (a Studio54 themed party)
NiK Kacy Presents Queer Prom - Behind the Velvet Rope! an exclusive Studio54-themed party held @ Sunset at EDITION, on June 1st, 8pm
Date and time
June 1 · 8pm - June 2 · 12am PDT
Location
Sunset at EDITION 1090 North Doheny Drive West Hollywood, CA 90069
Refund Policy
Refunds up to 30 days before event
Eventbrite's fee is nonrefundable.
About this event
We are super excited to announce that this year's "Queer Prom - Behind the Velvet Rope" is partnering with The West Hollywood EDITION and The City of West Hollywood as part of their #WeHoPride programming. Held at the stunning Sunset at EDITION, NiK Kacy Presents Queer Prom will kick off Pride Month and #WehoPride weekend with a Studio54-themed celebration and raise funds for Equality Fashion Week, the first LGBTQ+ focused fashion week in LA!
Sunset at EDITION was created by Ian Schrager, co-founder of the original STUDIO54 and is the perfect venue to hold this year's fabulously upscale and classy prom! We are super excited to bring this event to you and transport you to a time when folks of all identities could gather in one place and just dance and lose themselves even during the scariest of times. Currently, we are no stranger to scary times and that is why we want to create a totally different vibe from last year's high school-themed Queer Prom. We hope you can join us in unity and celebration!
We don't want to give away too much details of the party because we want you to experience it for yourself but here's a little teaser!
Host MCs - Amber's Closet, Arisce Wanzer & Laith Ashley
Guest Speakers: Mayor Sepi Shyne, Bamby Salcedo, Jackie Steele and Brian Michael Smith
Special Performance by Dragula winner & RuPaul's Drag Race star Landon Cider to kickoff the night so arrive early!
DJs Daisy O' Dell, Mike Taylor, Amara and Shane Ivan Nash will keep you dancing all night
Red Carpet Interviews with The Lesbian Socialite
Guest Performances by Liana Georgi, Mortasay, Mike Taylor, Eriel, and QWN
Prom Photos with Willa Salam
Best Dressed Competition with Prizes from Outloud Weho Pride Passes and NiK Kacy genderequal holsters
Prom Royal Coronation with Corey Rae, the first Transgender Prom Queen, with grand prize of Premium Passes for The Dinah in September 2023!
Exclusive access for VIP ticket holders to Private Speakeasy Lounge
Studio54 themed / Formal, Fabulous, Be YOU Attire only
Private Unmarked Club Entrance and Exclusive Access
ADA Compliant
Genderneutral Bathrooms
21+ y/o only
Prizes include 2 Premium Weekend passes to The Dinah, NiK Kacy GenderEqual Utility Holsters, and Weho Pride Passes
Come for the "best party of your life" and dress to impress for a chance to skip the line and compete in our Best Dressed contest! IMPORTANT: DOORS OPEN at 8PM. Please arrive early! Program begins at 830pm sharp!
Please help us crown our 2023 Prom Royal by voting here before May 31st!
Location: Sunset at EDITION, 1090 N. Doheny Dr. West Hollywood, CA 90069
**Valet Parking is available at The West Hollywood EDITION entrance located on Sunset Blvd.
Entrance to Queer Prom is a private unmarked entrance on Doheny.**
Thank you to our incredible Sponsors:
The West Hollywood Edition, City of West Hollywood, T-Mobile, FLUX, Translatin@ Coalition, The Dinah, ProjectQLAGLCC, City National Bank, and more!
Go to www.equalityfashionweek.com to learn more and see videos & photos from our all our previous events! For Press inquiries - please contact mona@ildkmedia.com
NiK Kacy Presents: Queer Prom is an annual benefit for Equality Fashion Week, the first LGBTQ+ focused fashion week in LA aimed at providing access, elevation, and visibility for our LGBTQ, People of Color, and Differently-abled communities across the nation as we continue the fight for equality, acceptance and thrive, rather than just survive.
This year's Queer Prom theme is Studio54, a place where everyone was encouraged to be free, and people from all walks of life gathered to dance the night (and their troubles) away.
[Proof of Vaccination or a negative Covid test required. Please do not attend the event if you have cold or flu-like symptoms. We aim to keep this event as safe as possible so everyone can have fun for the rest of Pride month!]
ABOUT SUNSET
A modern take on Studio 54, Sunset is a modern clubhouse with a dedication to great music located beneath The West Hollywood EDITION. In the spirit of the dozens of iconic clubs that dotted the sunset strip in the 60's and 70's, Sunset launched in November 2019 and quickly established itself as an exclusive hedonistic hotspot with regular Globally renowned acts performing within the space. Designed for multiple experiences, the destination offers a cocktail bar and lounge, a private room that invokes the feeling of a speakeasy and LA's most raucous dance floor beneath 400 disco balls.
www.sunsetatedition.com / @sunsetatedition
2022 QUEER PROM CROWNED ROYALS (AP QAZI AND LUCKIE ALEXANDER FULLER) WATCH OUR HIGHLIGHT VIDEO FROM LAST YEAR!
MAP AND DIRECTIONS BELOW COURTESY OF OUR AMAZING FRIEND AND STAGE MANAGER, BELLA B. PRODUCTIONS!
Frequently asked questions
What is this event a benefit for?
Is this a ticketed event?
Is there parking at the venue?
Is this for adults only or high school kids?
Is the venue ADA Compliant?
About the organizer
NiK Kacy is the creator and founder of Queer Prom, Equality Fashion Week, as well as, the first gender-free luxury footwear and accessories brand, NiK Kacy Footwear - an LGBT-certified business enterprise. As a transmasculine individual who identifies as gender non-binary, Kacy's designs are inspired by both their personal identity, style and
 activism. Since their successful Kickstarter campaign in March 2015, NiK has been featured in numerous publications including, but not limited to The Advocate, Autostraddle, DapperQ, Diva, Fashion Times, Forbes, Fortune, LA Times, Out, Ozy, Refinery29, Ryot, SheWired, TimeOut, and The Huffington Post. 
NiK has appeared on countless panels, speaking as an expert on gender fluidity and the intersectionalities of their experience as a multi-cultural trans/non-binary, person of color, immigrant and queer entrepreneur. Prior to becoming a designer and entrepreneur, NiK spent 20+ years in the advertising and entertainment industries, serving primarily in the roles of producer and/or project manager. During that time NiK worked on multimillion dollar campaign projects for YouTube, Google and RPA with clients including LG, Honda, Acura, Sony, Hyundai, Kia, Lexus, Toyota, BBC. NiK eventually left the corporate world in order to find a solution for footwear and fashion to evolve into a gender-free industry so that all gender identities and expressions can be represented equally. Learn more about the brand at www.nikkacy.com
Activism through Fashion. Walk Your Way.