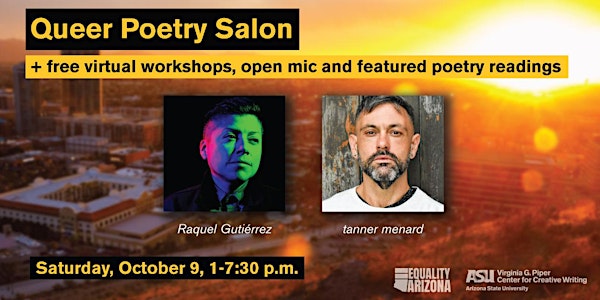 Queer Poetry Salon; workshops, open mic, and poetry feature
Strengthening & growing queer culture in Arizona by bringing the world's great LGBTQIA2s+ poets to our communities
About this event
About this Event:
Kick off the 2021 Queer Poetry Salon Season with workshops and readings from two of Arizona's most renown queer poets.
The Equality Arizona Foundation and the Virginia G. Piper Center for Creative Writing at Arizona State University are partnering for quarterly readings with a diverse, world-class cast of queer poets. We aim to strengthen & grow queer culture in Arizona by bringing the world's great LGBTQIA2s+ poets to our communities.
This year the Queer Poetry Salon will offer free creative writing workshops presented by our featured poets! RSVP for your spot to attend a workshop in the ticketing link. Please note: while this event is free and open to the public, you must register through Eventbrite to receive the Zoom link.
Schedule:
1-2:30 PM online writing workshop led by the Queer Poetry Salon's featured poet, Raquel Gutierrez.
There are a myriad of ways that your identity, your spiritual beliefs, politics, and visions for the future show up in the art you encounter. But have you ever stopped to consider how these investments are legible in art? How do you recognize them even when they're not "there"?
And how does that determine the ways you want to be seen? Join poet and critic Raquel Gutiérrez as they lead a workshop on how to arrive at the question to help us create language and track the stops along our individual and collective healing journeys.
3-4:30 PM online writing workshop led by local poet tanner menard
6-6:30 PM online open mic featuring 4 workshop participants
6:30-7 PM featured readings from tanner menard and Raquel Gutierrez
About the Authors:
Raquel Gutierrez is an arts critic/writer, poet and educator. Born and raised in Los Angeles Gutierrez credits the DIY queer and feminist post-punk 'zine culture of the 1990s plus County and Getty paid arts internships with introducing her/them to the various vibrant art & music scenes and communities throughout Southern California. Gutierrez is a 2021 recipient of the Rabkin Prize in Arts Journalism, as well as a 2017 recipient of the Creative Capital | Andy Warhol Foundation Arts Writers Grant. Her/Their writing has recently appeared in or is forthcoming in Art In America, NPR Music, Places Journal, and The Georgia Review. Gutierrez is Visiting Faculty in the English department at the University of California, Riverside and is Program Faculty for Oregon State University-Cascades Low Residency Creative Writing MFA Program. Her/Their first book of prose, Brown Neon, is an ekphrastic memoir that considers what it means to be a Latinx artist during the Trump era and will be published by Coffee House Press, June, 2022. Gutierrez currently resides in Tucson, Arizona.
tanner menard is a poet & composer, a Louisiana Creole & a member of the Atakapa Ishak Nation. They have published ten albums of ambient music, a chapbook, were thrice nominated for a Pushcart Prize & are published in magazines such as Entropy & Beestung. The Wire Magazine called their sound poetry collaboration with Andrew Weathers an influential modern composition. They are an MFA Candidate at Northern Arizona University, have served as a member of their tribal council, as poetry editor of Thin Air Magazine & are a Kundalini Yoga Teacher. tanner is a student of paranormal poetry at Ariana Reines' Invisible College.