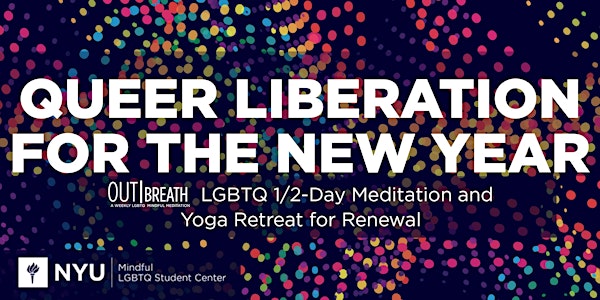 Queer Liberation for the New Year: LGBTQ ½ Day Retreat for Renewal
Event Information
Location
Grand Hall (GCASL)
238 Thompson Street
5th floor
New York, NY 10012
Refund policy
Refunds up to 1 day before event
Description
TICKET FEE IS A REFUNDABLE DEPOSIT. IF YOU ATTEND, YOU WILL BE REFUNDED. Please contact reka@nyu.edu if you need financial assistance.
When we practice meditation, our emotional history rises to the surface. At the beginning of the new year, we carry this history with us from the year before—a time especially ripe for self-awareness, reflection, and healing. Practicing in queer community invites us to permit the totality of our embodied truth into the space we enter. In a queer-affirming mindful community, the intersection of gender, sexuality, and mental/spiritual wellbeing is invited and explored.
Join MindfulNYU, the NYU LGBTQ Center, and teachers Brian Liem and Chance Krempasky for a half-day meditation + yoga retreat designed intentionally for students who identify as members of the LGBTQ+ community. This retreat will provide a space for us to encounter all the parts of ourselves—body, mind, spirit—without judgment, attachment, or aversion, and through that process we will set intentions for nurturing and challenging ourselves in all the ways that the new year holds for us.
During this restorative retreat, we will experience the stillness of traditional seated meditation, the mindful movement of yoga and walking meditation, and healing ritual for personal and social liberation and renewal.
See FAQs below for more information.
Space is limited—please sign up today! REGISTRATION DEADLINE is FEBRUARY 1ST by 5pm.
FAQs
We ask that all students remain for the duration of the event, so as not to disturb others during meditation, and so that everyone can experience the full benefits of the retreat!
Who can attend? This is for NYU undergraduate and graduate students ONLY. You must self-identify as a member of the LGBTQ+ community.
Do I need experience? No, this retreat is open to all levels of practice. Beginners welcome!
Lunch: Please bring your own lunch - lunch will not be provided, but spaces for silent eating or for eating in fellowship will be offered during the retreat.
Cost: $15 deposit is used to reserve your seat and will be refunded the following Monday if you attend the event. If you do not attend the event, your deposit is forfeited. No one will be turned away for lack of funds—please contact us if you cannot afford the deposit amount.
Deadline: Thursday, February 1st by 5pm.
Refunds: Cancellations will be accepted until the February 1st deadline and your deposit will be refunded on Monday, February 5th.
Clothing: Please wear comfortable and loose clothing for both meditation and mindful movement.
A limited amount of meditation cushions will be available. Chairs will also be provided for alternative postures during meditation practice. Yoga mats will be provided for mindful movement. You are welcome to bring your own as well.
Questions? Please contact Matt Gesicki at matt.gesicki@nyu.edu.
About the Instructors
Brian Liem, Yoga and Meditation Teacher, has practiced yoga and meditation with devotion, humor, and compassion for over twenty years. He was an OM yoga senior teacher, teacher training faculty member, Director of Programming and community member for thirteen years. He has taught numerous workshops, conferences, retreats, and trainings. When OM closed in 2012 he helped found now:yoga in collaboration with The Shala to provide a landing place for the OM community. He also teaches yoga and meditation in nonprofit and corporate settings as well as in his private practice. He has completed all levels of The Way of Shambhala, and attended Warrior's Assembly at Dorje Denma Ling in Nova Scotia. Brian was named one of 21 yoga teachers under 40 in Yoga Journal's "The Next Generation of Yoga Teachers." He was selected to be the yoga teacher and a representative at the Gay Men's Spirituality Project, a gathering of over 200 international gay spiritual leaders and visionaries at the Garrison Institute, to further the ongoing discussion of the intersections of LGBTQ+ identity and spirituality.
Chance Krempasky, Meditation Teacher, is a vegan, cyclist, house plant enthusiast, and meditator. He works as a family nurse practitioner specializing in queer and transgender medicine, harm reduction, and caring for people living with HIV. He is a practice leader at New York Insight Meditation Center, where he helped to start the Insight Out Refuge LGBTQ+ sangha, and is a coauthor of Developing Trans* Competence: A Short Guide to Improving Transgender Experiences at Meditation and Retreat Centers.
Date and time
Location
Grand Hall (GCASL)
238 Thompson Street
5th floor
New York, NY 10012
Refund policy
Refunds up to 1 day before event