Event Information
Location
Chelsea
260 W. 26th St
New York, NY
Description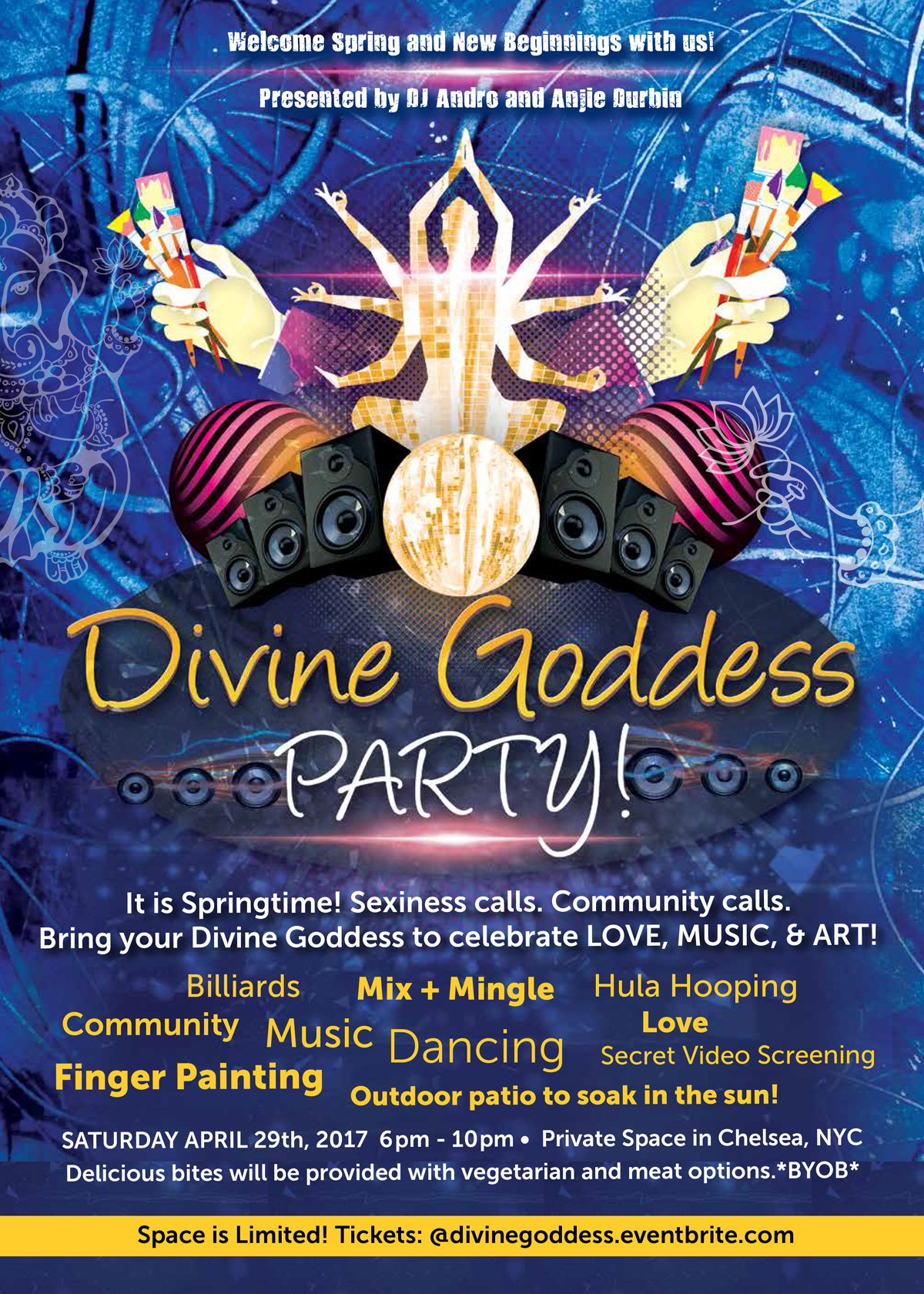 ---
It is Springtime! Sexiness calls. Community calls. Bring your Divine Goddess self to celebrate LOVE, MUSIC, & ART!
FINGERPAINTING
First session starts at 7:00 and will switch around with creatives throughout the night.
Express yourself! A creative Goddess art station will be set up so that you can release emotions, throw down some color, and find your artistic groove! This adult finger painting technique uses liquid acrylics, home-made flour paste, and various tools and items for making marks and gestures, including your own hands. No art experience is necessary, just positive energy to flow into your paintings!
$5.00 covers 5 pieces of Arches Text Wove paper (the specific paper for this technique) and all other supplies of paints, tools, and rags. Bring an apron if you don't want to get paint on your clothes. Or go naked. :)
***SPECIAL ART VIDEO SCREENING**
Dancing, mingling, finger painting, billiards, and a big outdoor patio to soak in the sun.
Delicious bites will be provided with vegetarian and meat options by Chef Alfa Rumble.
***BYOB*** (Bring your own beverage)
Held at a private location that is not a bar so that we can talk and hear each other, hang with our bestest friends, make new connections, and build community.
Location: Secret Chelsea Location will be announced a few days prior to the event.
Coming on your own? YES. Don't be scared, our team is ready to introduce you to an adventure, new friends, and they'll be plenty of activities to bring all of us together.
This is a 21+ event and we welcome all lesbians, queers, genderqueers, transmen, transwomen, gays, heteros, women and men of all walks of life because we want COMMUNITY. And at the end of day we all need each other.
DJ Andro and Anjie are two friendly awesome creative queer women who fancy leather jackets, design, feather boas, and good beats to groove to.
Anjie: www.angiedurbin.com
Date and Time
Location
Chelsea
260 W. 26th St
New York, NY