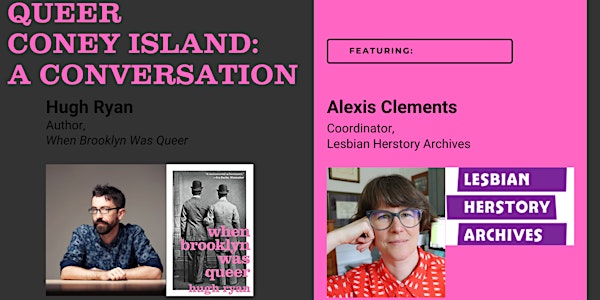 Queer Coney Island
Join us for an afternoon of learning about LGBTQ+ history in Coney Island!
When and where
Location
Coney Island Brewery 1904 Surf Avenue Brooklyn, NY 11224
About this event
Queer Coney Island: A Conversation
Coney Island has a rich LGBTQ+ history that might not be apparent to the average visitor. The Alliance for Coney Island has invited author Hugh Ryan (When Brooklyn Was Queer) and Filmmaker and Lesbian Herstory Archives Coordinator Alexis Clements for an afternoon of learning about this history, key figures, and its impact on the neighborhood and beyond. The event will be taking place at the Coney Island Brewery where attendees can enjoy a bite or beverage!
About the Speakers:
Hugh Ryan
Hugh Ryan is a writer and curator, and most recently, the author of The Women's House of Detention: A Queer History of a Forgotten Prison, which New York Magazine called one of the best books of 2022. His first book, When Brooklyn Was Queer, won a 2020 New York City Book Award, was a New York Times Editors' Choice in 2019, and was a finalist for the Randy Shilts and Lambda Literary Awards. He was honored with the 2020 Allan Berube Prize from the American Historical Association. Since 2019, he has worked with the NYC Dept. of Education to develop LGBTQ+ inclusive educational materials and trainings.
Alexis Clements
Alexis Clements is a writer and filmmaker based in Brooklyn. Her feature-length documentary film, All We've Got, which focuses on LGBTQ women's spaces at a time when many are closing, premiered in October 2019 and has screened around the globe. In 2021, she launched a podcast, The Answer is No, focused on artists sharing stories about challenging the conditions under which they are asked to work. Her writing has appeared in The Los Angeles Review of Books, The Guardian, Bitch Magazine, American Theatre, and The Brooklyn Rail, among others. She is also a regular contributor to Hyperallergic. She is currently serving as a Coordinator at the Lesbian Herstory Archives.
This event is free and open to the public. Those who register for the event online in advance will get $2 off a pint at the brewery.