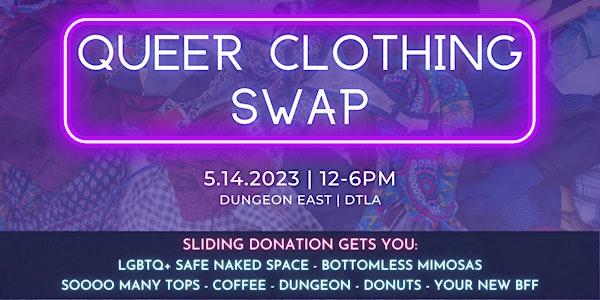 Queer Clothing Swap
Bring your clothes, shoes and accessories to be swapped! We hope to have a wide variety of sizing, including extra small to plus size...
Date and time
Sunday, May 14 · 12 - 6pm PDT
Location
Dungeon East Dungeon East - DTLA - address will be emailed day of event LOS ANGELES, CA 90021
About this event
Our Annual Spring Cleaning Returns for Mother's Day! Bring your domme or your mom ;) or just the person whose pants you want to get into the most! xo
Bring your clothes, shoes and accessories to be swapped! We hope to have a wide variety of sizing, including extra small to plus size, but we can't do it without you queermos!
We want a supportive queer fashion environment, leave your shade at the door please!
FOOD & DRINK: We'll be providing mimosas, bloody mary's, orange juice, and coffee. Vegan doughnuts from Donut Friend and cheese platters will also be provided. Please bring your own water and stop leaving your freakin water bottles here, maybe you will find them again at the swap.
Whatever has not been swapped, usable clothing will be donated to Democratic Socialists of America or LGBT Center or Translatina Coaliton. Unusable clothing will be donated to Suay Sew Shop.
Also, since we are serving liquor and this is being hosted in an adult place, 21 and over only please. And leave animal pets at home.
COVID Policy* (as of January 2023)
1. Vaccination required for all in person events and classes at Dungeon East.
We greatly prefer if you are boosted as well.
2. Full refunds up to the day of the event if you have tested positive for COVID.
**Address will be sent out on the day of the event to the email you registered with. 1 ticket per purchase, and each person must register with their own email and name.**
Admission: Suggested donation sliding scale $5-30+ (cost covers venue, food, drinks, clean-up etc.) Yes, you can bring clothes to swap (one large garbage bag or travel size carry on limit person) or you don't have to bring anything at all - there's always plenty!
-----------------------------------------------------------------------------------------
ACCESSIBILITY INFO
*AC/fans/open windows will be used as needed according to the weather.
*There is a ramp with a handrail to get into the building. There is an elevator and stairs.
*Yes, there is a bathroom
*Yes, there will be seating
*Yes, It Is wheelchair friendly
*Yes, there will be signage posted about how to swap, where to put stuff etc.
We are excited to welcome you to our 13th swap since 2015!
Must get tix here: http://www.queerclothingswap.eventbrite.com/
About the organizer
Mistress Justine Cross is a professional BDSM consultant and queer lifestyle Dominatrix . She owns Dungeon East (RIP Dungeon West.) Justine is an educator, a provocateur and all around bad ass Bitch. Justine offers classes in person, online and private tutorials; she also hosts BDSFemme - a play party for cis and trans women and co-hosts Deviant - a play party for all queers.
Extensively interviewed and profiled, Mistress Justine has appeared in Los Angeles Magazine and Playboy, and featured in Nylon, LA Weekly, Time Out Los Angeles, Buzzfeed and Salon. She has also appeared as herself on A&E, Lifetime, Epix, VH1 and an upcoming remake of House Party.
Please visit her website: LosAngelesDominatrix.com.
Follow her on insta/clubhouse @thejustinecross and twitter: @justineplays; tiktok @thejustinecrossagain
Website: TheJustineCross.com
Replays for past classes here: Gumroad.com/justinecross