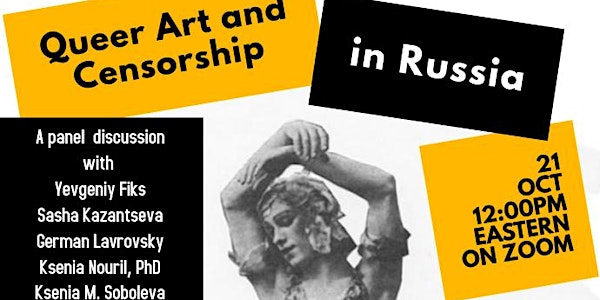 Queer Art & Censorship in Russia Today
This panel brings together several leading voices from the queer art and culture community in Russia.
About this event
The last few years have witnessed increased violence against LGBTQA+ identifying individuals in Russia, highlighted by the anti-gay propaganda law of 2013 and several murders and imprisonments of queer activists. The passing of the Constitution Amendment on July 1, 2020 has not only guaranteed President Vladimir Putin's presidency until 2036, but also lawfully defines "family" as a union between a man and a woman, thereby formally stigmatizing queerness. In the wake of recent violence and censorship, this panel brings together leading voices from the queer art and culture community in Russia and the diaspora. This panel will examine the state of censorship around queerness in Russia today and its effects on art and culture. Each panelist will make a 10 min presentation, which will be followed by moderated discussion and an audience Q&A.
PANELISTS:
Sasha Kazantseva (b. 1986) Saint Petersburg-based lesbian and queer sex blogger and journalist; trans ally; author of How to Write about Transgender Issues in Russia: A Guide for Journalists; co-founder of "O-Zine," the Russian queer media https://www.instagram.com/ozine.ru/
Yevgeniy Fiks (b. 1972) Moscow-born, New York City-based artist whose projects address Soviet-era queerness; co-editor of the forthcoming book Queer(ing) Russian Art: Realism, Revolution, Performance (edited by Yevgeniy Fiks, Brian James Baer, and Katherine Carl), https://yevgeniyfiks.com/home.html
German Lavrovsky (b. 1995), Moscow-based artist; his project "Reborn" builds and documents, using a variety of media, a relationship with a reborn doll: a 3D-printed posthuman baby, https://garage.digital/en/projects/reborn-2020
MODERATORS:
● Ksenia Nouril, PhD, REES Lecturer and Jensen Bryan Curator at The Print Center, Philadelphia, https://rees.sas.upenn.edu/people/ksenia-nouril
● Ksenia M. Soboleva is a New York based writer and art historian, specializing in queer art and culture. She is the 2020-2021 Vilcek Curatorial Fellow at the Solomon R. Guggenheim in New York.