Description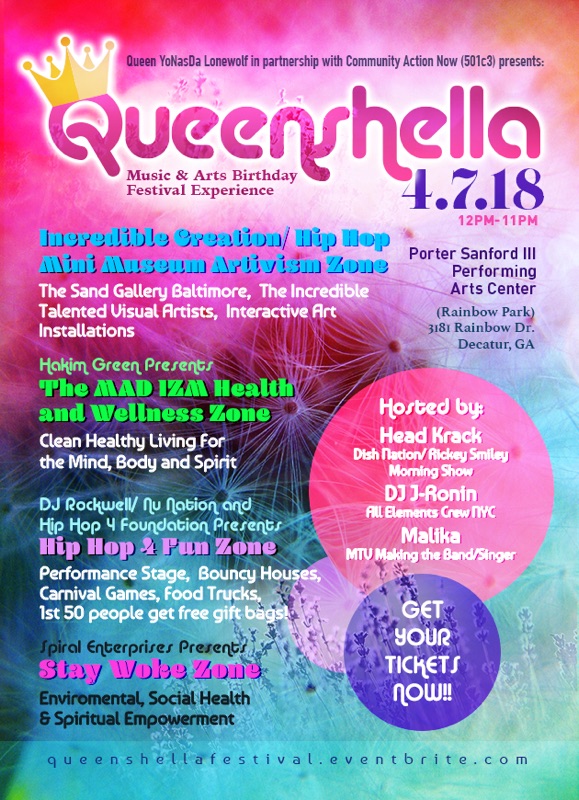 Queen YoNasDa "national organizer, activist, speaker and published writer" is hosting the ultimate music festival as a birthday celebration, " " will be held on April 7, 2018 in Atlanta, GA. will be an eclectic event showcasing various artists, speakers, dancers, musicians, culture, educational and entertainment zones and various foods. YoNasDa Lonewolf would like to celebrate culture, education through entertainment on a one day event. has UNITED a collective group of organizations with one common goal, rebuilding the Caribbean aftermath of the 2017 Hurricanes. The Queenshella Committee is a combination of The Incredible Creation, Sacred Ghost Records, Lavish Events, 24 Hours of Peace, Nu Republic , Projekt Lotus.The event will have diverse activities that the guests can partake that will be set up in zones. has partnered with Community Action Now (501c3) to help aide rebuilding efforts to the entire Caribbean. (Learn more about Queen YoNasDa Lonewolf – www.queenyonasda.com)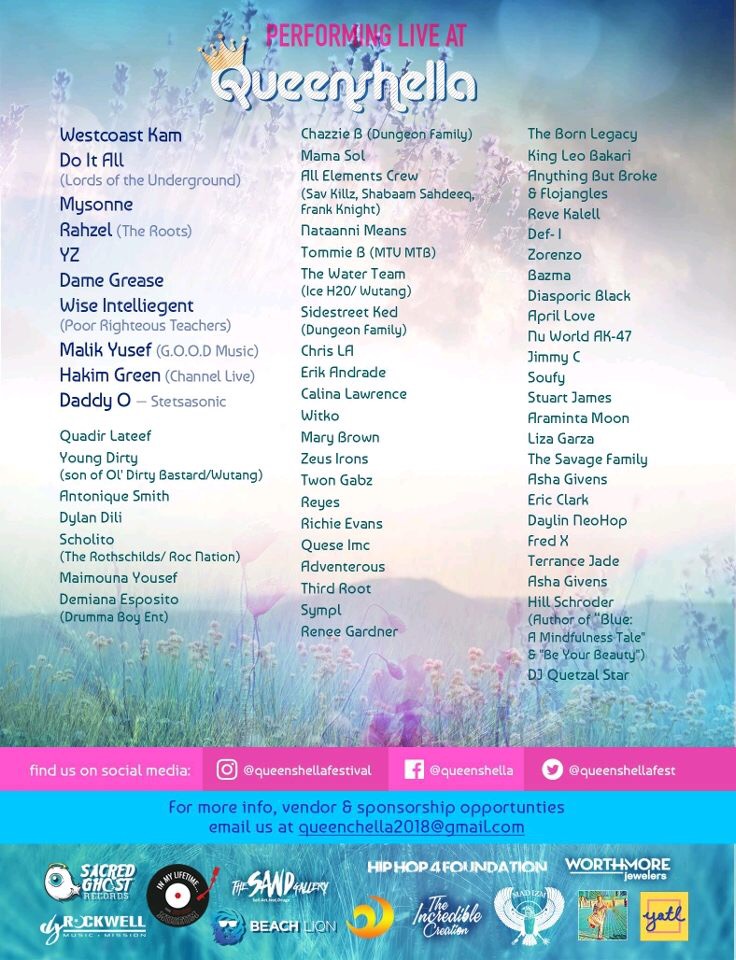 QueenShella IS A CELEBRATION OF LIFE THROUGH ART AND FREEDOM OF EXPRESSIONS! COME GET FREE WITH US!
Local Hotels:
Courtyard Atlanta Decatur Downtown/Emory
130 Clairemont Ave Decatur GA
Phone: 404-371-0204 (4 Stars)
Holiday Inn Express Hotel & Suites
2183 North Decatur RD
Decatur GA
Phone: (404) 320-0888 (4 Stars)
Quality Inn & Suites Decatur - Atlanta East
5300 Snapfinger Park Drive, Decatur, GA, 30035, US
Phone: (678) 418-0004 Fax: (678) 418-7131 ( 3 ½ Stars)
Hampton INN Atlanta-Northlake
3400 Northlake Parkway Atlanta, GA
Phone: (770) 493-1966 (4 stars)
Comfort INN Atlanta Downtown South
795 Pollard BLVD Atlanta, GA
Phone: (404) 658-1610 (3 stars)
Double Tree by Hilton Atlanta Northeast/Northlake
4156 LaVista Road Atlanta, GA
Phone: (770) 938-1026 (4 stars)
FAQs
How can I contact the organizer with any questions?
FOR SPONSORSHIP AND VENDING OPPORTUNITIES OR GENERAL QUESTIONS EMAIL kingznqueenzllc@gmail.com
FAQs
What can I bring into the event?
OUTSIDE FOOD IS PERMISSABLE BUT FOOD VENDORS WILL BE AVAILABLE. YOU CAN BRING CHAIRS, BLANKETS AND SMALL TENTS AS THIS WILL BE AN OUTDOOR PARK. NO OUTSIDE ALCOHOL AND ILLEGAL DRUGS IS PERMITTED!! ABSOLUTLEY NO NATIVE AMERICAN HEAD DRESSES UNLESS YOU ARE A TRIBAL APPOINTED CHIEF! NO CULTURAL APPROPRIATION IS ALLOWED! REPRESENT "YOUR" CULTURE PROUD AND SHOW THAT BEAUTY!!
THIS IS ALSO A BIRTHDAY PARTY SO GIFTS ARE ENCOURAGED!