| | |
| --- | --- |
| Queensberry Cocktail Classes | |
Event Details
THE QUEENSBERRY COCKTAIL CLASSES offer cocktail enthusiasts an opportunity to delve deeper and refine their knowledge. Classes explore bar basics, tools and techniques as well as individual spirits, their history and use in classic and contemporary cocktails, with a heavy emphasis on whiskeys. The Queensberry offers one American whiskey from every state in the Union!
Our head instructors, Eliah Mountjoy & Scott Cushman, host the 45 minute classes every Thursday from 8:00pm - 9:00pm, with each class focused on different levels of expertise and topics.
PRIVATE GROUP CLASSES Private custom group cocktail classes can be booked or reserved in advance for groups of 12 or more any day. Private custom group cocktail class pricing varies depending on the dates, times, beverage package and size of the group. To book a private group cocktail class or for more information, please email Farah at farah@circa93.com.


~ • ~
Classes are $25 per person and include:
• 45 Minute PRIVATE cocktail class
• Tasting of 3-4 craft cocktails throughout the class

~ • ~
IMPORTANT GUIDELINES
For optimized enjoyment, we limit classes to 10 seats.

Registration is required for participation. 

Must be 21+ to attend. 

Late arrivals are disruptive, therefore a courtesy of 5 minutes will be honored before closing doors.

Tickets are non-refundable, not interchangeable and not swapable for different dates.

For additional inquiries, please email farah@circa93.com. 
---
SCHEDULE OF TOPICS
---
THURSDAY 7/18 - Irish Whiskey
This class initiates the series at the Queensberry, and will focus on the origins of whiskey, and the first group of people to make it.
THURSDAY 7/25 - Scotch Whisky
This class will focus on the importance of feuds between neighbors and how differentiation in whisky is everything.
THURSDAY 8/1 - Rye Whiskey
This class will cover how settling the frontier and using the natural terroir makes for this style of whiskey.
THURSDAY 8/15 - Bourbon
This class will show what the blue grasslands of Kentukey and pedigree horses have in common with the most popular style of whiskey.
THURSDAY 8/22- Tennessee Sour Mash & The Lincoln Method
This class will be on the lengths people will go to compete with the most popular style of whiskey, and how being creative always counts for something.
THURSDAY 8/29 - Whiskies of the World (Japan, Australia, Canada)
This class will demonstrate how the birth of whiskey has blossomed on a world wide scale, and show how regional ingredients and production methods matter.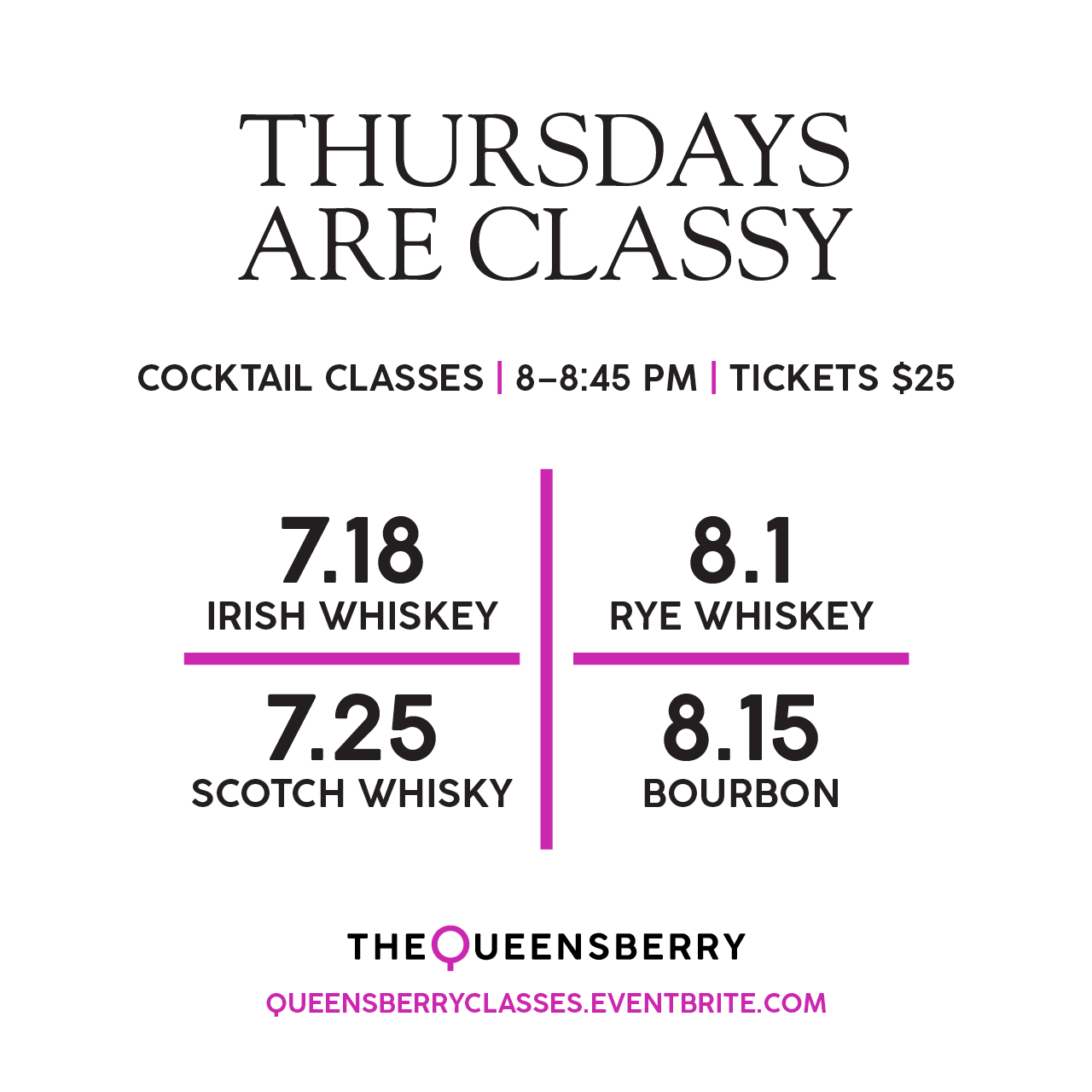 Save This Event
When & Where

The Queensberry
819 South Flower Street
Los Angeles, CA 90017