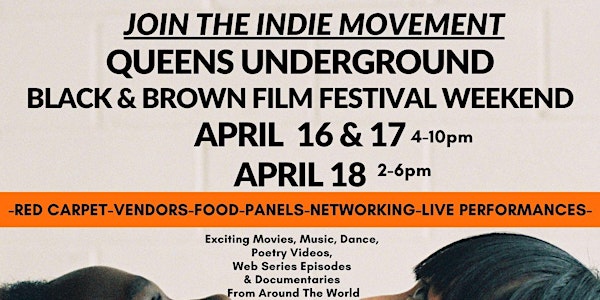 Queens Underground Black & Brown Film Festival - April 2021
Location
4/16 & 4/17 Thomasina's Catering Hall 4/18 Allure Art Studio
Thomasina's: 205-35 Linden Blvd, St Albans, NY 11412
Allure Art Studio: 197-05 Jamaica Ave, Jamaica, NY 11423
Queens, NY 11412
Sales Have Ended
Ticket sales have ended
Thank you and we're going to have such a great time!
Queens Underground February & April International Black & Brown History Film Festival- In-Person & Virtual
About this event
WE'RE LIVE IN-PERSON AND VIRTUALLY
Bringing the Indie Artist straight to you. The Underrepresented, Underserved, Seasoned Professional, All Ages, Genres and Categories.
Purchase Your In-Person Tickets Today, Limited Number Of Seats Available
& You Can Tune In Virtually!
*Friday & Saturday, April 16, 17 (4-10pm)
Thomasina's Catering Hall:
205-35 Linden Blvd, St Albans, NY 11412
*Sunday, April 18th (2-6pm)
Allure Art Studio:
197-05 Jamaica Ave,
Jamaica, NY 11423
In-Person & Virtual (available all day)
New Selection Of Movies Each Day and More On The Virtual Platform - purchase a single or access passes
VIRTUAL : Visit the Website for Virtual Tickets!
With New Live Performances, Vendors and Special Guests for each Event, What a Great Way to see New and Exciting Long and Short Films, Music, Dance & Poetry Videos, Web Series Episodes and Business Commercials!
Enjoy Supporting all of the Indie Creatives and our nonprofit's efforts to provide an unusual and much needed Platform for all Artists, Community, Organizations and Entrepreneurs.
Last February was amazing with a sold out house and projects from 12 countries, Red Carpet Hosts, over 10 Live Performances, 12 Vendors and many Industry Professionals, Community Leaders, Filmmakers from 8 states, the Media, HBO, Cinemax, Netflix and the Amsterdam News.
While Covid Restrictions limit attendance capacity - it hasn't limited our determination or excitement to keep the Black and Brown Film Festival going and this year, of course, the Submissions are Spectacular, as are the Vendors (Food, Desserts & Beverages) and Performers.
In-Person - We can't wait to Welcome You and Your Guests on the Red Carpet!
Movie Shorts
Full Length Movies & Documentaries
Music Videos
Poetry Videos
Dance Videos
Movie Trailers
Web Series Episodes
Best Commercials
Follow Us:
Instagram:@queensundergroundfilmfest
and join our Facebook Group:
Queens Underground Black and Brown Film Festival
You Can Also Purchase Tickets and Learn More
On Our Website:
Email: Queensunderground718@gmail.com
Queens Center Of The Arts
A nonprofit 501c3 charity