Description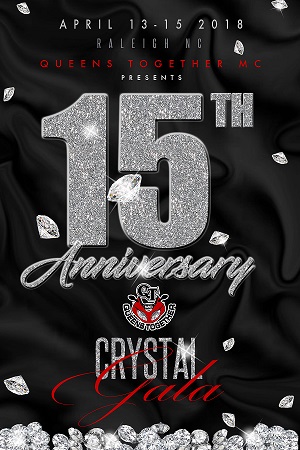 Join us in celebrating 15 years of unity in the Motorcycle community, fellowship and charity at our CRYSTAL GALA. It will be one you don't want to miss! April 13-15th, 2018!! Raleigh, NC.
Ticket Redemption!
04.13.18 (Friday)
Registration 12pm-5pm
Location: Host Hotel North Raleigh Hilton

Meet and Greet!
04.13.18 (Friday)
Food, Drinks & Fellowship 9pm-2am
Location: The Hawg Pen, 900 Hodges St

Charity Ride!
04.14.18 (Saturday)
Cost $10 per bike, $15 with passenger (all proceedes donated to SafeChild)
Registration 9-10:30 (GAS UP)
Kickstands up 11am sharp
Location: Host Hotel

Day at the Lake Extravaganza
04.14.18 (Saturday)
Motorcyle games, Club of War, etc 12pm-6pm
Location: Knights of Columbus, 4301 Columbus Club Drive

The Finale!
04.14.18 (Saturday)
The CRYSTAL GALA! 10pm-2am
DJ: DJ Fonz
Host: LymeLyte
Performance By: Ricco Barrino
Photography: Top Shotta
Location: Host Hotel
Come dressed in your favorite QT Theme from any of our past anniversaries.
$100 prize to the best dressed in theme

Host Hotel:
North Raleigh Hilton
3415 Wake Forest Rd
Raleigh, NC 27609
919.872.2323
QTMC Block Code- QCMR
QTMC Rate (King/Double $109)
First night deposit required
Overflow Hotel:
HYATT PLACE NORTH RALEIGH-MIDTOWN
1105 Navaho Drive
Raleigh, North Carolina, USA, 27609
1 919-877-9997
QTMC Block Code- G-QTMC
Room Rate: $104
Book your rooms!!
Presidents Free W/ 5 or more members!
Sign up for Kickball here