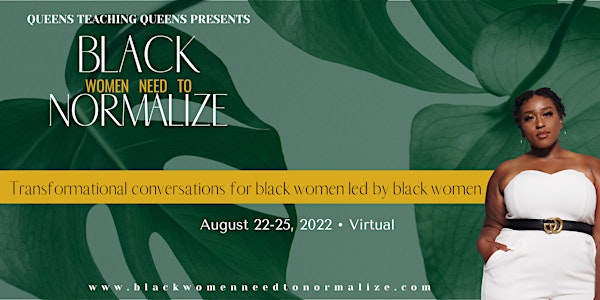 QUEENS TEACHING QUEENS Presents: Black Women Need To Normalize
Come share space August 22-25 as we discuss Money! Marriage! Mental Health + More!
About this event
"Transformational conversations for Black Women led by Black Women"
The Black Women Need to Normalize Conference is a 4 day event hosted by Visionary Natisha Livingston, founder of Queens Teaching Queens. This bi-annual event takes place, because it is an opportunity for women of color to come together, be their authentic selves and to begin healing in a safe space.
With a background in finances, Natisha found that many women have traumas that are holding them back from the desires that they have in life and she is passionate about helping women transform into the healed and whole version of themselves.
The Black Women Need to Normalize Conference allows women to bring awareness to unknown traumas, gives them the space and opportunity to share their own personal stories, and are provided resources to help them along their healing journey as they are making their way to become the highest version of themselves.
Join Us August 22-25 virtually every night from 6 pm- 8 pm pst.
Follow Us on Social Media:
Natisha Livingston Instagram: https://www.instagram.com/natishaconnects
Natisha Livingston Facebook: https://www.facebook.com/natishaconnects