Queen's Speaking of Health - When Seizures Strike: What's Happening and What Can Be Done? (FREE)

Wednesday, October 25, 2017 from 6:00 PM to 7:00 PM (HST)
Event Details
When Seizures Strike:  What's Happening and What Can Be Done? (FREE)
Queen's Speaking of Health Lecture Series - Punchbowl
Maybe you started to shake, or had body twitching.  Maybe you became unresponsive or blacked out.  Did you know there are different types of seizures that can impact your body?  Find out what's happening, what can be done, and how you can stay safe if you're having a seizure.  Learn more with Victoria Wong, MD, neurologist and epileptologist (epilepsy specialist) at The Queen's Neuroscience Institute Comprehensive Epilepsy Center.
• What are the different types of seizures, and what causes them?
• What new medications can treat seizures and epilepsy?
• How else can you treat seizures and epilepsy besides medications?
• How do you stay safe if you have seizures?
• How does epilepsy care change at different stages of life?
Come early and you can pick up information and talk story with members of the Epilepsy Foundation of Hawaii and Queen's Neuroscience Institute.  
Space is limited.  Reservations are required. Register online or call The Queen's Referral Line at 691-7117. 
Parking is available for a $5 flat rate with validation in the Physicians Office Building III, which is recommended as it is the closest to the Queen's Conference Center. Enter from Lauhala St. You can also park at Physicians Office Building I and Miller parking garages for the same $5 flat rate with validation.
Can't get in because the lecture is full? Can't make it because of a baby lu'au? You'll be happy to know that you can watch the recording of this lecture online about 2 weeks after the event on Queen's YouTube channel. Since 2016, we've posted all of the Queen's Speaking of Health lectures online. Click here to check them out and see what you've missed!
When Seizures Strike:  What's Happening and What Can Be Done? (FREE)
Date:  Wednesday, October 25, 2017
Time:  6:00 - 7:00 pm
Place:  Queen's - Punchbowl, The Queen's Conference Center
Cost:  Free
Map:  See below for most convenient parking option; please be advised that the walking route includes stairs.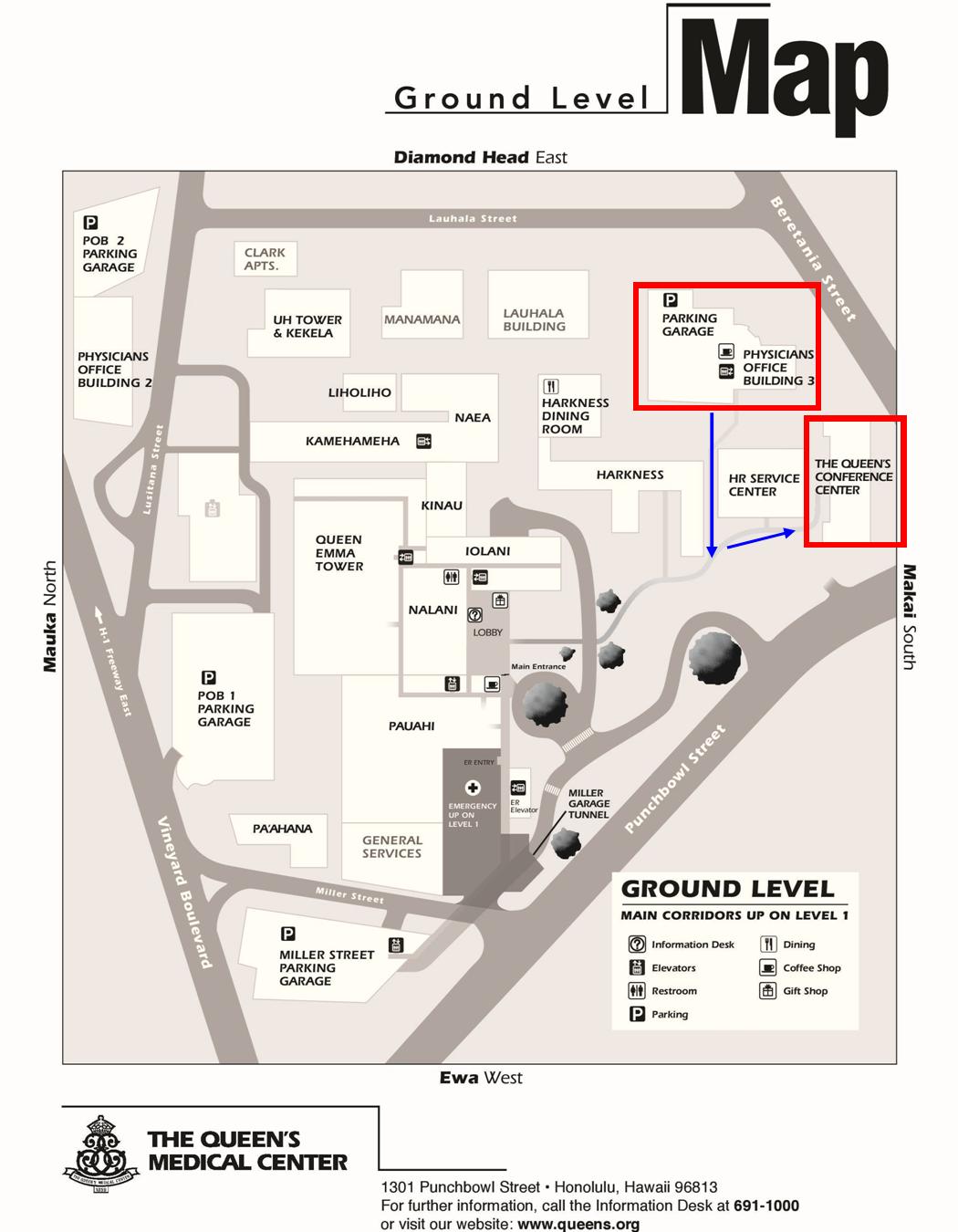 When & Where

The Queen's Medical Center - Punchbowl
The Queen's Conference Center
1301 Punchbowl St.
Honolulu, HI 96813


Wednesday, October 25, 2017 from 6:00 PM to 7:00 PM (HST)
Add to my calendar
Organizer
The Queen's Medical Center (Queen's), a 501(c)(3) non-profit corporation established in 1859 by Queen Emma and King Kamehameha IV, is an acute care medical facility accredited by The Joint Commission. The facility is licensed for 575 acute beds and serves as the major tertiary and quaternary referral center for cancer, cardiovascular disease, neuroscience, orthopaedics, surgery, emergency medicine and behavioral health medicine.  It is the state's designated trauma center verified as Level I by the American College of Surgeons.   It has the only organ transplantation program in Hawaii.  Queen's is a major teaching hospital, serving as a clinical training site for the residency programs sponsored by the John A. Burns School of Medicine at the University of Hawaii.  Queen's is the only hospital in Hawaii to achieve Magnet® status – the highest institutional honor for hospital excellence – from the American Nurses Credentialing Center.