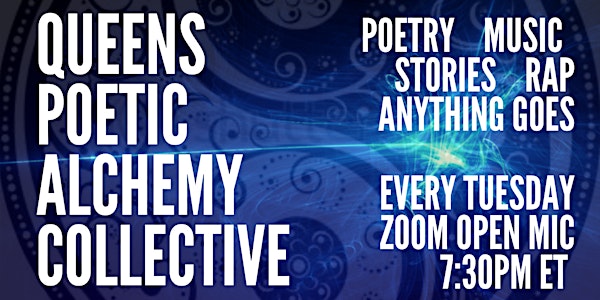 Queens Poetic Alchemical Open Mic: Poems, Music, Comedy, Rap, & Stories
Calling all poets, storytellers, musicians, artists, and creative alchemists of all kinds: Step up to the mic! We want to hear your voice.
About this event
The Queens Poetic Alchemy Collective, or QPAC, is a group of creative artists and writers originally based in Queens, NY. We held weekly open mic nights in Queens (at Red Pipe Cafe in Forest Hills) for several years and in 2020 we've transitioned to an online Zoom -based open mic, transforming & opening up our diverse community beyond all boundaries! Whether you're from the West Coast, the East Coast, the South, the Midwest, the Middle East, or the middle of an ocean, you'll find a home in our community. We have had members who Zoom in from India to South Africa to Brazil to the UK to Andromeda (Steve, our intergalactic host/MC, would like you to keep his origin a secret if you please, it's a pain to have to Zoom in from Area 51)!!
Every Tuesday we create a safe space for all to share openly, inspire each other, and support one another in mutually respectful ways. Our philosophy, influenced by the Daoist principles of internal alchemy, is based upon the transformative power of art & writing that allows us to express, explore, reveal, understand, love, transmute, & ultimately heal ourselves as well as each other via the catalyst of creativity. Feel free to come & simply listen. Whether or not you are ready to share your own creative work, we hope to inspire you with empathy, to think deeply, feel passionately, embrace vulnerability, and find your creative spark!
Don't underestimate the potential of an authentic, warm, rich, diverse community like ours to breathe new life into your art and give you an outlet you'll cherish and come back to again and again. We welcome all kinds of art, and all we ask is that you maintain respect for all in order to keep our space secure and safe. Stick around for our second or even third round of readings to engage in deep late night conversations or sometimes even hear us break out in freestyle (Hiphopopotamus style)!
Featuring as your cohosts the therapist, poet extraordinaire, and genius improv-freestyler MC Steve as well as psychiatrist/writer/spoken-word-artist/musician Dr. Faizan!
RSVP to secure your spot and join us at Zoom here every Tuesday at 7:30pm ET: https://us02web.zoom.us/j/6364707451
Find us on Facebook or Instagram @queens.poetic
Join our community on Discord to keep in touch, share work, and stay informed of exclusive online events and workshops: https://discord.gg/44x2K5gzbv