Queens, NY Tri-State Showcase - Hip Hop, Reggae, R & B, & All - Open...
Description
Open Mic Night Artist Showcase
Hip Hop, Reggae, and R & B, Poetry, Neo Soul, Cyphers
The Artsy Vibe
This is The Tri-State Showcase and It Will Be Lit with Hip Hop and Reggae Artists from all over NYC, NJ, CT, & Philly, etc.
Buy Your Tickets Early! TICKETS are $15 at the Door. - availability not guaranteed.


PERFORMERS:
Purchase Tickets then Register by sending all of your contact info, links, headshot to: TheArtistMarketOnLinden@gmail.com and then: Your registration will be confirmed.
Limited Number of Artists Accepted!! Build Your Brand, Sell Your Music, Increase Your Fan Base


2 Beverage Minimum - Water, CBD Water, Soft Drinks, Mocktails, etc. Available!!
Other Benefits of Showcasing With The Artist Market On Linden and Legacy Fam Records:
Recording Studio Onsite
All types of related coaching and training available
Photo Shoots, Videos CD production, T-shirt Design & Flyers
Opportunities to Perfrom at Other Venues and Showcases
Opportunities for Interviews (printed, video, and/or live), Website page, promotions, etc.
Make money selling tickets
And MORE!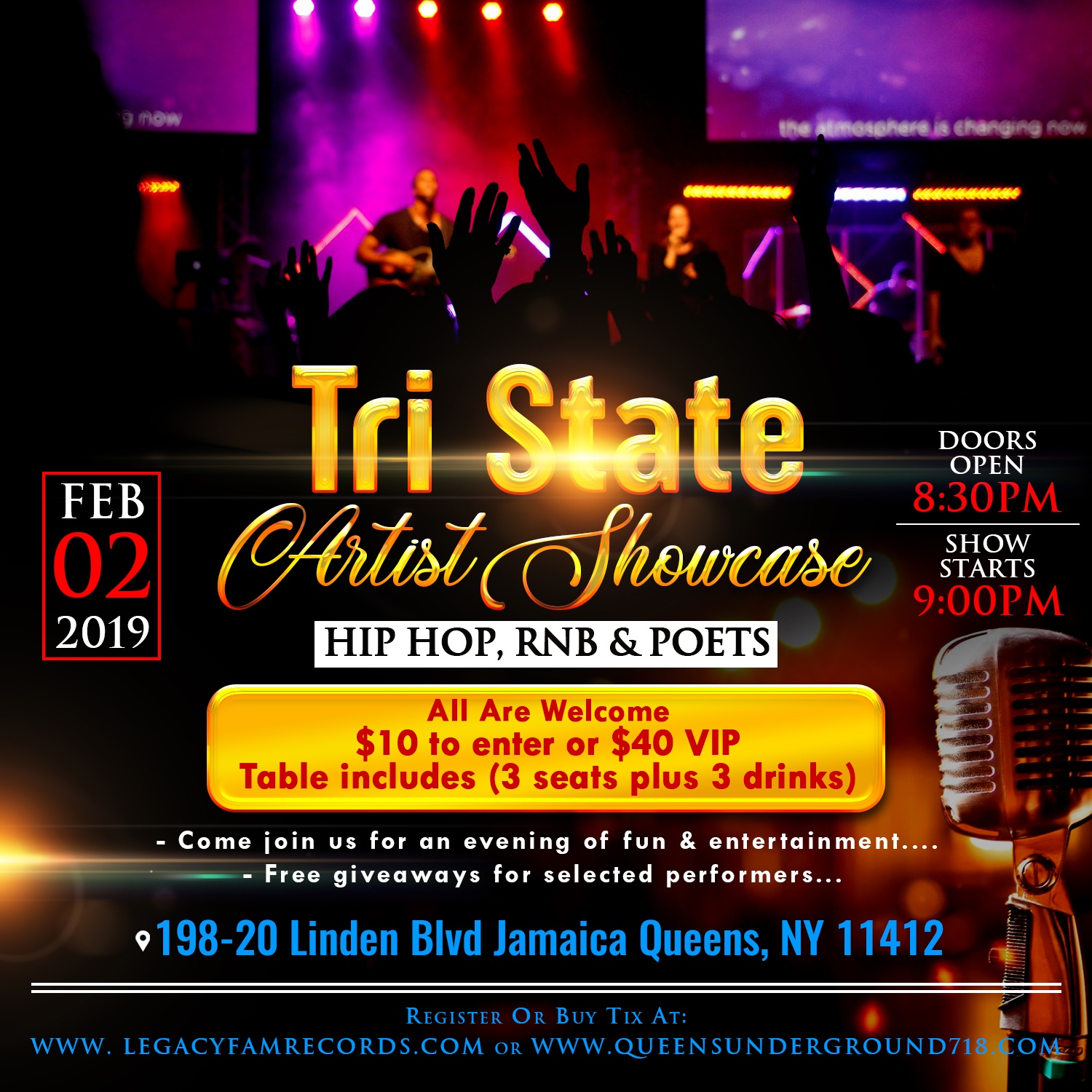 #rapmusic #rapper #reggaeartist #openmic #openmicnight #saturday #saturdayvibes #showcase #listeningparty #liveperformance #streetart #streetwear #food #drinks #recordingstudio #art #artist #livemusic #liveperformances #showcase #rappersshowcase #hiphopartist #undergroundartist #indieartist #randbmusic #dessert #cypher #bars #beats #singersongwriter #freeflow #mocktails #recordingartist #cds @networking #aandr #visualartist #creativespace #upandcoming #entertainment #entertainer #promotions #branding #queensny #nycevents #nycevents #jamaicany #rochdalevillage #springfieldgardens #cambriaheights #laurelton #southeastqueens #brooklynny #bronx #farrockaway #longisland #southozonepark #queensvillage #statenisland #manhattan #newjersey #connecticut #philly #westchester #poet #spokenwordartist #fan #goat #legend #famous #spokenword #musicvideo #recordingcontract #fans #followme #singinggroup #hiphopculture #hiphopfashion #teens #tweens #talent #qns #hiphop #hiphopculture