Queens, NY Artist Showcase Open Mic Night: Hip Hop, Reggae, R & B
Description
Open Mic Night Artist Showcase
Hip Hop, R&B, and Reggae
Purchase Your Tickets For The Next Artist Showcase - It's All About Talent- Live On Stage
This Showcase Will Be Lit with Hip Hop and Reggae Artists from all over NYC, NJ, CT, & Philly, etc.
Follow Us On Instagram: The Artist Market On Linden and Legacy Fam Recordings

Advance Sign-Up Required. To perform and participate in the Showcase Compilation CD release, you must submit two (2) of your best songs (MP3 or WAV Files) By No Later than 11/23/2018.
Follow Us On Instagram and Facebook: The Artist Market On Linden and

Legacy Fam Recordings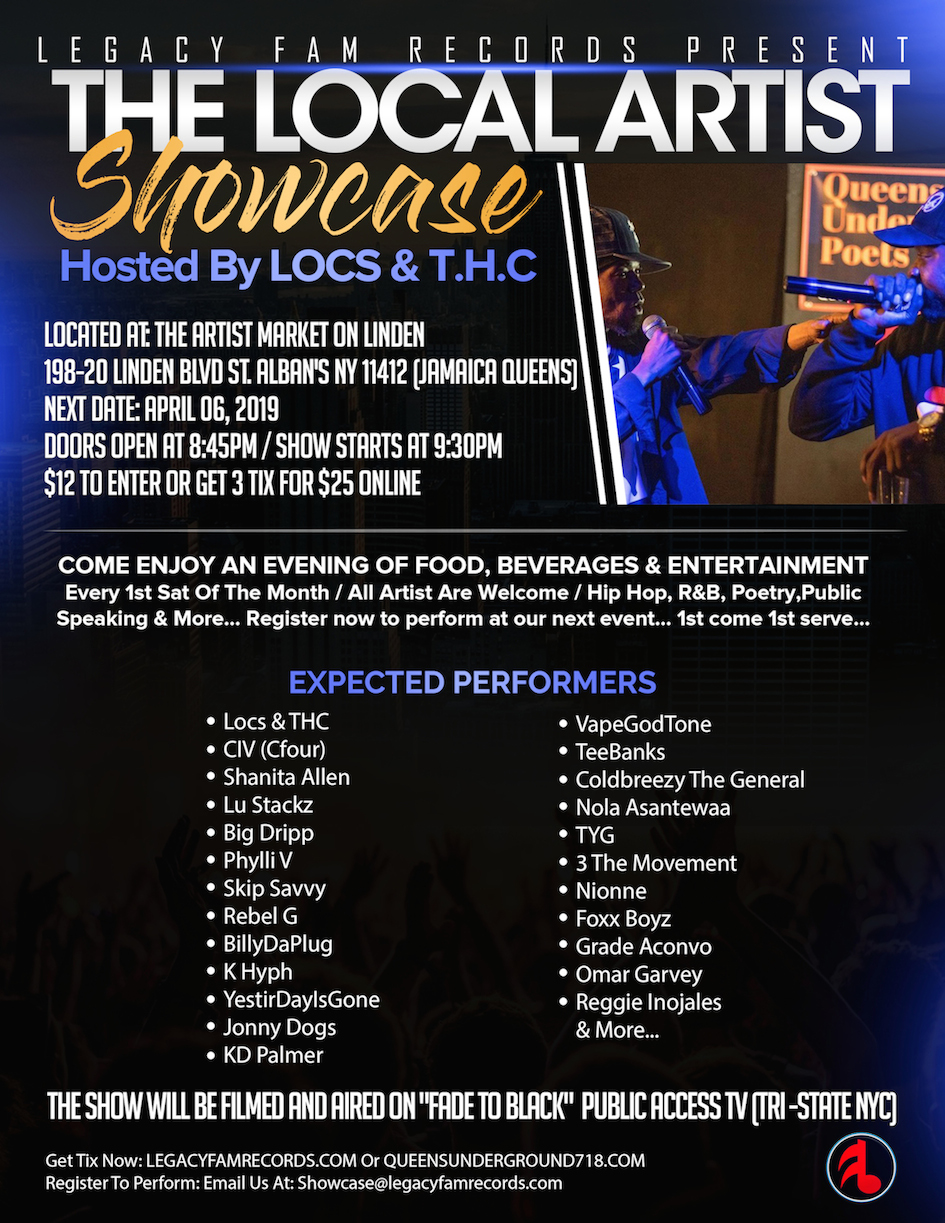 #rapmusic #rapper #reggaeartist #openmic #openmicnight #saturday #saturdayvibes #showcase #listeningparty #liveperformance #thingstodo #streetart #streetwear #food #drinks #recordingstudio #art #artist #livemusic #neosou #showcase #rappersshowcase #hiphopartist #undergroundartist #indieartist #randbmusic #dessert #recordingartist #cds #networking #randb #visualartist #creativespace #upandcoming #entertainment #entertainer #promotions #marketing #cds #queensny #nycevents #richmondhill #farrockaway #longisland #hempstead #elmont #hollis #hollishills #rochdalevillage #queensvillage #jamaicany #rochdalevillage #springfieldgardens #cambriaheights #laurelton #southeastqueens #richmondhill #brooklynny #bronx #longisland #stalbans #southozonepark #queensvillage #statenisland #manhattan #newjersey #connecticut #philly #westchester #poet #spokenwordartist #fan #goat #legend #famous #headliner #recordingstudio #hiphop #hiphopculture #hiphopfashion #cbd #goodvibes #musicvideo #youtube #soundcloud #radio #webseries #realityshow #vegan #rapper #releaseparty #listeningparty #newartist #dj #following #feature #itunes#download #sellmusic #musicmanager #vocalcoaching #video #instagram #facebook #socialmedia #rnb #singinggroup #rapgroup #valleystream #rockvillecenter #realtityshow #video #screening #interviews #queensny #qns #itsinqueens #concert #festival