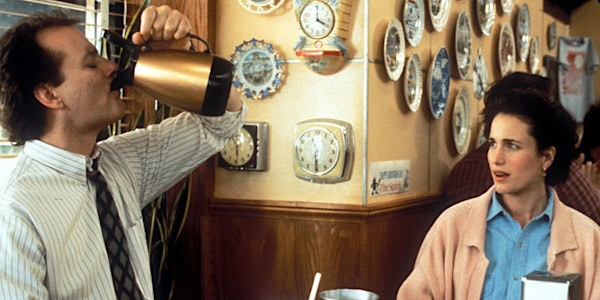 Queens Drive-In: Groundhog Day
Watch Harold Ramis's philosophical rom-com starring Bill Murray—one of modern cinema's most influential films—again. And again. And again.
When and where
Location
Queens Drive-In at The New York Hall of Science 47-01 111th St Corona, NY 11358
About this event
Date: Sunday, May 2nd
Venue: Queens Drive-In at The New York Hall of Science
Address: 47-01 111th St, Corona, NY 11368
All Queens Drive-In attendees will need to enter via the main entrance at 111th Street/49th Avenue entrance to the New York Hall of Science. There will be no access from the Grand Central Parkway exit 9P.
Use Grand Central Parkway Exit 10W to Corona Ave, OR the Long Island Expressway to the 108th Street exit, and take local streets to the entrance for all vehicles on 49th Avenue and 111th Street. Signs and staff members will direct you to the Drive-In upon arrival.
7:00 PM: Doors Open & Pre-Show Begins
8:00 PM: Film Begins
Groundhog Day
Harold Ramis | 1993 | US | 101 mins.
With Bill Murray, Andie MacDowell, Chris Elliott, Stephen Tobolowsky. In this ingenious and philosophical comedy, considered by many to be Harold Ramis's masterpiece, Harold (Bill Murray) is a television weatherman reporting on the Groundhog Day festivities in Punxsutawney, Pennsylvania, whose narcissism traps him in a supernatural time loop. Forced to repeat the same day over and over again, Harold responds at first with anarchy, but then comes to a moral awakening. Groundhog Day has been seen as—among other things—an allegory for the Buddhist conception of existence and a satire on the arduous repetition of a movie shoot. Rated: PG
.........................................
NO REFUNDS. IN THE EVENT OF EXTREME WEATHER, SHOW WILL BE RESCHEDULED AT THE SAME LOCATION. NO ALCOHOL IS PERMITTED.
Group rates are available to other non-profit organizations, local community groups, and frontline workers. Subject to ticket availability. Contact tickets@rooftopfilms.com for more info or to make a request.
.........................................
FAQs
What is the Queens Drive-In?
Presented as a partnership between the three New York cultural organizations Rooftop Films, Museum of the Moving Image, and New York Hall of Science, Queens Drive-In presents new and classic films as a way to bring culture and jobs back to one of the neighborhoods hardest hit by COVID-19.
¿Qué es el Queens Drive-In?
Presentado como una asociación entre las tres organizaciones culturales de Nueva York, Rooftop Films, Museum of the Moving Image y New York Hall of Science, Queens Drive-In presenta películas nuevas y clásicas como una forma de devolver la cultura y el trabajo a uno de los vecindarios más afectado por COVID-19.
What kind of ticket should I get?
If your car is over 60 inches in height then you should select an SUV ticket, if it's over 70 inches then you should select an Oversize ticket.
PLEASE NOTE: One ticket admits one car (with up to five guests allowed per vehicle).
¿Qué tipo de boleto debo obtener?
Si su automóvil tiene más de 60 pulgadas de altura, debe seleccionar un boleto de SUV, si tiene más de 70 pulgadas, entonces debe seleccionar un boleto de gran tamaño (oversize).
TENGA EN CUENTA: Un boleto admite un automóvil (con hasta cinco invitados permitidos por vehículo).
How will it work?
Bring your ticket (either printed or on your phone) and our team will check your tickets with a contactless check in scanner, respecting social distancing guidelines. We will direct you to your parking spot, and wait for the sun to set. Our audio is quality FM stereo sound that is tuned directly through your car's FM stereo.
¿Cómo funcionará?
Traiga su boleto (ya sea impreso o en su teléfono) y nuestro equipo revisará sus boletos con un escáner de facturación sin contacto, respetando las pautas de distanciamiento social. Lo dirigiremos a su lugar de estacionamiento y esperamos al atardecer. Nuestro audio es un sonido estéreo FM de calidad que se sintoniza directamente a través del estéreo FM de su automóvil.
Are there any vehicle restrictions?
To keep the Drive-In safe and fun for everyone, the following vehicle restrictions apply. Not permitted are:
Bicycles
Motorcycles or scooters
Convertibles without roof
Cars with trailer attachments
Passenger Vans (7+ seats)
Buses
RVs
Long wheelbase vans
No open trunks or backwards facing parking
¿Existe alguna restricción vehicular?
Para que el Drive-In sea seguro y divertido para todos, se aplican las siguientes restricciones de vehículos. No se permiten:
Bicicletas
Motocicletas o scooters
Convertibles sin techo
Automóviles con accesorios de remolque
Furgonetas de pasajeros (7+ asientos)
Autobuses
Vehículos recreativos
Furgonetas con batalla larga
Can I buy food and drinks at the Drive-In?
The Queens Drive-In offers concessions on-site, before and during the screening, via two favorite vendors from the famed Queens Night Market. For orders placed online, you will receive a text when your food is ready for pickup at the vendor stands.
Choose from the following options:
CBao (Asian-style buns): When your vehicle is safely parked in the lot, order at www.mycbao.com
Dilena's Dolcini (Snacks, cookies, popcorn, drinks): To order, either wave to the cart and they will come over to your vehicle, or go to bit.ly/QDIsnacks
¿Puedo comprar comida y bebida en el Drive-In?
El Queens Drive-In ofrece concesiones en el lugar, antes y durante la proyección, a través de dos proveedores favoritos del famoso Queens Night Market. Para los pedidos realizados en línea, recibirá un mensaje de texto cuando su comida esté lista para ser recogida en los puestos de los vendedores.
Elija entre las siguientes opciones:
CBao (pan de estilo asiático): cuando su vehículo esté estacionado de manera segura en el lote, haga su pedido en www.mycbao.com
Dilena's Dolcini (bocadillos, galletas, palomitas de maíz, bebidas): para hacer un pedido, salude al carrito y se acercarán a su vehículo, o vaya a bit.ly/QDIsnacks
Can I bring food and drinks?
No alcoholic beverages are allowed, Having an open alcoholic beverage in a vehicle is prohibited in New York State at all times even when a car is parked, and this law applies at the drive-in as well. Feel free to bring your own non-alcoholic beverages and food.
¿Puedo traer comida y bebida?
No se permiten bebidas alcohólicas. Tener una bebida alcohólica abierta en un vehículo está prohibido en el estado de Nueva York en todo momento, incluso cuando el automóvil está estacionado, y esta ley también se aplica en el autocine. No dude en traer sus propias bebidas y alimentos sin alcohol.
How will parking spots be allocated?
Parking is first come, first served with the exception of larger / taller vehicles that may obstruct the view of cars behind them.
¿Cómo se asignarán las plazas de estacionamiento?
El estacionamiento se asigna por orden de llegada, con la excepción de los vehículos más grandes / altos que pueden obstruir la vista de los automóviles que están detrás de ellos.
What happens if I am late?
If you arrive later than 15 minutes before for the screening start time, you may miss the mandatory Drive-In safety briefing and may not be allowed to enter.
¿Qué pasa si llego tarde?
Si llega más tarde de 15 minutos antes de la hora de inicio, es posible que se pierda la sesión informativa de seguridad obligatoria del Drive-In y que no se le permita ingresar.
Can I bring an animal to the drive-in?
With the exception of ADA required service animals, unfortunately we cannot admit any other animals.
¿Puedo llevar un animal al autocine?
Con la excepción de los animales de servicio requeridos por la ADA, desafortunadamente no podemos admitir otros animales.
What COVID-19 Measures Have Been Taken?
Our guests and our team's safety is our primary concern at the Drive-In. You will find an overview of the COVID-19 measures we will implement in our COVID Safety statement. These include social distancing for both guests and staff, regular cleaning of all facilities, and contact-free check-in. All attendees and staff are required to wear a mask whenever they are not in their vehicle, but masks are not required while attendees are in their vehicles. You will also be reminded of the mandatory safety measures via email and on-screen. With the exception of trips to the bathroom, we ask you to stay inside your car and keep the windows on the passenger side of the vehicle closed. If you drive a convertible, please close the roof before you enter the Drive-In site and keep it closed until after you have left.
¿Qué medidas COVID-19 se han tomado?
La seguridad de nuestros invitados y nuestro equipo es nuestra principal preocupación en el Drive-In. Encontrará una descripción general de las medidas de COVID-19 que implementaremos en nuestra declaración de seguridad de COVID. Estos incluyen el distanciamiento social tanto para los invitados como para el personal, la limpieza regular de todas las instalaciones y el check-in sin contacto. Se requiere que todos los asistentes y el personal usen una máscara siempre que no estén en su vehículo, pero no se requieren máscaras mientras los asistentes están en sus vehículos. También se le recordarán las medidas de seguridad obligatorias por correo electrónico y en la pantalla. Con la excepción de los viajes al baño, le pedimos que permanezca dentro de su automóvil y mantenga las ventanas del lado del pasajero del vehículo cerradas. Si conduce un convertible, cierre el techo antes de ingresar al sitio de Drive-In y manténgalo cerrado hasta que se haya ido.
Please review the drive-in policies, liability statement, and answers to other frequently asked questions here.