QUEEN OF THE RING "NO HOLDS BARRED 2"

Sunday, August 9, 2015 from 5:00 PM to 11:00 PM (EDT)
Event Details
ONCE AGAIN QUEEN OF THE RING IS BACK WITH THE HUGE EVENT "NO HOLD BARRED" BUT NOW WERE ON "NO HOLD BARRED 2" AND THIS CARD IS PACKED WITH FAN FAVORITE PERFORMERS. WE MIXED IT UP THIS TIME WITH SOME VETS AND SOME NEW COMERS TO THE SCENE. SHOONEY DA THE RAPPER HAS MADE A BIG COME BACK AT PR3 AND HAS CALLED OUT THE UP & COMING BAR HEAVY MELATO BLACK, BOTH LADIES HAVE BEEN GOING BACK & FORTH FOR A WHILE NOW. THE HIGH ENERGY & ENTERTAINING VET DON LADYII IS GIVING A SHOT TO THE TRAIL BLAZING CASEY JAY, WILL THIS BE CASEY'S COME UP OR WILL DADDY DON PUT A STOP TO THAT? A MATCH UP NO ONE SEEN COMING, THE LEGENDARY E HART VS THE INCREDIBLE EMCEE C3. THIS BATTLE WILL BE INTENSE & CAN PUT C3 WITH THE BEST OF THE BEST OR WILL E HART PUT ANOTHER HEAD ON THE MANTLE? COUTURE VS TORI DOE, THIS MATCH UP IS SO UNPREDICTABLE BUT IT'S TORI FANS VS COUTURE FANS AND THE STAKES ARE HIGH FOR RANKING. NOW WE GET TO WHAT WILL PROBABLY BE THE MOST HISTORIC 2 ON 2 IN BATTLE RAP HISTORY. 40 B.A.R.R.S & BONNIE GODIVA VS DNA & K SHINE. A PRE LOOK INTO BATTLE OF THE SEXES. BOTH TEAMS BATTLED EACH OTHER AND GENERATED HIGH VIEWS BUT NOW THE UNLIKELY PAIRS COME TOGETHER TO CREATE WHAT MIGHT CHANGE THE FACE OF BATTLE RAP. GET YOUR TICKETS NOW BEFORE THEY RUN OUT!!!!!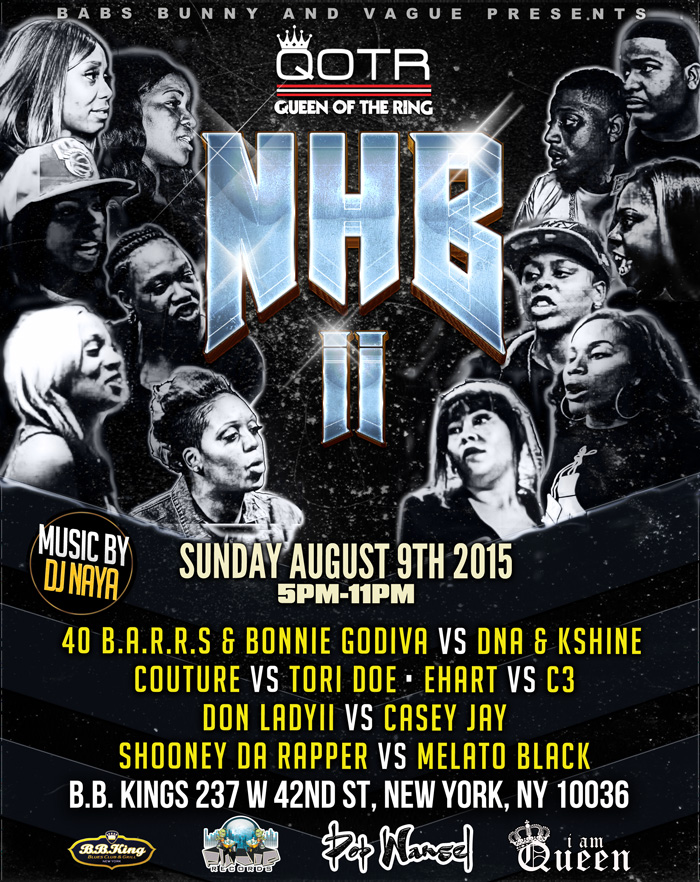 THERE ARE NO REFUNDS. AFTER PURCHASE ALL SALES ARE FINAL AND LINE UPS MIGHT BE ADDED, CHANGED OR PUSHED TO ANOTHER DATE.                  
Organizer
BABS BUNNY & VAGUE presents QUEEN OF THE RING
QUEEN OF THE RING "NO HOLDS BARRED 2"