QUEEN OF THE GOTHS: a Southern Gothic riff on TITUS ANDRONICUS @ SoLow Fest
About this Event
Jacqueline Goldfinger is trying out her new play Queen of the Goths at SoLow Fest in Philadelphia. Queen is a Southern Gothic riff on Shakespeare's infamous and bloody Titus Andronicus.
It explores this classic play through the villainized lens of Tamora, Queen of the Goths, who was captured by Titus, and refocuses the story on both the female characters and Titus' own PTSD. It's set in the lawless Victorian Era of the Florida Everglades where corruption, power, and greed are rampant.
Perfect for fans of the original Titus Andronicus as well as films like Tarantino's Inglourious Basterds and books like Faulkner's Sanctuary.
Come and listen as an audience member, and/or participate as a community member or soldier! The main roles are already cast but we need Community Members and Soldiers. Come by early, between 5-5:30pm, to get your sticker and sit in the correct section of the space. We'll begin this casual reading of the play at 5:30pm sitting around the upstairs bar room – and if you're acting, you'll chime in with your lines.
Price: The event is Pay What You Decide. We will pass a bucket around at the end where you may throw in cash, if you wish. All of the money will go to the creative team who organized the event.
Open Seating.
100 minutes no intermission.
The Pub: We will be upstairs at Fergie's. Fergie's downstairs bar will be open for your enjoyment (it opens at 11:30AM). You can bring your drinks upstairs to the reading, and go downstairs to refill as necessary.
After Party: After our event, we'll head out to the SoLow Fest Launch Party. Everyone is welcome to join!
Check out more of my work: www.jacquelinegoldfinger.com
SoLow Fest: Check out all of the events at SoLow Fest here - www.solowfest.com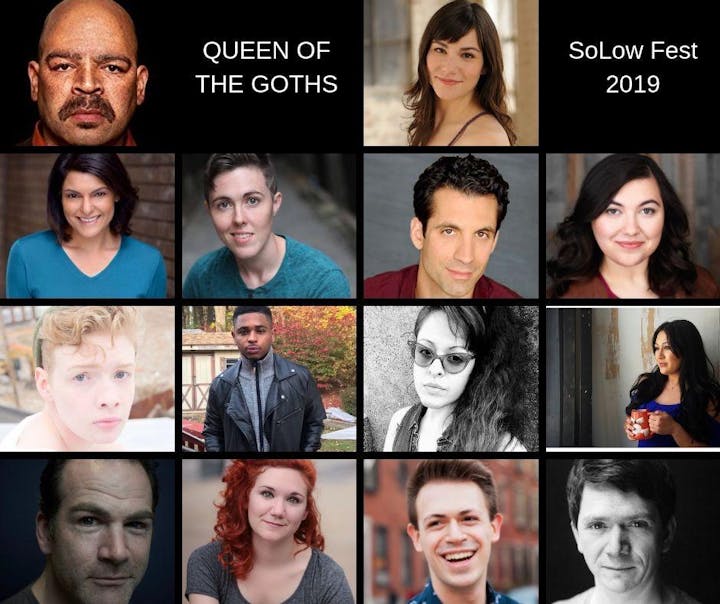 THE PLAYERS
Featuring (in alphabetical order):
-Damon Bonetti as the Lieutenant (Titus' Right Hand Man)
-Keith Conallen as the Preacher
-Sarah Gliko as Queen of the Goths
-Jack Henry as Samuel (embattled twin of deceased governor)
-Eli Lynn as Base (embattled twin of the deceased governor)
-Jenna Kuerzi as Demon (Queen's Youngest Child)
-Bryce Maynard as Sargeant & Leader of the Community
-Abby Morris as Speech A'Fy'ing Reveler, Bedraggled Person, & Stage Directions
-Ru Pujara as Maymen (Titus' child), Ben (Queen's eldest child), A Wealthy Citizen, & Dancing Reveler
-Steven Rishard as Marcus (Titus' Brother)
-Diana Rodriguez as Sister (the Queen's Sister)
-Aaron Shaw as Aaron (the Queen's Right Hand Man)
-Stephanie Kyung Sun Walters as Lavinia (Titus' daughter) and the Leader of the Soldiers
-Brian Anthony Wilson as Titus
And guest starring Fergus Carey of Fergie's Pub as The First Kill!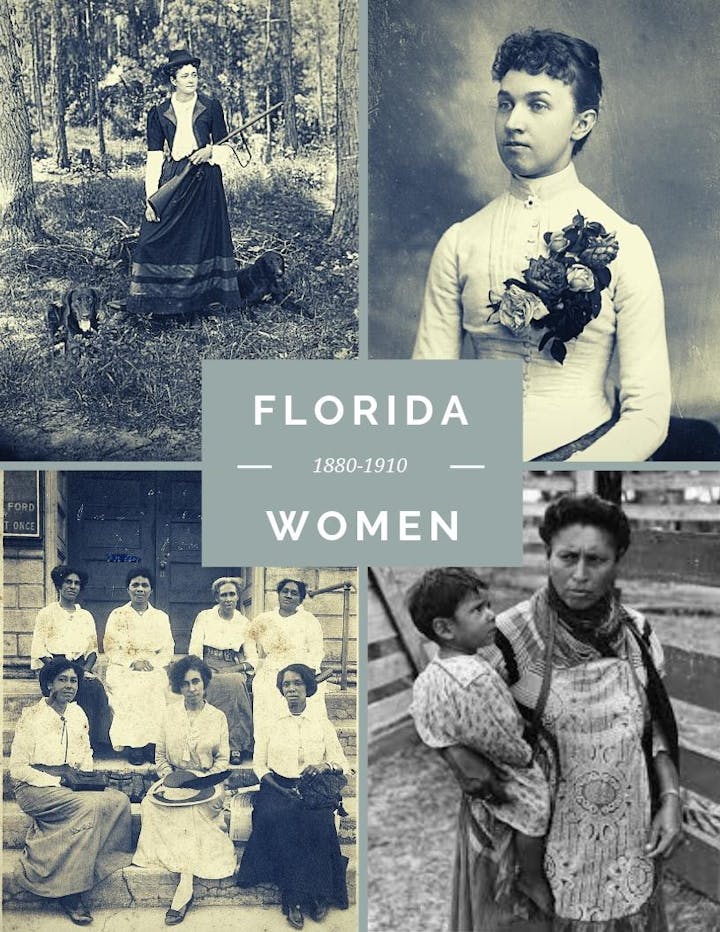 Queen of the Goths is inspired by Shakespeare's infamous and bloody Titus Andronicus. It explores this classic play through the villainized lens of Tamora, Queen of the Goths, who was captured by Titus, and refocuses the story on both the female characters and Titus' own PTSD. It's set in the lawless Victorian Era of the Florida Everglades where corruption, power, and greed are rampant. (Above photos from the Florida State Archives.)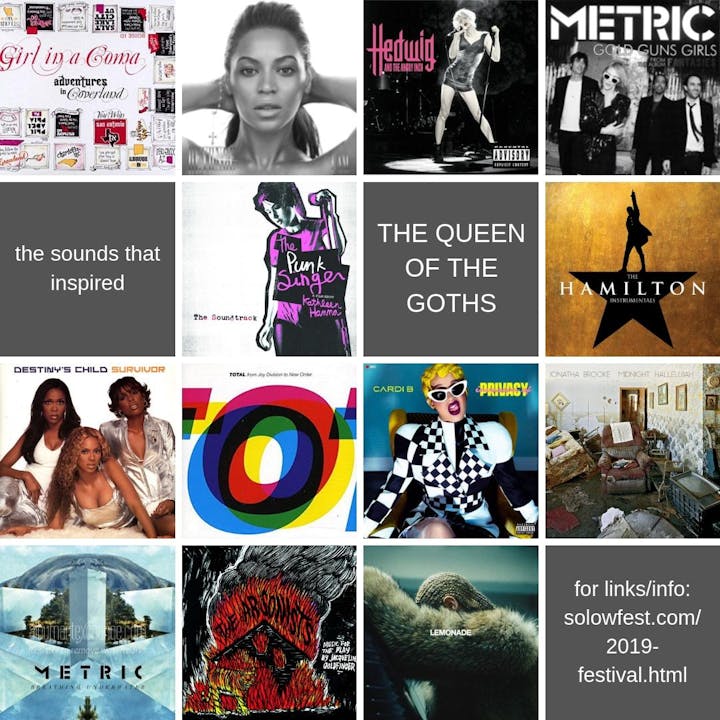 Music inspiration play list for QUEEN OF THE GOTHS, a new Southern Gothic play based on TITUS ANDRONICUS:
https://itunes.apple.com/us/playlist/queen-of-the-goths/pl.u-WabZ68PhMyKxN?fbclid=IwAR2c5Py_gzvQvu_nVkeG-Gzjp_LrFhKzz7u0WtvcZkWyio9IAHhkAJzAoFk
Si Una Vez - Girl in a Coma (Adventures in Coverland)
Left Alone - Koof Ibi Umoren & Vessna Scheff (The Arsonists)
Break My Body - Melanie Hsu (The Arsonists)
Isolation/She's Lost Control - Joy Division (Total)
Deception (Le Tigre)
Formation - Beyonce (Lemonade)
My Shot - Hamilton/Miranda (original Broadway Cast recording)
Breathing Underwater - Metric (Single)
I Like It - Cardi B (Cardi B Essentials)
Gold Girls Guns - Metric (Metric)
Halo - Beyonce (I Am…Sasha Fierce)
If You Love Somebody, Set Them On Fire - Ladybird (The Arsonists)
Light Years - Jonatha Brooke (Midnight. Hallelujah.)
Midnight Radio - Hedwig and the Angry Inch (Hedwig and the Angry Inch)
Curtain Call: Survivor - Destiny's Child (Destiny's Child)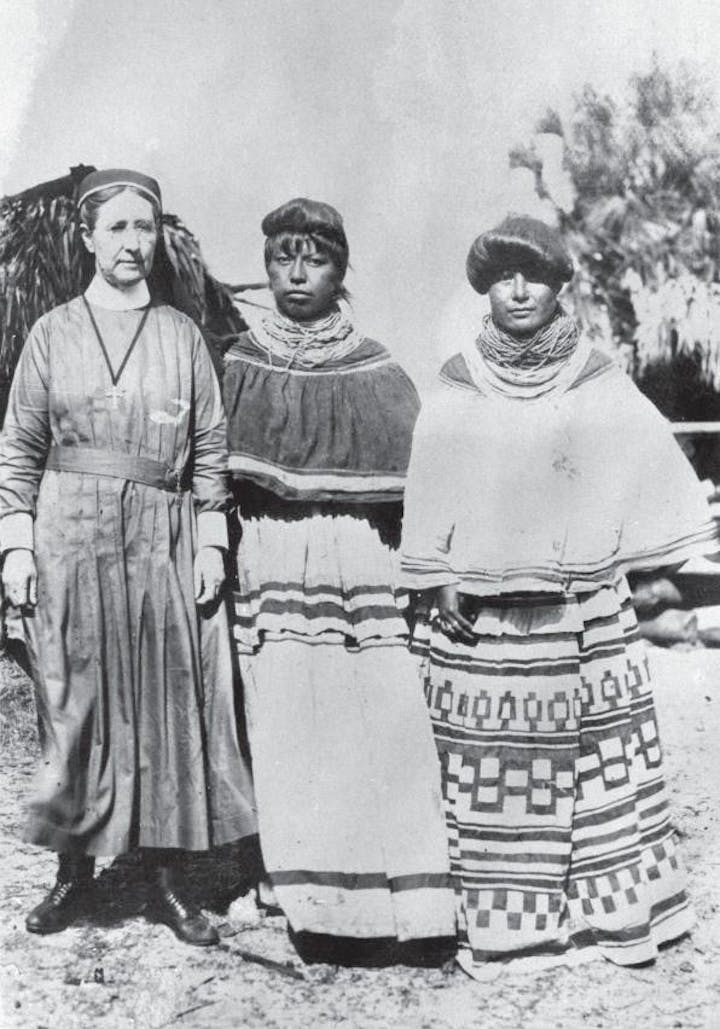 A Dramaturgical Note on Time Period
Queen of the Goths takes place in the late-Reconstruction Phase/early-Victorian Era of South Florida, near the Everglades.
During Reconstruction, folks were just beginning to understand how profitable Florida land could be. A few years later, in the Victorian Era, battles over control of the land broke out – and there was little formal law to stop it. These rifts lead to formal assassination societies being established to scare and murder political and business (land) rivals.
The most notorious of these was the Sarasota Vigilance Committee. Members of the Committee would, literally, walk up to rivals and shoot them in the face, as a scare tactic for others. It worked. These acts unleashed violent rivalries, which lasted decades, over resources which would come to be valued in the billions of dollars. This is the setting for Queen of the Goths.
But how did we get here...
The original South Floridians were the Paleoindians who arrived in Florida between 11,000-20,000 years ago by walking over sheets of ice that connected Florida with land masses to the south and west. When the ice melted, water levels rose and created fertile land that would later be perfect for farming high yield/high profit crops, especially Sugar and Citrus. It also created some of the most beautiful beaches in the world.
By the 1700s, South Florida is occupied by a wide-range of groups who use it as a place to get off the grid, because it is so hot and unwelcoming that others do not want to live there. This population includes loners, escaped convicts, escaped enslaved peoples, native indigenous peoples, indigenous peoples fleeing atrocities, and peoples exiled from, or enslaved by, Spanish and French colonies.
The transfer of Florida from Spain to the United States in 1821 prompted the migration of thousands of American planters into Middle Florida. (The French abandoned their claim earlier.)
Plantations spread beyond Middle Florida to South Florida after the United States military waged three vicious wars against the Seminole Tribe. The vast majority of Seminoles were either murdered or removed by 1858. However, there were still a small number of Seminoles living on reservations.
During the Civil War, Florida became a major source of cotton, sugar, and other resources for the Confederacy, especially as other Southern states "fell" to the Union. Florida never officially "fell" – making it the only Southern capital east of the Mississippi River with resources accessible to the Confederacy for the entire war.
Then Reconstruction happened (which was about as effective in Florida as it was elsewhere in the South) and now we've reached the Victorian Era of our play.
You do not necessarily need to know this to understand the play, but it's useful knowledge to have and a pretty cool backstory for our State.
(Above photograph of three unidentifed women in South Florida from the Florida State Archives.)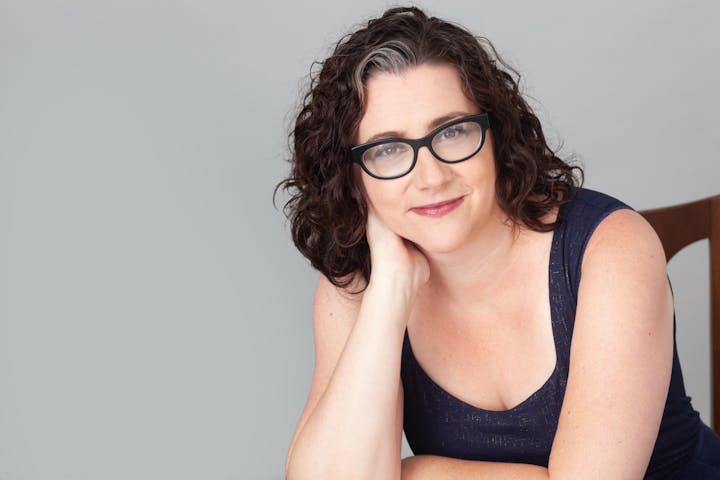 Jacqueline Goldfinger (she/they) is a playwright and dramaturg. She co-Founded The Foundry @ PlayPenn and Curates Page By Page. She is an Affiliated Artist at New Georges and The Lark Playwright's Center. She is a member of the writers' labs at The Barrow Group and Azuka Theatre. She won the Yale Drama Prize, Smith Prize, Generations Award, Brown Martin Award, Barrymore Award, and Philadelphia Critics Award. She was a Honored Finalist at the 2019 WAMC Awards and a Finalist at the 2018 International Book Awards. Her plays have been developed and/or produced by theaters including: The National Theatre/London, Wilma Theatre, The Kennedy Center, La MaMa, Disquiet/Lisbon, Florida Studio Theatre, Orlando Shakespeare, Kansas City Rep, Perseverance Theatre, Capital Stage Company, Seattle Public, Manhattan Theatre Works, Simpatico Theatre, and the NYC International Fringe Festival. She is a member of the Dramatists Guild and represented by Abrams Artists Agency. For more information: www.jacquelinegoldfinger.com