About this Event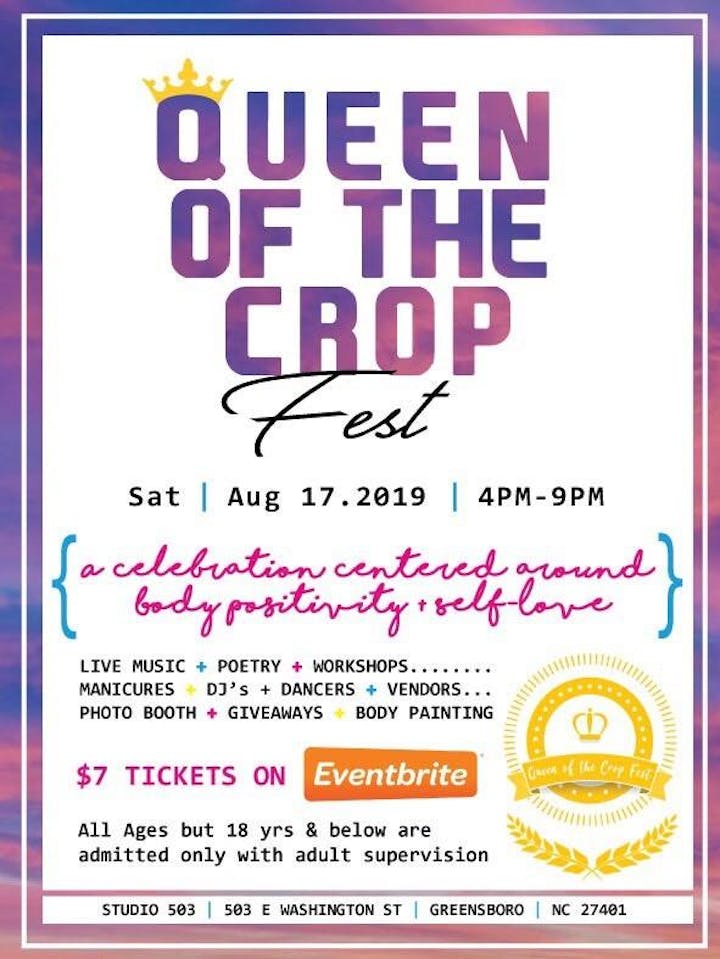 Queen of the Crop Fest was founded in 2019 to promote Body Positivity and Self-Love for all people. This isn't just a festival; this is a celebration of all body types regardless of gender, size, shape, ability or color.
This Beautiful Day will include: Live Music, Poetry, Workshops, DJ's & Dancers, Food Trucks & Beer Vendors, Body Painting and Photo Booths!
From beginning to end, we want every guest to feel accepted, loved and visible. And in the words of bell hooks, "This is a safe space and a place of radical openness". No body-shaming or negativity will be tolerated. So if you are ready to witness crowds of people empowering each other, then show up and show out!
Date: Saturday, Aug 17, 2019 from 4PM-9PM Location: Studio 503 at 503 E Washington St, Greensboro, NC 27401 Tickets: $7 on Eventbrite and $10 at the door Ages: All ages welcomed but 18 yrs and below will require adult supervision Event Type: Indoor and Outdoor; takes place, rain or shine!
LOOKING TO DONATE? Please send love via Paypal at queenofthecropfest@gmail.com or CashApp to $queenofthecropfest
WE NEED SPONSORS! Please email queenofthecropfest@gmail.com for more info on our sponsor packages! A portion of the proceeds will be donated to the National Eating Disorders Association and the Susan G. Komen Breast Cancer Research Foundation.
Looking forward to seeing your gorgeous faces soon!