About this Event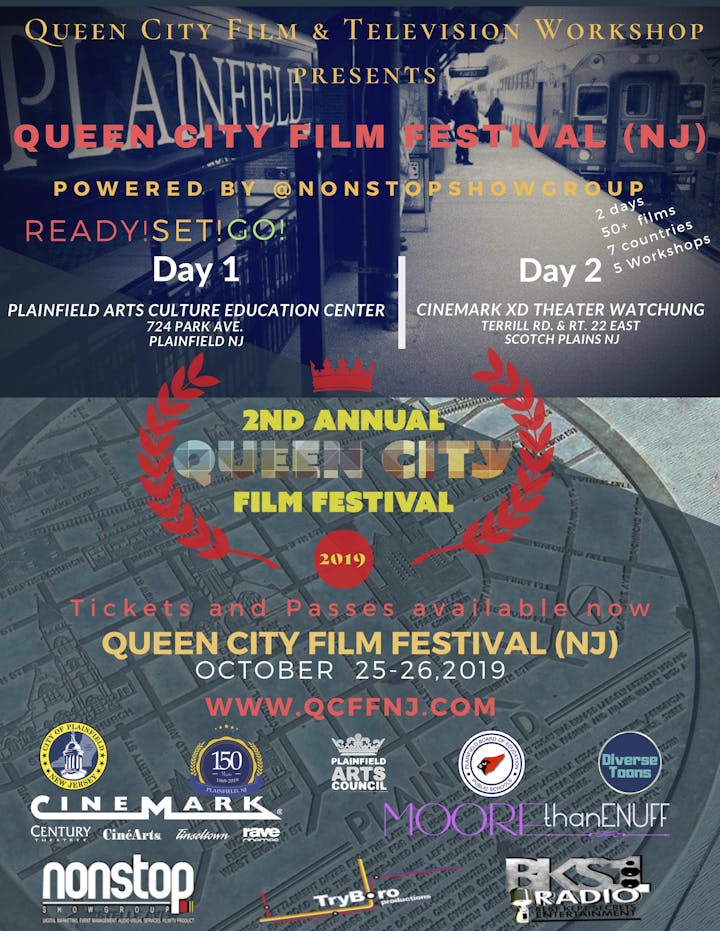 The Queen City Film Festival (NJ), a A Queen City Film & Television Workshop event, is a community centered film festival based in the historic city of Plainfield, New Jersey; a central jersey hub for culture, cuisine, music, art and film. Located 25 miles southwest of Tribeca in lower Manhattan, Plainfield is set with two train stations along the NJ Transit Raritan Valley Line and is a quick easy commute to and from from New York City. QCFTVW is a NJ nonprofit corporation dedicated to providing Tv and film production training to area youth, free of charge.
The festival, now in its second year started out as a pop-up short film showcase featuring both Plainfield filmmakers as well as films produced in the city. The brainchild of city native, film and television production veteran Lamar David Mackson, the festival is aimed at providing a space for the developing and experienced independent filmmakers whose work has transcended the challenges of independent filmmaking.
2018's lineup included films from Writer Okema T. Moore, Director Patrick Coker as well as renowned novelist and Plainfield's own, JM Benjamin. 2019 promises to crank the action up a notch with an expanded two day schedule, which will include film production workshops, extended community mentor outreach, a network luncheon, world premiere screenings, more genres, more screenings, more Q&A's, a world class opening night party and an awards ceremony at the newly constructed Cinemark Theaters Watchung located in neighboring Scotch Plains, New Jersey.
Scheduled appearances include -
2x Emmy Award Winner Courtland Bragg (HBO/NFL Films )- "Documentary Filmmaking Panel"
Emmy Nominated Director Lauren Meyer(Tumbleweed Pictures) - "The Other Boys of Summer"
TALES ON BET Writer's Room SCREENWRITERS PANEL
Adam Wiesen- WGA East , Buchwald Agency
Patrick Coker - Tryboro Productions, WGA East, Buchwald
Larry "Legend Spivey - WGA East