Quebec Delegation Chicago WEFTEC Reception

Tuesday, October 8, 2013 from 5:30 PM to 7:30 PM (CDT)
Who's Going

Loading your connections...
3 of your friends are going.
Share it to get more people on board!
Share

Sara Haughty
San Francisco, California

Luke Picard
London, United Kingdom

Rick Vespucio
Florence, Italy
Event Details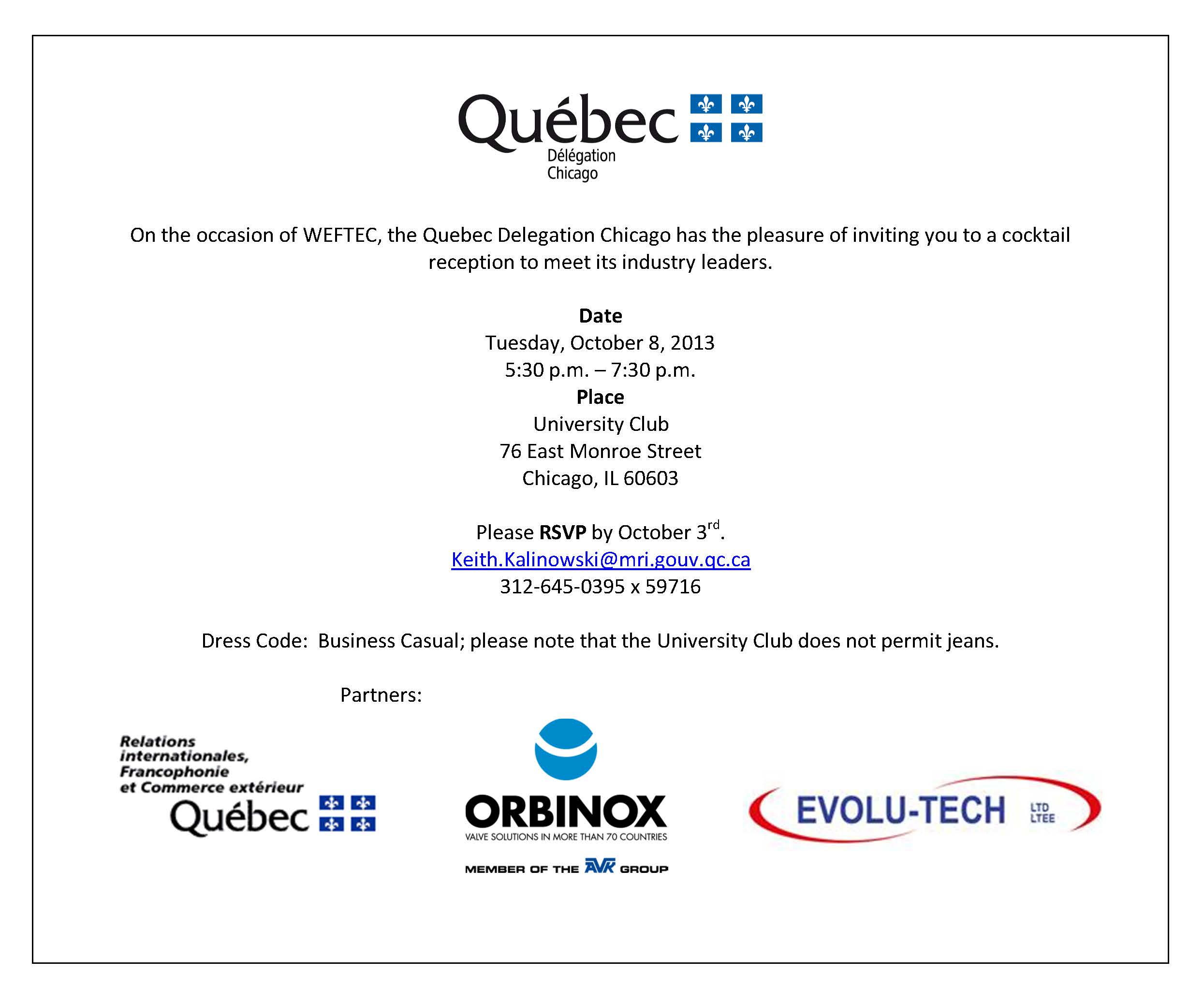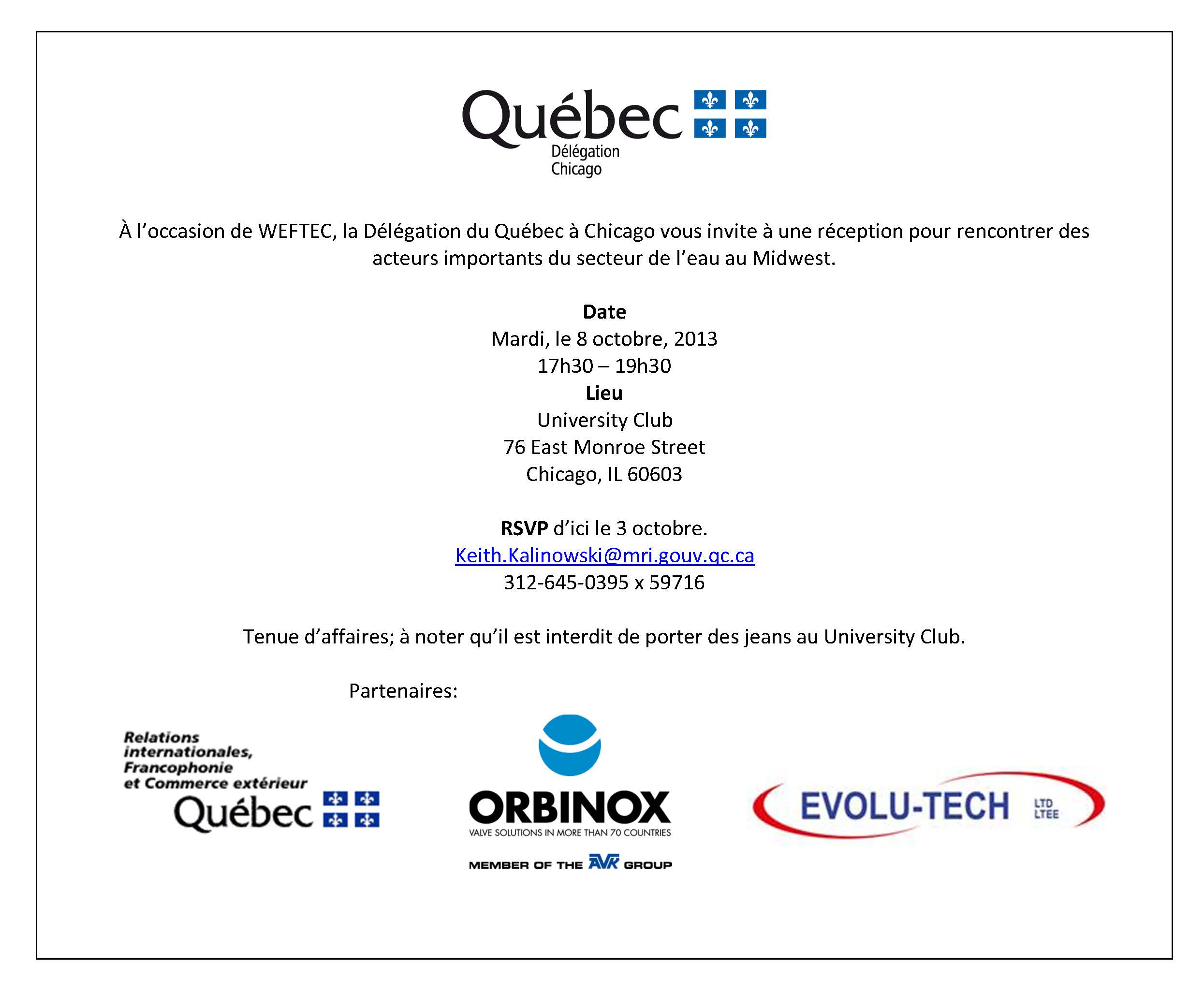 The University Club Chicago's "Business Casual" Attire
Defined at a minimum as: Men and boys over the age of 12: slacks (dress pants) and (i) a collared shirt or (ii) a collared shirt and sweater or (iii) a turtleneck. Women and girls over the age of 12: slacks or skirt with a blouse or a sweater or collared shirt. Bare midriffs are not acceptable.
The following are not allowed in the Clubhouse unless such are appropriate to the Athletic Facilities: (i) tennis shoes, (ii) jeans/shorts, t-shirts, (iii) wearing of baseball caps, or (iv) wearing of tank tops.
On the occasion of WEFTEC, the largest annual water quality exhibition in the world, the Québec Delegation in Chicago is hosting a reception at the University Club in Chicago so that decision makers can have the opportunity to meet with Québec industry leaders in the areas of water and waste water treatment. Representatives from municipalities, building owners and facility management, engineering firms and of course water and waste water treatment facilities would find the most benefit in attending the reception. In addition, there will be plentiful drinks and good food so you will have a great time!
For more information, please contact Keith Kalinowski at Keith.Kalinowski@mri.gouv.qc.ca or (312) 645-0395 x 59718.
When & Where

The University Club
76 East Monroe Street
Chicago, IL 60603


Tuesday, October 8, 2013 from 5:30 PM to 7:30 PM (CDT)
Add to my calendar
Organizer
The Quebec Delegation Chicago
Meet the following Quebec companies at WEFTEC:
APG-Neuros Inc - 3239
Elana Podvalniuk, Business Development
1270 Michele-Bohec Blainville, QC Canada J7C 5S4
Phone: (450) 939-0799 x117
Email: epodvalniuk@apg-neuros.com
Website: www.apg-neuros.com
We develop and produce a high efficiency turbo blower with air bearings and high speed motor, making aeration much more energy efficient than was previously possible – potential reductions in operating costs of up to 40%
BerlieTechnologies - 3873
Bertrand Blanchette-President
1245 Industrielle Street LaPrairie, QC Canada J5R 2E4
Phone: (450) 444-0566
Fax: (450) 444-2227
Email: bblanchette@berliefalco.com
Website: www.berliefalco.com
Berlie Technologies: expertise in water and sludge treatment (biosolids/organic residuals; specialized in turnkey projects; provides services in process and mechanical engineering in agitation, transport, thermal exchange for fluids and solids.
Claro Environmental Technologies & Equipment - 2881
Peter Lipert Jr., General Manager
4721 Louis-B-Mayer Laval, Quebec
Canada H7P 6G5
Fax: (514) 683-8786
Cellular Phone: (514) 562-4575
Email: pjr@claroglobal.com
Website: www.claroglobal.com
Claro designs and manufactures turnkey anaerobic digester, heat exchanger, biogas handling, headworks, solids/grit handling systems: digester mixers, compressors, conveyors, fine screens, septage, washpresses, vortex, sludge dryers; OEM; 25+ yrs
DBO Expert – Enviro Septic
François Côté
501, Giroux st. Sherbrooke, QC J1C 0J8
Phone: (866) 440 4975
Email: fcote@dboexpert.com
After gaining a solid reputation in the Unites States (New England) for the past years, the Advanced Enviro-Septic pipe, distributed by DBO Expert Inc., became available to Canada in the fall of 2000. Because of its versatility, the Advanced Enviro-Septic pipe can be used in many configurations in accordance with the local regulations relative to on-site wastewater treatment and disposal.
DDI-Heat Exchangers Inc. - 3450
Erwin Schwartz, President
305 Baffin
Montreal, QC
Canada H9A 3G4
Phone: (514) 696-7961
Fax: (514) 696-8344
Email: erwin@ddi.ca
Website: www.ddi-heatexchangers.com
HEAT-RECOVERY Direct-Sludge-to-Sludge Non-Plug "Rectangular, Square, Cube"™. No maintenance for years. Municipal, industrial, agricultrual, compact, doors, payback in months. Mapner Gas Compressors.
Evolu-Tech, Ltd.
Claude Hébert, President
1410B, rue Joliot-Curie
Boucherville, QC
Canada J4B 7L9
Phone: (450) 641-4693
Email: chebert@evolu-tech.ca
Website: evolu-tech.ca
Since 1981, Evolu-Tech, Ltd. Is providing innovative solutions to improve building mechanic processes where water is used in order to reduce chemical usage to a minimum. Findings with researchers with Canadian universities and research centers are the basis of the development of Mag-O-PureMD catalytic treatment in 1988. The Mag-O-PureMD patent is not for an apparatus or a process but for the general method of application in guiding mechanical processes. The catalytic treatment of Evolu-Tech, Ltd. continues to evolve and improve.
Fournier Industries Inc. - 4354
Serge Fournier, Sales & Int. Development Director
3787 Boul Frontenac W
Thetford Mines, QC
Canada G6H 2B5
Phone: (418) 423-4241 Ext. 339
Fax: (418) 423-7366
Email: s.fournier@fournierindustries.com
Website: www.fournierindustries.com
Fournier Industries Inc. manufactures and sells the most advanced technology to dewater pulp and paper wastewater sludge. The advantages of Model CV over traditional techniques are shown.
Gabriel Novac & Associate Inc. - 1637
Gabriel Novac, President
3532 Ashby
Montreal, QC
Canada H4R 2C1
Phone: (866) 746-2276
Email: gnovac@gnacso.com
Website: www.gnacso.com
Gabriel Novac & Associates Inc. designs and manufactures CSO and stormwater equipment. Hydroslide constant flow regulators, Hydroself, Hydroguard and Autoflush for sewer and tank cleaning, CSO screens, slide gates and one-way check valves.
Grande Water Management Systems - 3636
Francis Grande, Export contact
100 Alexis Nihon Boulevard, Suite 547
Montreal, QC
Canada H4M 2P1
Phone: (514) 904-6580
Fax: (514) 904-6573
Email: info@grandeinc.com
Website: www.grandeinc.com
Grande Water Management Systems specializes in stormwater management, wastewater management and CSO abatement. We provide engineered systems for tank and sewer flushing, overflow control, overflow screening and regulation.
John Meunier
John Meunier Inc.
John Cigana, VP business development & marketing
4105 Sartelon St-Laurent, QC H4S 2B3
Phone: (514) 334-7230
Email: jcigana@johnmeunier.com
Resource efficiency and sustainability are driving changes in many businesses, and John Meunier Inc., a part of Veolia Water Solutions & Technologies (Veolia), is committed to staying at the leading edge of sustainable offerings. The group actively pursues a strategy to deliver environmentally conscious and innovative water technologies and solutions, meeting the diverse needs of both municipalities and industry. Veolia is committed to offering the highest standards of Service and creating added Value for clients while being socially and environmentally Responsible.
Logiball Inc. - 3617
Marc A. Anctil, President
440, rue Papin
Ste-Foy, QC
Canada G1P 3T9
Phone: (418) 656-9767
Fax: (418) 653-5746
Cellular Phone: (418) 808-7584
Email: marc@logiball.com
Website: www.logiball.com
Manufacturer of test and seal grouting packers, for mainline, lateral connection and laterals. Complete line of reinforced pipe plugs and carriers for sectional liners.
Odotech - 2044
Marv Garellek, International Sales Manager
3333 Queen-Mary #301
Montreal, QC
Canada H3V 1A2 Tel.: (514) 340-5250 #502 
Fax: (514) 340-5211 Email: marv@odotech.com
Website: www.odotech.com
Odotech manufactures a real time odor tracking and monitoring solution using electronic noses for municipalities and industry to control and reduce their odors.
Odotech is an environmental company with a patented electronic nose specializing in the measurement and monitoring of odors, and also provides odor audit & studies, dispersion modelling reports and consulting. 
Odotech's solution is called OdoWatch, it offers clients a continuous odor monitoring system, real-time odor plume, and state-of-the-art odor management program that can be accessed anywhere at any time through a smart-phone, tablet or computer.  OdoWatch has the capability of tracking and measuring several different gases and odors, at once or separately. The system is built to accommodate client's needs to reducing complaints, decrease OPEX and CAPEX expenses and improve their industrial processes.
Orbinox Canada - 4267
Eric Zaki, Project Manager
2050, boulevard Dagenais Ouest
Laval, QC
Canada H7L 5W2
Phone: (450) 622-8775 x236
Fax: (450) 622-6831
Email: e.zaki@orbinox.com
Website: www.orbinox.com
Orbinox has 50 years experience in the field of knife gate valve. We are also a custom manufacturer of penstock/channel gate/sluice gate, check gate (round and square) and weir gate. We don't just sell valves, we offer solutions.
PMP Precision Valve Co. Ltd. - 3480
Sean McAleer, Principal
3464 Poirier
St-Laurent, QC
Canada H4R 2J5
Phone: (514) 331-0729
Fax: (514) 331-9849
Email: sean@pmpvalve.com
Website: www.pmpvalve.com
A leading manufacturer of cast iron/stainless steel ball valves, knife gates, and check valves for the water and wastewater market worldwide.
Pumpaction - 4743
Yannick Beaulé, Managing Director
119 Hymus Boulevard
Pointe-Claire, QC
Canada H9R 1E5
Phone: (724) 684-8081
Fax: (724) 684-8089
Email: ybeaule@pumpaction.com
Website: www.pompaction.com
Pumpaction Corporation specializes in Solids Handling systems and is the exclusive distributor of the Putzmeister Industrial pumps in North America.
Sanexen
Benoît Côté, Vice-president
9935, Catania Avenue Entrance – Suite 200 Brossard, QC
J4Z 3V4
Phone: (450) 466-2123
Cell: (514) 977-6868
Email: bcote@sanexen.com
Aqua-Pipe® is a standalone, cured-in-place (CIPP) liner designed for the structural rehabilitation of water mains of 6" inch diameter and over. Developed by Sanexen, Aqua-Pipe® is certified by NSF to standard NSF/ANSI 61. This trenchless rehabilitation technology is an economical, green and viable alternative to traditional open cut. The product is now available up to 16" diameter and other diameters are in research and development stage.
In general all types of water mains can be structurally rehabilitated with the Aqua-Pipe® technology including cast iron, ductile iron, steel, and asbestos cement.    One of its unique features is the reinstatement of service connections from within using a remote controlled robot. This eliminates the need for local excavations.
With over 2.1 million feet successfully installed in North America, Aqua-Pipe® is now considered a reliable solution where water mains breaks and leaks are a growing issue.
Quebec Delegation Chicago WEFTEC Reception