Location
Mangia Bene
14 South Park Avenue
Rockville Centre, NY 11570
Quattro Stagioni - "Four Seasons" will be a collection of wine dinners curating the local cuisine and wines throughout Italy
About this event
Quattro Stagioni - "Four Seasons" will be a collection of wine dinners curating the local cuisine and wines throughout Italy, carefully showcasing seasonally driven menus paired with grape varietals native to its different regions.
The series will consist of four individual events representing each season throughout the year.
First Stop: Winter in Friuli- COMPLETED
Second Stop: Spring In Abruzzo- COMPLETED
Next Stop: Summer in Campania
Ahhhh... Campania, the region of Italy affectionately known as "the shin of Italy's boot" lies in the southwest of Italy. Campania is rich in history and ruins with a mountainous interior fabled with local legends and arguably the most dramatic coastline in all of Italy; Amalfi, inclusive of the islands of Capri and Ischia.
Local cuisine focuses on the areas abundance of fruits, vegetables, nuts and of course seafood - all of which pair perfectly with wine varietals exclusive to one of Italys oldest wine regions.
The Summer installation of this series will be followed by the final fall event, rounding out this unparalleled food and wine odyssey spanning Italys entire boot.
Fall: October 24, 2022
Participants who complete the entire journey, having their "passports" stamped throughout their way, will be invited to an intimate chef's table discussion hosted by Maurizio Vendittelli along side Somm Journal VP of Education Lars Leicht, Founder of Vino Viaggio who will be moderating this very special food and wine tour.
Andiamo…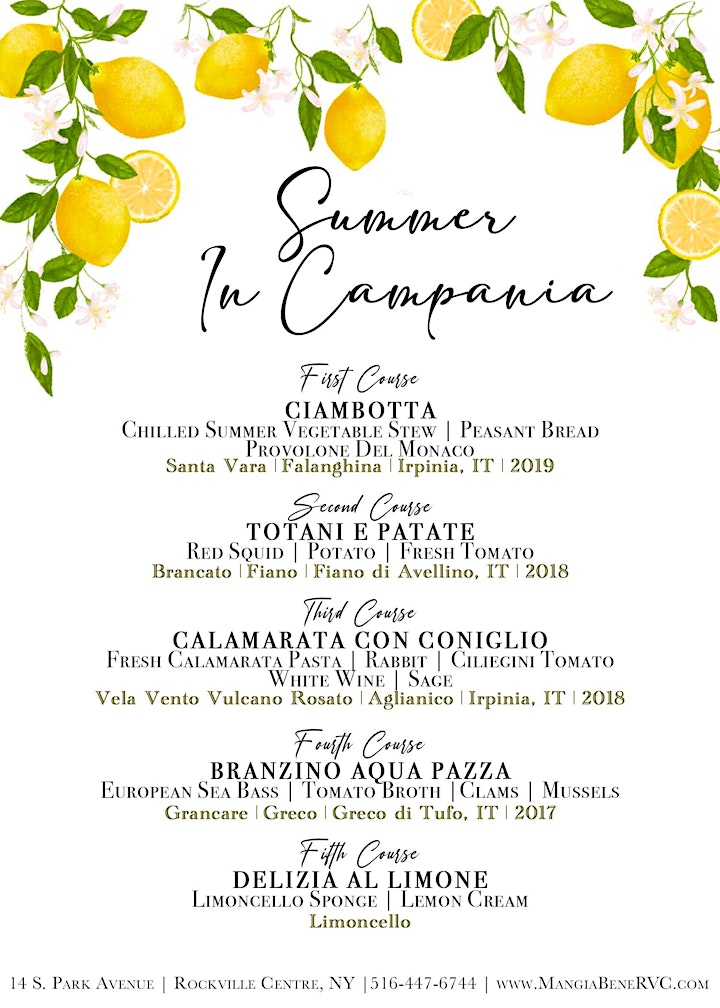 $125 per person plus tax and 20% Gratuity.
Tickets available for purchase through EventBrite and directly through Mangia Bene.
www.MangiaBeneRVC.com
info@mangiabenervc.com
516-447-6744