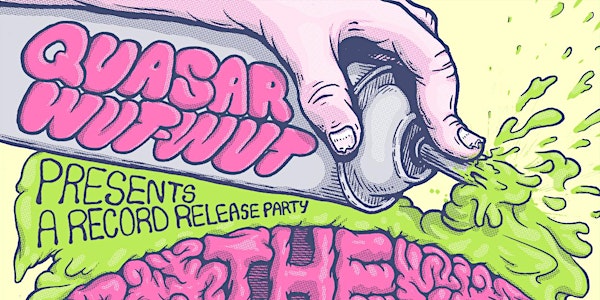 Quasar Wut-Wut Record Release Show!
9PM DOORS | 9:30 SHOW
When and where
Location
Hideout Inn 1354 W. Wabansia Ave. Chicago, IL 60642
About this event
Quasar Wut-Wut proudly presents "The Exploding Plastic Inedible". A Record Release show for their new album, DIGESTING MIRROR.
Have you been wondering lately where you can find a decent food-themed variety show set in a totalitarian future?
Well, look no further, Quasar Wut-Wut's "Exploding Plastic Inedible" is here! Come enter a surreal world of tomorrow where food-based entertainment is the last safe subject for the "final regime". The Plastic Inedible is a multi-media extravaganza; an homage to Warhols' Exploding Plastic Inevitable, and a Dadaist food fantasia! And it's all in celebration of Quasar Wut-Wut's new release, Digesting Mirror.
You will be amazed by the sights, the sounds (and the smells?) of Dr. Atop and The Polygon of Suffering Band, the epoch-altering musical experience led by the revolutionary cult leader who has changed the way the world ingests the cosmic root, Turmeric. Explore the spiritual dimensions of the temple within as the good Doctor serves up his deep meditations!
Be amazed as Mr. & Mrs. Wednesday-Night cook up surreal food madness before your very eyes!
Taste the immersive ambiance whipped up by DJ/synth-lord Dr. Drase (wow, two doctors in one show!).
We here at the final regime guarantee that you will love every single morsel of this once in a lifetime experience...ahem...or else.
**This evening of surreal food entertainment has been approved by The Office of Public Distractions.**
Links:
Quasar Wut-Wut:
Website: https://www.quasarwutwut.com/
Bandcamp: https://quasarwutwut.bandcamp.com/
Facebook: https://www.facebook.com/quasarwutwut/
Twitter: https://twitter.com/QuasarWut
Mr. & Mrs. Wednesday-Night:
Facebook: https://www.facebook.com/MrandMrsWednesdayNight/
Website:http://wednesday-night.weebly.com/
Press:
https://thirdcoastreview.com/2017/06/26/mr-mrs-wednesday-nights-comedy-of-the-avant-garde/
Dr. Atop and The Polygon of Suffering Band
Dr. Drase