A new flow festival with an emphasis on collaboration and skill trades, accompanied by great music.
About this event
Become one with the flow universe in this immersive music and art experience that encourages the merging of flow worlds through cross-prop collaboration and innovation.
Explore our galaxies – attend workshops for different props led by skilled instructors.
Connect the planets – build community and expand your horizons with cross-prop education, trades and performances.
Be a star – compete in tournaments, burn in our fire circle, or perform on stage in showcases.
Last, but certainly not least, have fun! Enjoy our extraordinary lineup of musicians and DJs, visual artists and sculptors, and a lights-out stargazing hour accompanied by a professional astronomy seminar.
Workshops for: Orbit • Light Whip • Gloving • Poi • Staff • Silk Fans • Rope Dart • and More!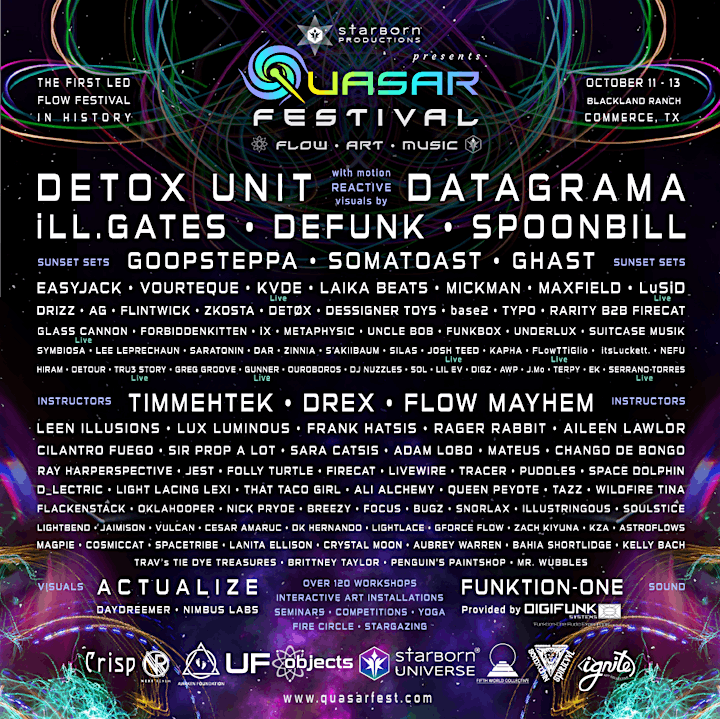 MUSIC BY:
Detox Unit | iLL.Gates | Defunk | Spoonbill | Goopsteppa | Somatoast | Easyjack | Vourteque | Mickman | Laika Beats | LuSiD (Live) | Maxfield | AG | iX| Drizz | Zkosta | Forbidden Kitten | Glass Cannon ( Live) | Ghast | Rarity b2b Firecat | Metaphysic | Det∅x | Uncle Bob | Underlux | Symbiosa | Saratonin | Zinnia | Detour | S'akiibaum | Silas | Josh Teed (Live) | Kapha | FLoWTTiGlio | Hiram | Nefu | Ouroboros | DJ Nuzzles | Sol | Lil Ev | Digz | Awp | J.Mo | Terpy
WORKSHOPS FROM:
Timmehtek | Drex | Flowmayhem | Leen Illusions | Aileen Lawlor | Lux Luminous | Folly Turtle | Livewire | Tracer | Frank Hatsis | Rager Rabbit | Cilantro Fuego | Adam Lobo | Mateus | Firecat | D_Lectric | Space Dolphin | Light Lacing Lexi | Queen Peyote | Ali Alchemy | That Taco Girl | Chango De Bongo | Ray Harperspective | Sara Hatsis | Tazz | Wildfire Tina | Flackenstack | Puddles | Oklahooper | Nick Pryde | Breezy | Focus | Bugz | Snorlax | Illustringous | Soulstice | Lightbend | Jaimison | Vulcan | Cesar Amaruc | DK Hernando | Lightlace | Cosmiccat | Zach Kiyuna | KZA | Sir Props a Lot | Astro Flows | Magpie | GForce Flow | Spacetribe | Rocky Shortlidge | Crystal Moon | Aubrey Warren | Kelly Bach | Bahia Shortlidge | Lanita Ellison | Trav's Tie Dye Treasures | Brittney Taylor | Penguin's Paintshop | Mr. Wubbles
VISUAL ACCOMPANIMENT
Datagrama | Actualize | Daydreemer | Nimbus Labs