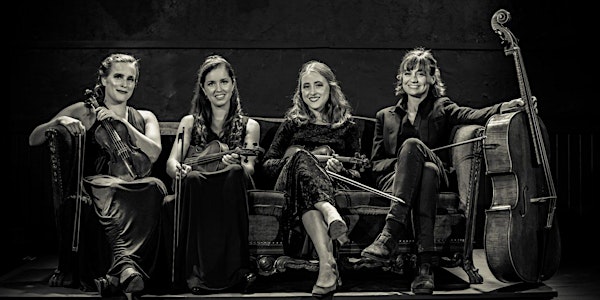 Quartet Salonnières 1772: Diversion & Divergence
Quartet Salonnières' refreshing take on traditional works by Haydn, Richter and Mozart all written in the year 1772.
Refund Policy
Contact the organizer to request a refund.
Eventbrite's fee is nonrefundable.
About this event
What was en vogue in 1772 Europe? Hoop skirts of unspeakable proportions, elaborate hairstyles that sometimes depicted current events, three-cornered hats, Revolutionary ideas…and in music, a form that had recently won over Austria and was now sweeping through the rest of Europe: the string quartet. The string quartet was born in large part from the Austrian tradition of the divertimento, a genre that encompassed a variety of instrumentations but excluded continuo. Divertimenti were generally lighthearted and harmonically straightforward, and could be performed either as orchestra or chamber music depending simply on how many instrumentalists were involved. In the mid-1700s, chamber performances of four-part divertimenti constituted the very first public appearances of what would soon become known as the "string quartet." Our 1772 program highlights an extraordinary year in string quartet history, when the form still had strong ties to the divertimento but was also blossoming into its own deeply complex and wildly popular genre.
Program
Divertimento in D Major K. 136 - Wolfgang Amadeus Mozart
I. Allegro
II. Andante
III. Presto
Quartet op. 5 no. 5b in G minor - Franz Xaver Richter
I. Larghetto
II. Allegro Spiritoso
III. Andantino Grazioso
IV. Tempo di Minuetto
Quartet op. 20 no. 1 in E-flat Major - Joseph Haydn
I. Allegro Moderato
II. Menuetto un poco Allegretto
III. Affettuoso e sostenuto
IV. Presto
Artists
Natalie Rose Kress, Violinist/Violist
Praised by the New York Times for her "splendid playing," Natalie Rose Kress is a violinist based in Washington, D.C. Following three summers as a Tanglewood Fellow, she was awarded the Jules C. Reiner Violin Prize from the Tanglewood Music Center and performed with Yo-Yo Ma at the 2015 Kennedy Center Honors. This year she was awarded both the Mercury Chamber Orchestra Fellowship and The English Concert in America Fellowship as well as performed the world premiere of Leonard Bernstein's "Music for String Quartet" at the Linde Center at The Tanglewood Music Center in 2021 with members of the Boston Symphony Orchestra. She performs as a core member of Quartet Salonnieres, Repast Baroque Ensemble, La Grande Bande, and Musicivic Baroque and can be seen playing with The Handel and Haydn Society, the Washington Bach Consort, The English Concert, Opera Lafayette, The Mercury Chamber Orchestra, Seraphic Fire, TENET Vocal Artists, Early Music NY, and the Staunton Music Festival. Following her graduation from the Juilliard School's historical performance graduate program she is working on a Doctorate of Musical Arts at the University of Maryland with a focus on Baroque Pedagogy.
Aniela Eddy, Violin/Viola
Swiss – American violinist Aniela Eddy has performed throughout the United States and Europe. Her broad and varied interested in music of all eras has led her to perform in concerts spanning the baroque through contemporary time periods in some of the world's most prominent concert halls. Recent collaborations include performances with CityMusic Cleveland and Terence Blanchard at the Tri-C Jazz Festival, Ensemble LPR, Apollo's Fire, All of the Above Ensemble, Five One Experimental Orchestra, One Found Sound and the Knights Chamber Orchestra. In addition to performances broadcast on Cleveland's WCLV and New York City's WQXR, Aniela has appeared live on NPR with A Prairie Home Companion and Garrison Keillor. Festival appearances include the Lucerne Festival Academy, the American Bach Soloists Academy, Caroga Lake Chamber Music Festival, Trinity Alps Chamber Music Festival, the National Repertory Orchestra and Festival Internacional de Música Sacra de Quito.
Passionate about music education, Aniela has performed numerous educational chamber music programs in the Cleveland Public Schools as a member of the Cleveland International Piano Competition's ArtsConnect outreach program. In addition to coaching the Kosovo Youth Orchestra and frequently appearing as a guest teacher at El Sistema programs throughout South and Central America, Aniela has toured India, performing concerts to promote and sponsor various organizations.
Aniela is a graduate of the San Francisco Conservatory of Music and the Cleveland Institute of Music and is currently pursuing a graduate degree in historical performance at The Juilliard School. She is a recipient of the Avanti Award of the Joseph and Francis Brucia Foundation.
Rebecca Scout Nelson, Violin/Viola
Rebecca Scout Nelson was the first US citizen born in former East Germany. At fourteen she left home to pursue a musical career in the States. She has played with different period ensembles all over the East Coast, including Boston's Handel Haydn Society and has performed works on gut strings ranging from Monteverdi operas to film music by Saint-Säens to the premiere of contemporary works. She is a member of Shanghai Camerata, one of China's very first period ensembles and she recently joined Nuova Practica, a troupe of modern baroque composers and performers.Since graduating from The Juilliard School in May, Rebecca has started composing songs inspired by her love of both baroque and folk and is eager to lead her own projects that combine early music with visual art and film. Rebecca spends much of her time napping with her kitten Momo , singing Gillian Welch songs and shaking it to chaconnes like it's 1669.
Curllen O'Neil, Cello
Cullen O'Neil is a cellist originally from Kalamazoo, MI. Performances have brought her across North America and Europe to venues such as the Kennedy Center, Mariinsky II in St. Petersburg, Great Hall of the Moscow Conservatory, Royal Albert Hall as part of the BBC Proms, the Helsinki Musiikkitalo, and the Philharmonie de Paris alongside Les Arts Florissants. She is the winner of several competitions including the Louis Potter Cello Competition, the Mary Alice Cox Cello Competition, and the MASTA Solo Competition. Cullen has performed as a baroque and classical cellist under the direction of artists such as Masaaki Suzuki, Nicholas McGegan, John Butt, and William Christie, and as a modern cellist under Valery Gergiev, Johannes Meissl, and Timothy Muffitt, among others.
Cullen is currently pursuing a master's degree in historical performance at the Juilliard School where she studies with Phoebe Carrai. In 2019 she graduated summa cum laude with degrees in modern cello and music theory from the University of Michigan, where she was a James M. Angell scholar, Albert E. Hoffmann scholar and recipient of the Branstrom Freshman Prize. Her principal cello teachers have been Grace Field, Bruce Uchimura, Raimo Sariola, and Richard Aaron. She has freelanced as both a baroque and modern cellist across Michigan, performing as a continuo cellist and in regional orchestras, and since 2014 has frequently taught at Kids in Tune, an El Sistema-based program in Kalamazoo.