Description
Quarterly Membership Meeting,
July 13, 2019
12:00 Noon, CGS Classroom
The July membership meeting will be July 13th - program starts at 1:00 p.m., but all are invited to come at noon, bring your own lunch, and socialize.

The brief formal meeting starts at 1:00 p.m., followed by two intriguing presentations.

Please RSVP by registering above.
THE STORIES BEHIND BILL O'NEIL'S COLLECTION OF DOLLS
Those who attended the April membership meeting had a chance to see Bill O'Neil's collection of dolls dressed in military uniforms. Well, each of those dolls represents an individual in Bill's family. At our July 13thmeeting we will learn more about these ancestors and find out how Bill caught the genealogy bug. Bill has ancestors who fought in every war except Vietnam starting with Rogers' Rangers. Bill himself is a Korean War veteran.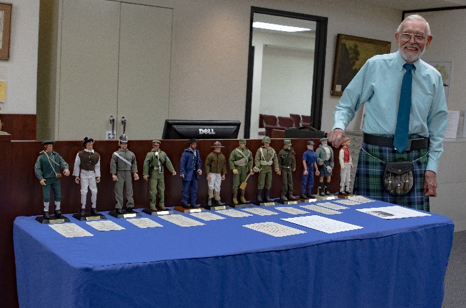 2ND PRESENTATION TBA

NOTE: The CGS Library will be closed to researchers from 12:00 p.m. to 3:00 p.m. on this date.
REGISTRATION INFORMATION:
Please RSVP by registering above.