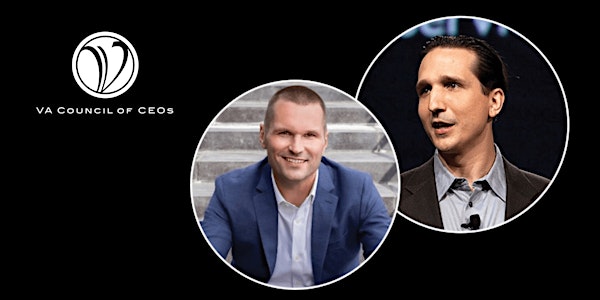 Quarterly Luncheon with Marcus Sheridan & Tyler Lessard
The Visual Sale: How to Use Video to Explode Sales, Drive Marketing, and Grow Your Business in a Virtual World
About this event
Did you know that over 85% of the content we consume online is video based content? Yep, it's true, and with all the change COVID has brought to the marketplace, the numbers are only growing.
Today, more than ever, businesses realize that video is a MUST—and not just from a marketing perspective, but from a sales perspective too.
For this reason, Marcus Sheridan will be returning to the VA Council of CEOs to not only discuss what types of videos are going to make the biggest impact from a sales and marketing perspective, but analyze exactly what your organization must do, regardless of size, to dominate your space while creating a true culture of video in-house. His co-author, Tyler Lessard of Vidyard, will join him.
If you've been at all thinking about your company's video sales and marketing strategy moving forward, this is one talk you will not want to miss.
This event is for VACEOs Members and Sponsors and invited guests only. The first 100 people to register will receive a copy of Marcus and Tyler's new book, The Visual Sale. Please fill out the information on the registration page in order to receive the book.
Register by 9:00 AM on January 20 and you will receive a Doordash gift card. Thank you to the Robins School of Business, VACEOs Sponsor, who will be providing lunch for attendees!
Check out the agenda:
12:00-12:07--Welcome
12:07-12:25--Breakout room networking.
12:25-12:35--Sponsor moment with Warren Whitney
12:35-1:15--Speakers, Marcus Sheridan and Tyler Lessard
1:15 - 1:30--Breakout room networking.
1:30 Adjourn
About the Presenters:
Author, Keynote Speaker and Partner at IMPACT
Marcus is an international keynote speaker known for his unique ability to excite, engage and motivate live audiences. He also works with hundreds of businesses, helping them to become the most trusted voice in their industry. Marcus has also been featured in multiple industry publications, including the New York Times where he was referred to as a "web Marketing guru." His book "They Ask, You Answer" has inspired thousands to achieve their potential but has given them the tools they need to get there.
VP Marketing, Vidyard
As VP Marketing at Vidyard, Tyler immerses himself in understanding the latest trends, hacks and best practices for putting video to work in any sized business. He's a frequent author and speaker on the art of creating remarkable experiences, how to use video for lead generation and deal acceleration, and how to "find your wow" through the power of visual storytelling.