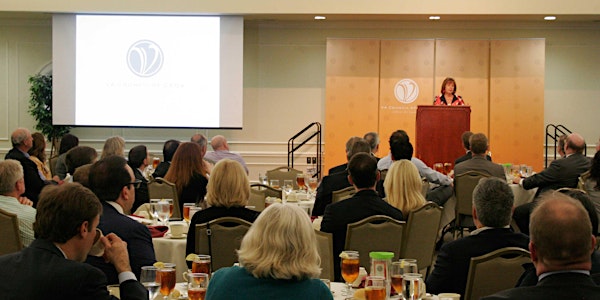 Quarterly Luncheon: Stew Friedman, "Total Leadership"
When and where
Location
Jepson Alumni Center at UR 101 College Rd Richmond, VA
Refund Policy
Contact the organizer to request a refund.
Description
Virginia Council of CEOs Quarterly Meeting
Agenda
11:15 - 11:55 a.m. Check-in and social time
12:00 - 1:30 p.m. Lunch and program
Program and Speaker
Now more than ever, a leader's success isn't just about being a great businessperson. You have to be a great person, performing well in all domains of your life — work, home, community, and self… and that's a tall order. Based on his best-selling, award-winning book, this is the challenge that Stew Friedman will put before us; how to achieve greater performance by finding mutual value among all life domains.
This dynamic, interactive experience begins with an overview of Total Leadership — how to achieve four-way wins — and focuses on three principles:
Be real — acting with authenticity by clarifying what's important
Be whole — acting with integrity by respecting the whole person
Be innovative — acting with creativity by experimenting what how things get done
Participants assess satisfaction and performance in all four domains and the alignment of their actions with their values. They explore what it means to lead with impact in all domains and leave with a game plan and scorecard for an experiment designed to produce a four-way win, along with a peer coach devoted to supporting their progress.
As a result of this keynote participants will:
Learn how to reframe the idea of business leadership by applying new skills and insights at work, at home, in the community, and within the self

Learn how to transform the way you allocate your attention, skills and resources by identifying your core values

Learn new strategies for engaging others in the process of change
Stew Friedman is an award-winning teacher, appearing regularly in business media (The New York Times cited the "rock star adoration" he inspires in his students). He has been recognized twice as one of HR's Most Influential International Thinkers and as one of the "world's top 50 business thinkers" three times by Thinkers50. In 2015 he won Thinkers50's Distinguished Achievement Award in the talent management field. He's published 50+ articles for HBR.org, including one listed first among Harvard Business Review's Ideas that Shaped Management in 2013. He was chosen by Working Mother as one of America's 25 most influential men to have made things better for working parents, and was recently honored by the Families and Work Institute with the Work Life Legacy Award.
Stew's most recent book is Leading the Life You Want: Skills for Integrating Work and Life (Harvard Business, 2014), a Wall Street Journal best-seller. It builds on his award-winning best-seller, Total Leadership: Be a Better Leader, Have a Richer Life (Harvard Business, 2008), which has been translated into seven languages. The program it describes is his challenging Wharton course, in which participants complete an intensive series of real-world exercises designed to increase their leadership capacity and performance in all parts of their lives by better integrating them, while working in high-involvement peer-to-peer coaching relationships and completing much of the activity online in a cutting-edge social learning environment. Total Leadership is used by individuals and companies worldwide, including as a primary intervention in a multi-year study funded by the National Institutes of Health on improving the careers and lives of women in medicine and by 135,000+ students enrolled in Stew's highly-rated MOOC on Coursera.
Learn more about Dr. Friedman here.
Presented by
The Virginia Council of CEOs, a non-profit association that serves small and mid-sized business CEOs by connecting them so that they can learn from and with each other. VACEOs members connect through highly effective peer roundtables and exclusive learning events.
Interested in learning more? Just follow the leaders.
What About Guests?
The Council is a safe haven for CEOs, and as our events are limited to CEO members and sponsors. Qualified CEOs who are interested in membership are welcome. Contact us to arrange a visit.
May I Bring a Guest?
Generally, no. Our events are for members and sponsor only, unless specifically stated otherwise
This Luncheon is a CEO-only event for our members and sponsors. Guest CEOs are welcome. Contact us to connect and reserve a seat. VACEOs members enjoy a unique "safe haven" culture. This means that we don't come to meetings like this one to sell, but to share and learn.