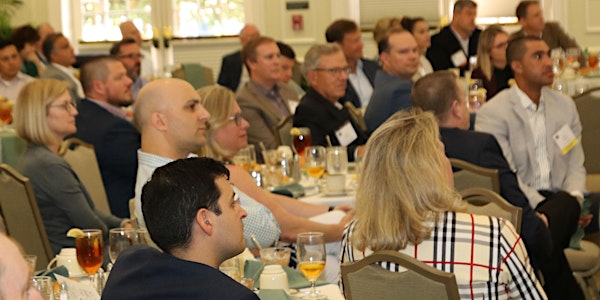 Quarterly Luncheon & Annual Meeting with Jim Schleckser
When and where
Location
Jepson Alumni Center 442 Westhampton Way Richmond, VA 23229
Refund Policy
Refunds up to 1 day before event
Eventbrite's fee is nonrefundable.
Description
---
Virginia Council of CEOs Quarterly Luncheon

& Annual Meeting
Agenda
11:15 - 11:55 a.m. Check-in and social time
12:00 - 1:30 p.m. Lunch and program
Program and Presenter
"I choose a lazy person to do a hard job. Because a lazy person will find an easy way to do it." - Bill Gates
Learn how exceptional CEOs get more done in less time than everyone else and their technique for getting their work done while still having the time to spend quality time with their friends and family.
During this event you will learn how the best CEOs spend most of their time eliminating the single biggest constraint to the growth of their business and how they spend a lot of time finding this constraint before taking action. This process is similar to looking for the kink in a garden hose so you can get the flow going again. There is no use trying to unkink the hose until you find the actual problem.
Depending on the nature of the constraint, they then engage in fixing the kink in the hose using one of five different roles: the Learner, Architect, Coach, Engineer, or Player. Together, these high-leverage roles form the archetype for great leadership and create permanent improvement in the business.
This insight isn't just some theory but is derived directly from working with thousands of CEOs running high-growth companies. The trick to being great and lazy is to only work at the point of constraint and to avoid all work that doesn't increase organizational capacity. Lazy CEOs have a series of well-developed tools to properly avoid this non-value work.
So, do you want to keep working hard? Or would you rather get busy being lazy?
About the Speaker
Jim Schleckser, CEO of Inc. CEO Project. Jim helps leaders grow companies by helping them focus on the things that matter. Before he started the Inc. CEO Project, a firm that mentors fast-growth CEOs, he ran a technology business valued at $1.6 billion.
He has done business in 28 countries and he is a regular contributor on Inc.com. (His posts have been read by over 2 million people.)
He has spent over 10,000 hours speaking with and interviewing CEOs and is the author of the bestselling book Great CEOs are Lazy.
He is an engineer, an avid soccer player, a Certified sommelier, and recently climbed Mount Kilimanjaro.
About VA Council of CEOs
The Virginia Council of CEOs, a non-profit association that serves small and mid-sized business CEOs by connecting them so that they can learn from and with each other. VACEOs members connect through highly effective peer roundtables and exclusive learning events.
Interested in learning more? Just follow the leaders.
What About Guests?
The Council is a safe haven for CEOs, and as our events are limited to CEO members and sponsors. Qualified CEOs who are interested in membership are welcome. Contact us to arrange a visit.
May I Bring a non-CEO Guest?
Generally, no. Our events are for members, sponsors, and prospective members only, unless specifically stated otherwise.
What is Safe Haven?
VACEOs members enjoy a unique "safe haven" culture. This means that we don't come to meetings like this one to sell but to share and learn. Relationships come first.