Quarry to be Subdivided! Attend the Zoning Board of Adjustment Meeting to...
Event Information
Location
Bernards Township Tall Hall
1 Collyer Lane
Bernards, NJ 07920
Description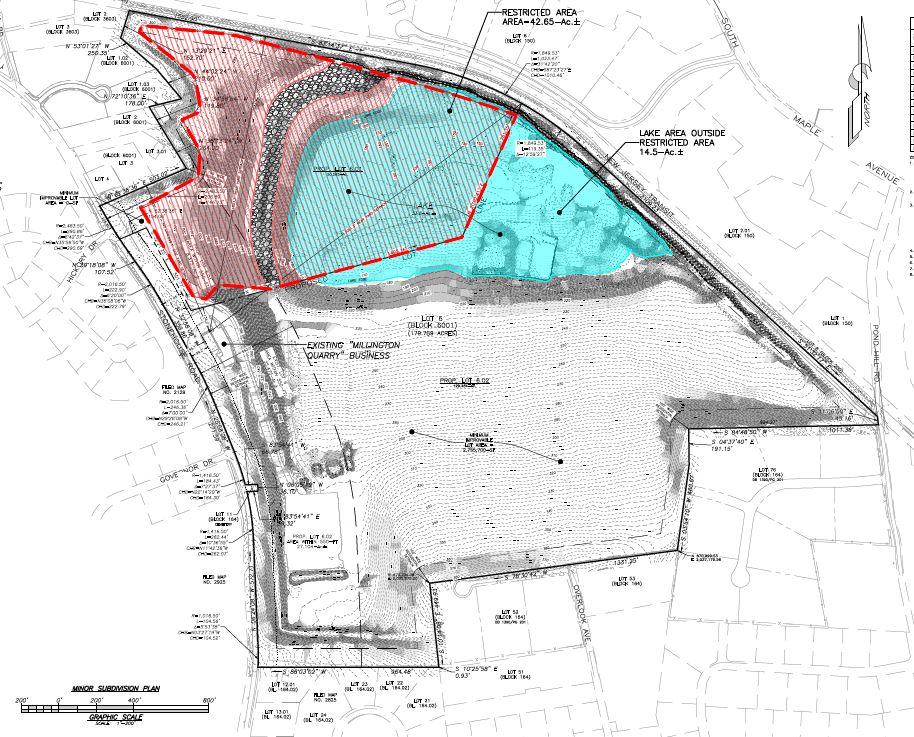 MILLINGTON QUARRY SUBDIVSION
The March 6th Board of Adjustment Meeting (BOA) on the quarry subdivision application was adjourned to May 16th at 7:30pm. This will allow the Township Committee (TC) attorney, John Belardo, to file his brief arguing that the TC has jurisdiction.

Millington Quarry Inc.'s attorney will then file their response. Once the briefs are available we will circulate to the group.

The May meeting will allow public comment on the jurisdictional issue, and the BOA will decide which body has jurisdiction to hear the application for subdividing the quarry property.
Public opinion matters and our strength is in our numbers.

Please save the date of May 16th at 7:30pm.
THE RED AREA HIGHLIGHTED IN THE SURVEY ABOVE IS THE "CONTAMINATED" LOT
QUARRY PROPERTY TO BE SUBDIVIDED!
Owners dividing the property into "Contaminated" & "Non-Contaminated" parcels to prepare for development.
Toxins are present and still elevated.
The NJDEP requires that workers wear protective gear while excavating in remediated area to avoid human exposure.
Are you safe when they disturb the contamination?
GET ANSWERS
How can half of a contaminated lake be divided? How can the NJDEP oversee half a lake?
Has testing been truly thorough? Has the Lake Management Plan developed in 2013 been followed?
If the owner of the contaminated lot declares bankruptcy, will we the taxpayer be stuck with maintenance?
Why would the owners ask to subdivide but not provide any information on their reasons or intent? Have they earned our trust?
Would there be commercial properties on the site?
Will new access roads be required? Where will they go?
Will the 2 acre zoning change?
What can our town's Zoning Board do to protect us from Millington Quarry Inc.?
ACTIONS
Review the facts at www.stopthequarryplan.com
Attend the March 6th Board of Adjustment Meeting
Stay informed and signup for our newsletter by emailing stopthequarryplan@gmail.com
Share your concerns and speak at the meeting
Visit the BernaRds Twp Engineering Dept at 277 S maple Ave, to view the complete plans
Date and Time
Location
Bernards Township Tall Hall
1 Collyer Lane
Bernards, NJ 07920