Come enjoy an Evening of fun learning the Wholesaling Real Estate & Real Estate Investing game.
About this event
The Quarantine Wholesaling & Real Estate Masterclass is going down and the class is going to be lit 🔥🔥🔥🔥🔥🔥🔥🔥🔥🔥🔥🔥
Listen, I am super excited because The Quarantine Wholesaling & Real Estate Masterclass is going down on Saturday, October 9th, 2021 @ 1:30pm EST. I can't wait to teach you some nuggets to take your Wholesaling & Real Estate business to a new level.
I am so excited to host this live masterclass and break down this Wholesale Game! Believe me you have been way overthinking this!!!!
This is a LIVE MASTER CLASS which means no boring ass Webinars or Courses where you can't interact and you are stuck staring at the screen. During this live masterclass you are able to interact with me and trust me I will keep you wide awake. My recommendation is for you to be in front of a Computer, Laptop, or Tablet Device to see the Full Live Class. If you can not be in front of one of the mentioned devices and you are using a phone you can still attend but you probably won't be able to feel the full effect of the training!!!! You have been WARNED!!!!
You can expect to spend a minimum of 3-4 hours with me on Saturday, October 9th, 2021 @ 1:30pm EST. I am very thorough and plan to give you everything you need to start getting deals. When you come into class please mute your device.
We will have two 10 minute breaks during class. If you have to step away from the Masterclass you may run the risk of missing information. My advice is to try to prepare to have no distractions during the Masterclass. We have a whole lot to cover and I want to ensure that learners are absorbing the information and able to ask questions.
WHAT WILL BE COVERED 👇
* What is Wholesaling & the Process spelled out.
* Do you need a Real Estate License or Not
* How a Real Estate License can accent your Real Estate Journey.
* How to Invest in Real Estate without using your own cash
* Creative strategies to become involved in Real Estate
* Different types of Buyers and what they look for when buying
* How to Estimate Repair Cost
* How to get started Wholesaling & land your first deal.
* Different types of Buyers & what they look for when purchasing properties
* Property Owners & what questions to ask.
* How to calculate your numbers
* How to determine ARV
* EMD-Earnest Money and do you need it or not.
* How to locate deals
* Cold Calling & Scripts and what to say.
* How to Build Leads for your Wholesaling Business
* How to market deals
* What a Purchase Agreement is and when it should be used.
* What is a JV Agreement
* Systems to use to help you get deals
* How to locate the property owners
* Closings VS Double Closings
* How to ask the right questions when speaking with Sellers & Buyers
* How to build a solid Buyer list and what questions to ask
* The proper Contract to use and what steps to take once you get a property under contract.
* Acronyms that you must know in this industry
We will discuss different forms of marketing
Reo's
And so much more.....
My goal is to help you go to the next level in your Real Estate & Wholesaling Journey and close consistent deals like Lady K 😊
I look forward to you joining the masterclass so that we can break this Real Estate & Wholesaling thing down. Please start preparing for the Masterclass by being prepared with pen, paper, and some good cocktails 🍹
I think I'm gonna have my Crown Royal Peach chilled and ready for this event 😉 Remember this is a par-tayyyyyyyy!
You can take notes that you can review and go off at a later time. To make sure our Q&A session goes accordingly at the end of the masterclass please email all questions in advance to me to infocardacademy@gmail.com
Go ahead and get ready for class!
Go grab your favorite Tea, Coffee, Pop, Soda, Beer, Wine, Cocktail, or Beverage of choice and get Comfy and Cozy and spend time with me relaxing and learning.
See you soon!!!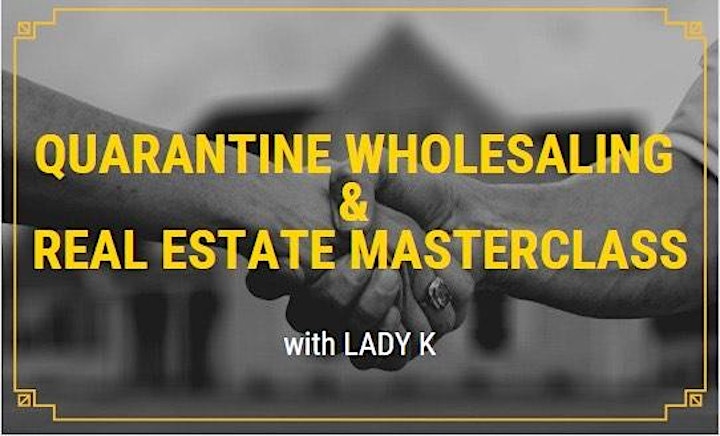 Date and time
Location
Refund policy