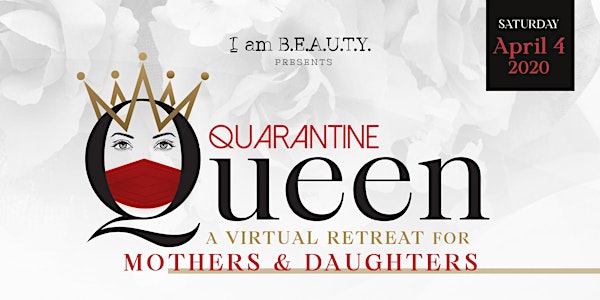 Quarantine Queen: Virtual Retreat for Mothers & Daughters
Description
Join I AM BEAUTY Inc. for
Quarantine Queen
A Virtual Retreat For Mothers & Daughters
April 4, 2020
12PM-3PM
Hosted By Akilah C. Bernard
Founder, I AM BEAUTY INC.
With Special Guests
Sunne-Ryse S. Smith, Psy.D
Inspirational Trainer & Author
Yasmeen Z. Ojwang, MSW
"The Healing Coach"
WHY THIS EVENT IS NEEDED?
In this time of uncertainty, fear, anxiety and isolation due to COVID-19 we all could use an escape to de-stress, be empowered and connect with others. Women and girls will be impacted by this crisis in strikingly different ways. Let's gather mothers and daughters to discuss the impact this crisis is having on us , explore coping strategies and find our way back to joy together!
HOW WILL THIS WORK?
This half-day retreat will happen virtually using Zoom, which is an interactive video conferencing platform.
Mothers and Daughters will be in sessions together and also in breakout rooms to have discussions and engage in mental, emotional, and spiritual wellness exercises with our Host, AKilah C. Bernard and Special guests: Inspirational Trainer and Author, Dr. Sunne-Ryse Smith and "The Healing Coach", Yasmeen Ojwang
Virtual doors will open to the retreat room 30 minutes before the retreat begins. Mothers and daughters need to have their own devices to use during this retreat for breakout sessions.
WHAT TOPICS OR ACTIVITIES WILL BE INCLUDED?
Online discussion & interactive activities to help girls and women build deeper connections through self-esteem exercises,

Virtual breakout sessions to discuss the impact of COVID-19 AND explore emotions

How to overcome fear and anxiety

Mindfulness and relaxation techniques

Practical tips and discussion on how to embrace opportunity in chaos
WHAT YOU NEED TO PARTICIPATE?
Items Needed for Summit:
Computer, Tablet or Cell Phone with a Camera

Pair of Headphones

3 -5 pieces of blank paper or a journal

1 Pen or Pencil
HOW TO I REGISTER?
Register by Thursday,April 2nd at 11:59 PM at QuarantineQueen.eventbrite.com
Additional details about the retreat and instructions on how to attend will be provided in your email confirmations.
If you have any questions, contact Akilah@iambeautyinc.com
We hope to see you Saturday!
Stay Safe and Well!