Event Information
Refund policy
Refunds up to 1 day before event
Eventbrite's fee is nonrefundable.
Professionally moderated video hangouts to play, connect & exercise
About this event
Struggling to keep your child socially connected and physically active while in quarantine?
QuaranTEENS Online Hangouts provide kids with the much needed community, exercise and healthy stimulation in a fun, safe environment. Professionally moderated by trained life coaches, the interactive online sessions offer a unique environment for kids to connect and socialize while in quarantine.
The daily 1 hour video hangouts typically consist of 20 minutes of quality conversation, 20 minutes of group games and 20 minutes of exercise but also incorporate life coaching specific to these unprecedented times.
A Healthier Digital Alternative
Daily calls allow for structure and a routine
Exercise and fun fitness challenges keep your child physically active
Moderated conversations provide an opportunity for social connections and to make new friends
Stimulating games provide a more enriching alternative to other screen based activities
Coaches cover topics such as mindfulness, nutrition, time management & more!
1 Hr. Daily Hangouts Groups NOW OPEN For Registration
Ages 9-11 BOYS at 2pm (April 13th - May 1st)
Ages 8-9 BOYS at 3:15pm (April 13 - May 1st) Mon, Wed, Fri ONLY
Ages 12-14 BOYS at 4:30pm (April 13 - May 1st)
Ages 9-12 GIRLS at 3:30pm(April 6 - 24th)
*Kids can join and start hangouts at any date
NEW Groups Starting May 4th!
CLICK HERE to read about us in the news!
Feedback From Previous Hangouts
Both of my boys 9 and 11 have had an absolute blast with David's QuaranTEENS group sessions. It touches upon all important and essential aspects of life. Human connection, communication of thoughts, feelings, viewpoints as well as health, fitness with strength and conditioning! David has an incredible ability to facilitate these groups so that all the boys are heard, valued and feeling as if they belong to something important. Much needed for these challenging times we face. Highly recommended! -Kristin
David. Thank you SO MUCH for that session. Nick has been really down and your session helped tremendously. Thank you, thank you, thank you! - Amanda
Thanks so much for doing this David! Gabriel had a great time and is looking forward to next week. That's really kind of you...so good for our kids... -Natasha
I'm sure you're being flooded with emails! I wanted to thank you for yesterday's sessions with Ben (6th) and JJ (4th). They had an absolute blast. You did a masterful job handling these cooped up kiddos. JJ is eating up the schedule you sent and it's so sweet to watch him take responsibility for his day and time. -Kristine
Thank you so much David. You have been an amazing mentor for Jake We truly appreciate all you do. He's looking forward to the next session. Best. - Renee
Thank you so much David! Your sessions are making a big impression :) Jack just lead our whole family in an evening workout based on your QuaranTEENS workouts :) A bunch of us got you a gift card as thanks for the very first session and I sent it to the address on the website.Thanks again! - Camilla
The one hour Zoom chat for the 6th grade crew that joined from Portola Valley yesterday had a blast...tons of positive feedback from parents this morning! And the 4th grade PV crew too....several parents reached out and expressed great appreciation. -Marjel
100% No Questions Asked Full Refund If Your Child Is Not Enjoying The Sessions!
1/2 Scholarships available at checkout for those with low income or for those who have been hit hard by the virus and cannot pay full price.
Full Scholarships available as well. These are tough times. Please email david@americaoffline.info for more info.
Register NOW!
Limited Space Available
If you have any questions whatsoever please feel free to contact Head QuaranTEENS Coach, David Klein at David@AmericaOffline.info OR 650.387.4427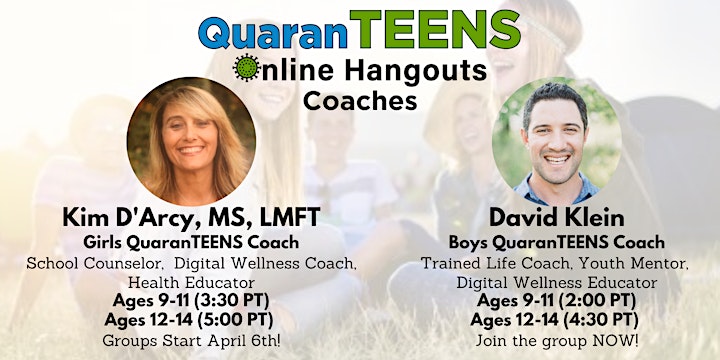 Location
Refund policy
Refunds up to 1 day before event
Eventbrite's fee is nonrefundable.
Organizer of QuaranTEENS Online Hangouts: Socialize & Exercise! (Ages 8-14)