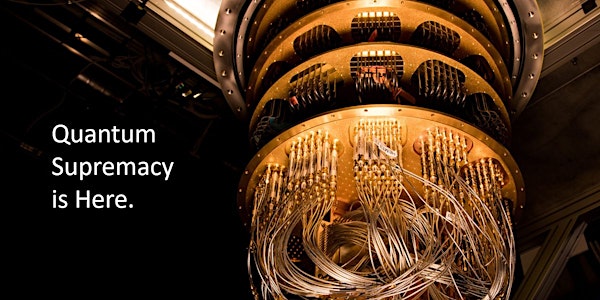 Quantum Supremacy, Now What? With Jack Hidary of Alphabet X
Quantum supremacy has been achieved and the time is now to set quantum application and cybersecurity strategies for your enterprise
By Alphabet X and Quantum Thought
Date and time
Wednesday, December 4, 2019 · 5:45 - 8:30pm PST
Location
Wilson, Sonsini, Goodrich and Rosati 1 Market Street Spear Tower, Suite 1900 San Francisco, CA 94105
About this event
Please join quantum computing thought leaders Jack Hidary who leads quantum computing and AI at Alphabet X (formerly Google X), Rebecca Krauthamer of Quantum Thought, and Kosta Vilk of QuSecure as they discuss enterprise strategies around quantum computing applications and quantum resilient cybersecurity.
There is no cost to register and refreshments will be provided. Attendance is limited to only 80, so be sure to register right away to secure your spot.
Additionally, Jack will discuss his new industry defining book, Quantum Computing: An Applied Approach which integrates the foundations of quantum computing with a hands-on coding approach to this emerging field.
Who should attend: Enterprise leaders and investors interested in the quantum computing space.
Agenda: Quantum applications, quantum resilient cybersecurity and quantum training
5:45 PM - 6:30pm Networking and Refreshments
6:30-8:00 - Quantum Program
8:00-8:30pm - Q&A
Jack Hidary leading quantum computing and AI at Alphabet X (formerly Google X)
Jack D. Hidary built his career as a tech entrepreneur and has been dedicated to public service in education, sustainable energy and economic growth. Currently, Jack focuses on quantum computing, AI and physics at Alphabet's X (formerly Google X) and is the author of "Quantum Computing: An Applied Approach".
Jack co-founded and served as Chairman and CEO of EarthWeb/Dice.com (NYSE:DHX), the leading online job board for the IT sector. Jack serves on several boards including the Google X Labs advisory board, the Palo Alto Prize advisory board and is on the board of trustees of the X Prize Foundation. Committed to community and philanthropic causes, he has received several industry and community awards as well as being recognized as a Global Leader of Tomorrow at the World Economic Forum, Davos. Jack has appeared on Bloomberg TV, Fox Business and CNBC addressing tech trends.
Rebecca Krauthamer, Founder and CEO Quantum Thought
Rebecca Krauthamer, Founder and CEO of Quantum Thought. Quantum Thought is a quantum computing venture studio in Silicon Valley focused on creating intellectual property, products and company spin-offs around quantum computing.
Rebecca holds a degree in Symbolic Systems from Stanford University, which she credits with awakening her passion for AI and the big questions in technology and society. Prior to founding Quantum Thought, she built an advanced AI software platform for firmographics and sales enablement which is now a fast-growing company called Neural Edge. Her travels in over 50 countries and exchanges with people from diverse cultures and backgrounds, have reinforced her commitment to continuously seeking to gain insight into how technology might help societies for the better both at home and abroad. A strong proponent of ethical technology advancement in Artificial Intelligence, Rebecca currently serves as the AI ethics board member of the Institute of Noetic Sciences and is a frequent guest speaker on ethical technology. Rebecca strongly believes that quantum computing is the key that will unlock the full potential of AI as well as technology as a whole, and is proud to be at the forefront of this revolution.
Kost Vilk, Founder and CEO QuSecure
Konstantin "Kosta" Vilk, CISSP, CRISC, Founder and CEO, QuSecure. QuSecure is a leading quantum security company working with enterprise and government to secure digital assets using quantum resilience and quantum key distribution.
Kosta has a passion for making a difference using advances in technology. He has over 15 years of senior leadership experience in Cyber Security, Information Security, Product Innovation, Artificial Intelligence, Quantum Computing, Post-Quantum Cryptography, Business Strategy, Venture Investing, Business Turnarounds, and Implementation of Cloud and Enterprise Information Systems including Big Data, ERP, CRM, Digital Marketing, Supply Chain and BI.He is an entrepreneur who has worked with some of the best-recognized names in Biotechnology, the US Government, Consumer Goods and Financial Services sectors over the course of his career. Currently he is fueling his passion for developing and refining new approaches and techniques to cyber security, quantum computing and helping young entrepreneurs develop and grow.
Parking and Transportation
Since parking garages are expensive and also to reduce carbon emissions we recommend using public transportation. We are also very close to public transportation stops for Muni and BART, Embarcadero station is just up the block from us.
One Market Garage:
415-777-2292
One Market Plaza is directly underneath our building. (Enter on 55 Spear Street)
Opens M-F: 6:00 am -7:00pm.
(Prices- may vary)
Mon-Fri 6:00am - 7:00pm
30 Mins$6.00
24 Hours$44.00
Evening$18.00
Large Vehicle$65.00
Rincon Center Garage:
121 Spear St. 415-882-9468 (Enter on Spear St.) One block from our building.
Weekday: 6:00am-8:30pm
50 California Parking: (a few blocks from our building)
129 Sacramento St, San Francisco, CA 94111
Embarcadero Center Parking garage—four blocks from our building
3 Embarcadero center #A
415-772-0670