Power Lunch/Workshop/Mastermind with Top Business Coach Bill Walsh - How to Survive & Thrive in Any Economy!
About this event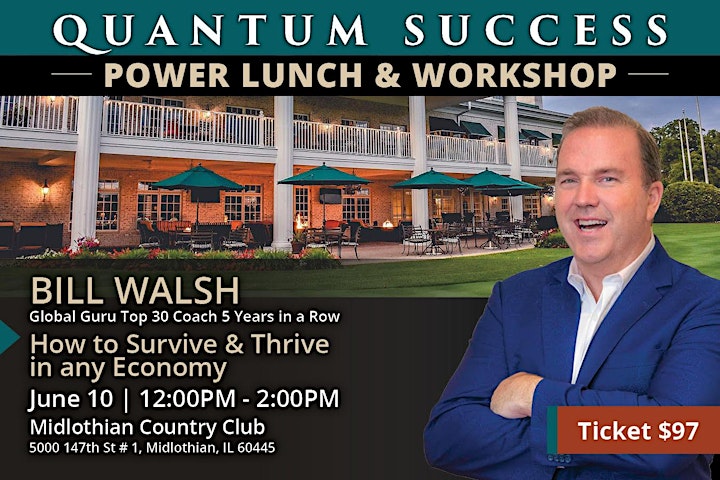 Join us for The Powerteam International Power Lunch where you will be introduced to some amazing concepts on how to increase your income, your net worth as you build your empire. Attendees should be prepared for a session that is designed to open your mind to the unlimited possibilities in areas of business ownership, public speaking, business coaching & hosting masterminds. You will discover how to monetize your expertise & brand all over the world through digital marketing. In addition we will be discussing the opportunity to team up with Powerteam and bring your message, programs & services to the local, regional, national and even global arena.
If you like the idea of creating an Elevation plan for the next 12 months - you will love this luncheon with Top Business Coach Bill Walsh.
Topics include:
12:00PM - 2:00PM How to Survive and Thrive in any Economy
2:00PM Power of Mobile Funnels
3:00PM Mastermind & Business Brainstorming Session
Please watch the video below to learn more about the Powerteam Organization.
Meet your Guest Speaker for this amazing Power Luncheon!
Bill-Walsh-America's Small Business-Expert
Bill is a venture capitalist and is the CEO/Founder of the Success Education/Business Coaching firm Powerteam International. Bill hosts and speaks at events all over the world! His passion is to empower entrepreneurs and business owners to create massive success. He is the best selling author of the book "The Obvious", is an amazing speaker, radio personality and movie celebrity. He has a very successful background in finance and marketing. He has spent over two decades working with start-ups to major global brands to help them increase sales, productivity and overall success. He is an innovator with a remarkable ability to determine and build success plans to help business owners seize immediate market opportunities.
For everyone that owns a business or would like to capitalize their entrepreneurial dream, his message will enlighten them with knowledge and action principles to turn that passion into success! Bill has an extensive background in foreign currency trading, real estate development and building businesses in more than 30 countries. Over the past two decades, his firm has specialized in helping companies launch, grow and create exponential valuation in the market. The Rainmaker Summit and WIN University programs offered through Powerteam are designed to assist entrepreneurs in creating the focus, plans and partnerships required to build multi-million dollar companies!
For the past 5 Years Bill has been recognized by GURU Magazine as one of the top 30 Business Coaches in the world. When you get time with him you will see why he has helped so many companies create even more success!
PLUS VERY SPECIAL GUEST SPEAKER Dr. NATHAN HO
Organizer of Quantum Success Workshop/Luncheon/Mastermind Midlothian
Powerteam International is one of the leading Success Education Companies in the world! Powerteam provides Corporate & Entrepreneurial training programs, Venture Funding and Business Coaching in cities around the world. Powerteam International has the resources necessary to help your company become even more successful! For all major industries, from start-up companies to billion-dollar firms, the professionals at PTI have insight and solutions to create new market opportunities and increased optimization! This includes having a personal success coach or professional coaching team that will offer priceless insight and advice.
Topics include: Advertising, Leadership Training, Website Development, Website Traffic Generation, Business Financing, International Expansion, and Personal Development. We offer some of the best high-level consulting and training for business leaders and their organizations. Our clients range from start-ups to mega-successful corporations.