Ron Wexler digs into the power principles and disciplines that can help anyone achieve a more abundant life in our Quantum Leap Out of COVID
About this event
Quantum Leap digs into the power principles and disciplines that can help anyone achieve a more abundant life. In this profound course, you'll find usable models and practical exercises, as well as make pertinent discoveries to uncover the keys to living with purpose and direction. If you want to capitalize on your personal power and expand your life, this course is for you! Is there someone who is part of your life who would want to transform with you? They can attend too!
The event is sponsored by Mazek Law Group and Massive Rock Title Company, therefore, FREE to all who attend, Our way of helping you "break out" of COVID!
GET YOUR TICKET QUICK!!! THIS IS A COVID-LIMITED-SEATING EVENT, ONCE THE IN-PERSON TICKETS HAVE SOLD OUT ALL OTHER ATTENDEES MUST ATTEND VIRTUALLY!!!
Those who attend in person will receive FREE LUNCH AND A WORKBOOK!!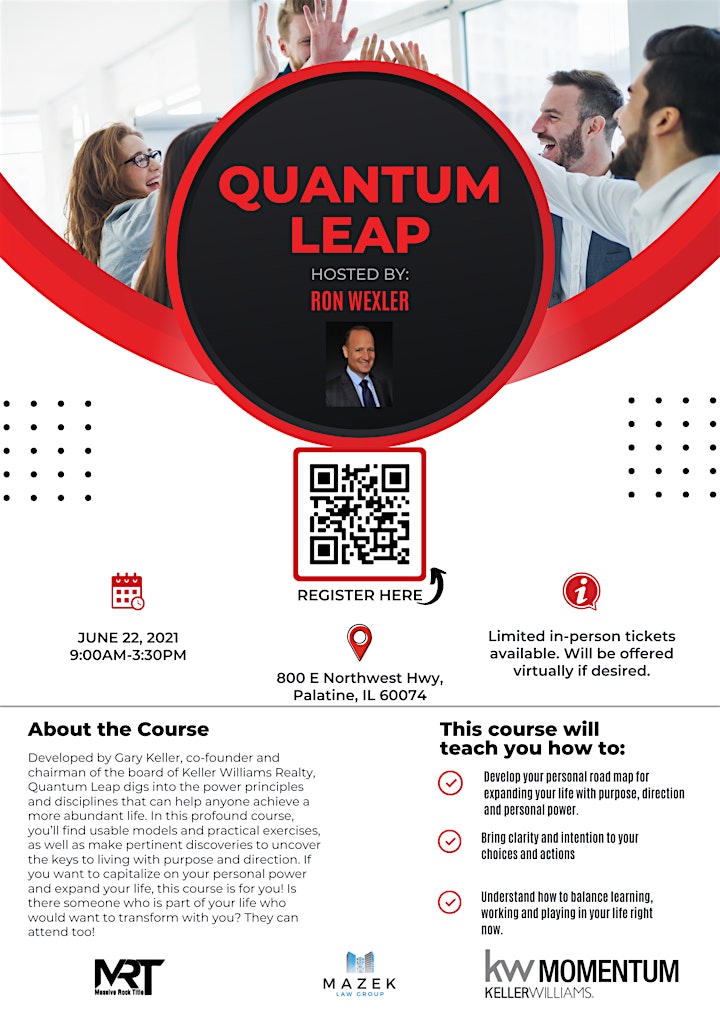 ABOUT RON WEXLER
Since 1984 Ron Wexler has closed over 3,500 homes, and while that is amazing, the most amazing part is many of those years he did it working 42 hours a week. He loves to share key tips and tricks to maintaining a healthy balance between work and his personal life!
Ron's success in the industry has given him the opportunity to invest, launch and help grow 6 KW offices in 5 different states. In 2017 he became the Operating Partner of Keller Williams Momentum in Palatine, IL, which continues to outpace other brokerages in the area as well as their own numbers from previous years.
Ron also has over 20 years experience as a coach. First as a coach in the Mike Ferry Organization, then as MAPS coach with Keller Williams helping thousands of agents learn how to live a better life through having more fun, working less hours, and making more money.
Ron has worked as a panelist or facilitator for the following events:
1. Family Reunion
2.Mega Camp
3. Masterminds
With all of these accomplishments in his back pocket, Ron Wexler is also a member of the Gary Keller Invitation Only Top Agent and Top Leader Masterminds.
Ron is the perfect host for Quantum Leap Out of COVID. His industry knowledge and anecdotes for just about any situation, is exactly what we need to get us thinking about the power principles and disciplines that can help anyone achieve a more abundant life.
FAQ
Q: HOW MUCH IS THIS EVENT?
A: This event is 100% free. Our sponsors have graciously offered to cover the expenses to get agents back in the groove!
Q: IS THIS EVENT IN-PERSON OR VIRTUAL
A: Both; Though this event is designed for in-person teachings and interactions, therefore we encourage enrolling early to reserve a seat. We understand that COVID is still present therefore we are offering this course both in person and virtually.
Q: IF I AM ATTENDING VIRTUALLY WHAT DO I DO
A: Keep an eye out in your email for a link to the Zoom Meeting a few days before the event. You will receive both a link and a workbook through this email.
Q: WHAT ARE THE PERKS OF ATTENDING IN PERSON?
A: This course is designed for interaction therefore in-person is always the best way to go about this. If that wasn't enough to reel you in, our sponsors will be providing lunch for up to 40 attendees. SO grab your ticket early to take advantage of free food!
Q: WHAT ARE THE COVID RESTRICTIONS AND RULES?
A: If you are fully vaccinated face coverings are optional in our office. The building still requires a mask if you are roaming outside of our office! If you are not vaccinated we kindly ask that you wear a mask. This situation continues to evolve therefore if anything changes we will update this site our inform you in a timely manner! Please stay home if you are feeling unwell!
Q: Who will this class benefit most?
A: Anyone that wants to experience a Quantum Leap Out of COVID. Also anyone who is interested in minimizing stress, growing their business, and nurturing their relationships.
Q: Can I share this invitation
A: This course is open to any licensed Real Estate Agent- Attendees will be from several different local offices.