QUANTUM CONSCIOUSNESS IN DISCLOSURE MARCH 19-21, 2021 LAS VEGAS, NEVADA Westgate Las Vegas Resort & Casino 3000 Paradise Rd, Las Vegas, NV
About this Event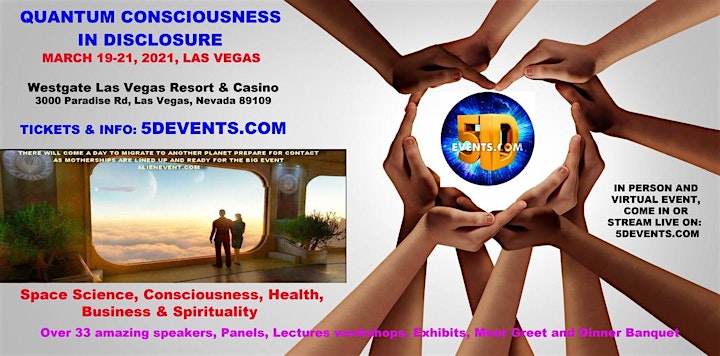 QUANTUM CONSCIOUSNESS IN DISCLOSURE
MARCH 19-21, 2021
LAS VEGAS, NEVADA
Westgate Las Vegas Resort & Casino
3000 Paradise Rd, Las Vegas, Nevada 89109
4 DIAMOND STAR HOTEL (formerly Hilton hotel, Elvis favorite hotel)
This event is in Person and Virtual, Website: http://5devents.com
Event Ticket sales: http://5devents.com/id143.html
VIP FULL EVENT TICKET: $1000
Early Bird Tickets: $199, Door ticket: $500
Live Streaming: $93
New Humanity Movement & 5D EVENTS
Expo Conference for Professionals & Consumers
5D events with 5 Dimensions of Science, Consciousness, Health, Business & Spirituality invites you to their 25TH epic 3-day event:SPACE SCIENCE, MEDICINE, CONSCIOUSNESS, BUSINESS & SPIRITUALITY
Our past events: https://youtu.be/WL4R-wLjWu4COVID-19: 5D EVENTS follows CDC Guidelines and the states of Nevada mandate for safe events. We do our best to assure all a healthy environment to protect our attendees.
There is a forehead temperature check at the door and anyone with fever 100.4 F or above and or COVID Symptoms will be send home by NEVADA GOV Guideline (normal body temp is 97 F or 99 F) please have mask on.
5D Events are about amazing 3-day epic 5D event is about creating a better future with Quantum consciousness, Space Science, ET Disclosure, Functional Wellness, Scalar Research and Technology, Stem Cell Research, Cancer research, Anti-Aging, Anti-Cancer, DNA Activation, Longevity, Quantum Healing, Tesla Technology, Agenda 21, Survival of Humanity, Biological Architecture, Pyramids, Artificial Intelligence, Secret Space Programs, Time Travel, ET contact, Business Leadership, CO-Creating a new Paradigm with a 2.0 humanity, Personal Empowerment, Awareness, Transformation, Gratitude, Sacred Geometry, Spirituality & Life Mastery with many Lectures, Workshops, Panels, Exhibits, Friday Night Speakers meet and greet party & Saturday Night Banquet Dinner party.
Networking of Scientists, Space Scientists, Disclosure groups, Lightworkers, Star Seeds, Consciousness groups, Quantum Medicine Researchers, Biomedical Companies, Tesla Science researchers, Medical Doctors, Chiropractors, Acupuncturists, Homeopaths, Licensed Herbalists, Naturopaths, Health Practitioners, Nutritionists, Physical Therapists, Nurses, Psychiatrists, Psychologists, Dietitians, and healthcare practitioners. Please join us at this amazing 5D event with diverse audience and amazing speakers with exploration of the five precepts which we consider to be fundamentally allowing ourselves to Quantify further & gauge the following "Health, Wellness, Science, Biomedicine & Quantum Healing". Within these three days, we shall have the most prominent keynote speakers in each area of those dimensions which will discover and engage with workshops, lectures & panels on some of the most prominent questions in our lifetime.
***Event hours:
Registration starts at 8 AM daily and event starts at 9 AM till 11 PM daily Sunday ends at 8 PM
SPEAKERS: TO BE ANNOUNCED
TICKETS:
***5D VIP FULL EVENT TICKET: $1000
VIP Ticket includes all lectures, workshops, panels, meet and greet party, dinner party, front row seats, full set of event DVDs
Event 3 days door tickets are $500 (covers all lectures, Panels, workshops & exhibits)
Friday Meet and Greet party (includes finger food and cash bar with soft music) is extra $80
Saturday Dinner party is extra $100
***Early Bird Tickets start at $199 and keep going up every 1ST of the month up $500 at the door.
***Live Streaming only main conference room is $93
ET Disclosure ALIENSHIFT Panel
Friday March 19TH, 2021, from 6:00 PM to 8:00 PM
***Meet & Greet party
Friday night from 8 PM to 10 PM, appetizers with cash Bar & soft music.
***Special event:
Saturday OCT 24TH, 2020, from 6:00 PM to 8:00 PM
Current Events in Plandemic Panel***Banquet Dinner Party:
Saturday Dinner from 8 PM to 10 PM***Special event:
Sunday March 21ST, 2021 from 6:00 PM to 8:00 PM
Achieving Results closing Panel***Hotel sleeping rooms
***5D EVENTS Group Room rates are $79 for Thursday and Sunday per night and Friday & Saturday night are $119 above rates are for 1 or 2 person more than 2 people in the room there is a $35 per person charge per night (max per room 4 people).
RESORT FEE
The Resort Fee has been WAIVED for our 5D events group attendees. The Resort Fee provides guests with several of the most requested additional services in one package price without being charged several individual fees. The items included in the fee are:
• Wireless Internet access for three devices (excluding the convention area)
• Cardio Room access for up to two adults
• Use of in-room safe
• Local and toll-free domestic (800) calls
CUT-OFF DATE
All rooms provided in this room block will be reserved on a definite basis upon signing of this contract. In order to assign rooms to your attendees, all room requests must be received by the HOTEL on or before the cut-off date of February 24, 2021. Members of your group may still request rooms after the cut-off date and will be subject to the HOTEL's availability at prevailing room rates.
ROOM RESERVATIONS
METHOD: ONLINE & CALL-IN RESERVATIONS
Online weblink for reservation will be published soon
Currently, the HOTEL is pleased to offer the use of our online group reservations system powered by Passkey. All reservations will be made, modified or canceled by individuals online at a URL to be established and published to potential attendees through meeting website or through email. By providing the group name, individuals will also be able to make reservations by calling 1-800-635-7711 between the hours of 6:00am to 11:00pm (EST) daily. Reservations must be made on or before the cut-off date of February 24, 2021 in order to be eligible for the group rate.
EXHIBITS:
OVER 50 EXHIBITS HOURS FROM 9 AM TO 6 PM DAILY
***6 FEET TABLES EARLY BIRD $379 AND AFTER FEB 1ST, 2021 THEY ARE $500
***10 X10 BOOTH EARLY BIRD $1500 AFTER FEB 1ST, 2021 THEY ARE $2000
***10 X 20 Booth Early Bird $2500 AFTER FEB 1ST THEY ARE $3000
Please apply by sending business info to: david@5devents.com
***Director of the event: David Farman (david@5devents.com) Phone: 1-310-908-6682
Technical Directors: Dennis Whipple & Alan Bedian
Event Group on Facebook: https://www.facebook.com/groups/5DEVENT
Media contact: please email Director of the event, David Farman:
David@5devents.com or call 1-310-908-6682