QUANTIC ● Paia Halloween ● Charley's Rest. & Saloon

Thursday, October 31, 2013 at 9:00 PM (HST)
Event Details
Tickets Will Be Available At the Door
When Online Sales End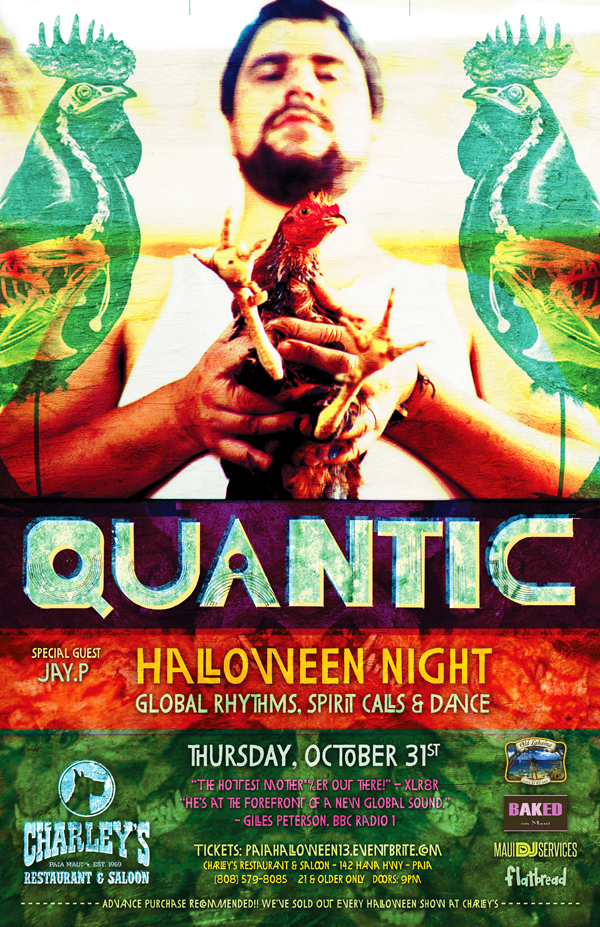 "The hottest mother*%er out there!" – XLR8R
"He's at the forefront of a new global sound."
- Gilles Peterson, BBC Radio 1
"Holland's tropical rhythms and South American sounds have always brought me back to sticky summer nights." – NPR
"Writer, producer, DJ, bandleader – Quantic is a man of many talents and many successes." – Spinner

 
VIDEOS:
• Quantic & Alice Russell – 'Look Around the Corner – Live'
• Quantic Soul Orchestra – 'Pushin' On'
• Quantic, Nickodemus – 'Mi Swing Es Tropical'
Mahalo to our sponsors for helping bring great LIVE music to Maui!!
SHOW PREVIEW
Whether summoning beats from his hard drive or arranging Latin orchestras in his adopted home of Cali, Colombia, Quantic, an umbrella name for UK-born, Will Holland, never misses the mark - garnering worldwide acclaim for taking on seemingly any genre of music and churning out organic sounds that resonate deep in your soul.  His rise to iconic status amongst beat makers and traditional musicians alike, began over 15 years ago, in meteoric fashion, with the release of his debut album, 'The 5th Exotic,' taking over dance floors throughout Europe by blending Jazz, Funk and Afro beats into songs that feel as though they were created by an exquisite band right before your eyes.  Fast forward to today, and Holland has flipped the script - trading digital 1's & 0's for microphones with his recent project, Quantic y Su Combo Bárbaro, a collection of all-star musicians performing Afro-Columbian and other Latin music and drawing comparisons to Buena Vista Social Club.  And of course, Holland doesn't hibernate only in the recording studio.  His sets as a live DJ are famous for instilling his burning musical passion into the hearts of all in attendance.
"Whenever I think of Quantic," states co-promoter, Mark Tarone, "Ry Cooder and Rick Rubin come to mind.  Like Cooder, Quantic can bring out the best of any genre of music, and like Rubin, Quantic cuts to the heart of the matter - creating music that always feels pure and good."
Throughout his career, Holland has been as prolific as he's been diverse - releasing a great number of singles and remixes plus over ten full-length albums through the label, Tru Thoughts (visit http://www.quantic.org/music for a comprehensive look & listen).  The full-lengths have been spread across six different projects ranging from his DJ/Producer/Remixer moniker that has packed dance floors from Bulgaria to Buenos Aires, Quantic, to Latin-tinged, reggae and dub exploration, Flowering Inferno, to a full-out soul band, The Quantic Soul Orchestra, to the aforementioned Quantic y Su Combo Bárbaro, his latest live band project featuring a carefully assembled international cast including virtuosic salsa pianist Alfredo Linares and Pacific folklore singer Nidia Gongora.  The band provides a bold snapshot of an ever-evolving musical landscape in the Americas.
As the year 2013 roars forward, Holland has made clear that he has no plans of slowing down.  The spring saw him embark on a US solo (DJ) tour; summer brought a 22-date run throughout Europe with his other Latin live band, Ondatropica (including a stop at mega-festival Glastonbury); and all along the way, he's released a smattering of singles to keep worldwide fans cheery; then, just this week, he announced that he'll soon step back into his electronic world with a forthcoming tech-heavy, contemporary album with Gongora (visit http://www.quantic.org/news for a full listing of Holland's exploits) 
The journey continues on Halloween night, Thursday October 31st, when Holland makes his Maui debut at Charley's Restaurant & Saloon in the form of Quantic, DJ extraordinaire.  Rest assured the costumed-filled dance floor will be a cauldron of euphoric bliss, but what type of music will propel the buzz is anybody's guess.  As Holland explains, "I try to make music that encourages people to explore outside of their usual listening circles and check scenes and genres they may otherwise never be exposed to." 
One can only hope that during Holland's days on Maui leading up to and following his Halloween night mele, the music of Hawai'i strikes a chord with the ever-curious producer.  As great as it is to at last host a live performance by Holland, having him explore our musical roots via recordings would almost certainly lead to everlasting delight.
When & Where

Charley's Restaurant & Saloon
142 Hana Hwy
Paia, HI 96779


Thursday, October 31, 2013 at 9:00 PM (HST)
Add to my calendar
Organizer
T-Rx Entertainment, LLC
T-Rx Entertainment has been producing events in Hawai'i for over 10 years.
Each year, we produce the Hallowbaloo Music + Arts Festival in Honolulu and roots concerts around the state. Past shows include Booker T. Jones, Edward Sharpe & the Magnetic Zeros, Diplo, 
Maceo Parker,
Xavier Rudd,
 Allen Toussaint, 
Big Freedia, Nahko and Medicine for the People,
Z-Trip, Steve Gadd, Cut Chemist, Greensky Bluegrass, 
Anders Osborne,
David Lindley, Gaudi, Jake Shimabukuro, Quantic, Brett Dennen, Ozomatli, Rebirth Brass Band, Warpaint, 7 Walkers (feat. Bill Kreutzmann & Papa Mali), Luther Dickinson, Iyeoka, Blitzen Trapper, Jon Cleary (with Steve Ferrone and Reggie McBride), Delta Spirit, John Cruz, The New Mastersounds, Mad Professor, Mike Love, Old Blind Dogs, Eddie Bo, Man Man, Big Chief Monk Boudreaux, Dengue Fever, Baths, The Budos Band, Paper Diamond, The Helio Sequence, Taimane, Benzi, Ursula 1000, DJ Logic, Jeremy Sole, Eric McFadden, Larry and Jenny Keel, Dj Low Down Loretta Brown (aka Erykah Badu), Charlie Hunter with Scott Amendola, and more.
QUANTIC ● Paia Halloween ● Charley's Rest. & Saloon