Description
Nectar & SolidSound present:
QUANNUM MC's
(Blackalicious, Lyrics Born, Latyrx, Gift of Gab, Chief Xcel & Lateef)
Draze & The Ancient Robotz
$22 - $30adv
QUANNUM MC's (Blackalicious, Latyrx, Gift of Gab, Lyrics Born, Chief Xcel & Lateef The Truthspeaker)
Website

One of the West Coast's most legendary Hip-Hop collectives make their long awaited reunion this

December 30th

at the Nectar Lounge in Seattle: Quannum. Come celebrate the new year at this not-to-miss show.

Both a label (Quannum Projects) and a collaborative concern, Quannum brought together the brightest talents from the former SoleSides label: Lyrics Born and Lateef the Truth Speaker (from Latyrx), Chief Xcel and Gift of Gab (from Blackalicious), and DJ Shadow. An artist-run label, SoleSides was founded in 1992 at KDVS, the college radio station for
the University of California-Davis, with most of the above artists involved, plus mentor DJ Zen (Jeff Chang). Its first release, DJ Shadow's 1993 slab "Entropy," gained a worldwide profile after tastemaker James Lavelle released it on his Mo' Wax label.

SoleSides hit with further releases like Blackalicious' Melodica EP (also licensed to Mo' Wax) and the self-titled debut single by Latyrx. By 1997, SoleSides had become Quannum Projects, and the label debuted with a masterstroke, the brilliant collaborative Quannum Spectrum, including a bounty of West Coast underground talent -- Jurassic 5, Divine Styler, Souls of Mischief, and Poets of Rhythm. Quannum Projects continued releasing records, including full-lengths for Blackalicious (NIA) and Poets of Rhythm (Discern/Define), a single by Spectrum contributor Joyo Velarde, and most rewarding of all, the two-disc history lesson SoleSides Greatest Bumps.

Don't miss your chance to see these legendary MC's, each prominent forces in Hip-Hop in their own right, "form like Voltron" for an unforgettable night of collaborations you won't soon forget.
Draze & The Ancient Robotz
The Ancient Robotz is a collaboration of talents. Members include Art B, Jaisen Buccellato, Dylan Hughes, Jason Lamar Chanbliss, Michael Avery-Jarrel Darby, Ngoni, Minami Fukuda and Audiopoet. Harmonies created by three soulful singers, the beatbox Audiopoet lays down, and the groove the band produces make your body move constantly.
The Bad Tenants
The Bad Tenants write dope raps and play instruments and sing blues and spin vinyl and combine it all for a sound that's soulful and unique.
The live show is memorable.
See it for yourself and you'll understand.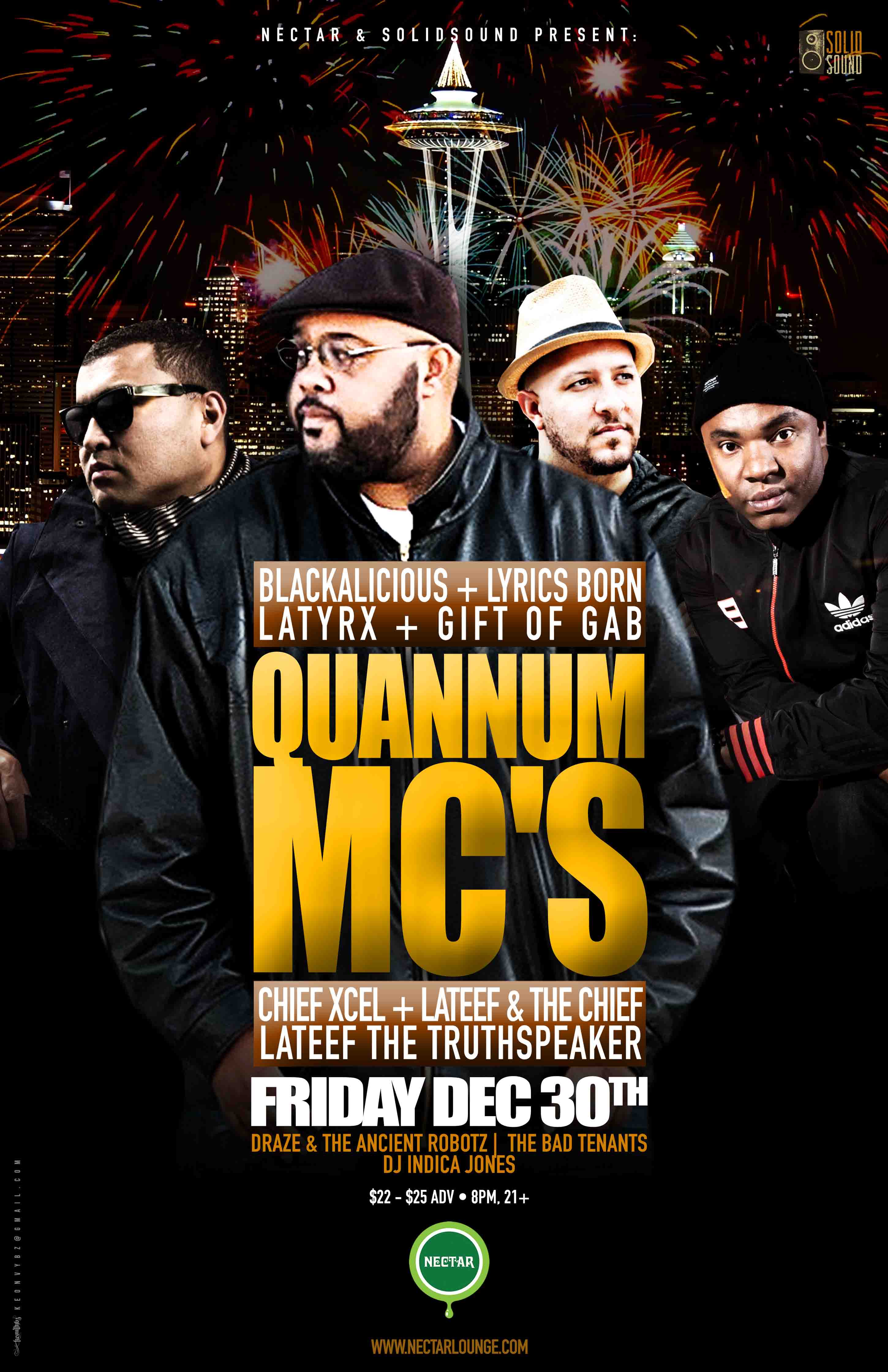 Performers
Date and Time
Location