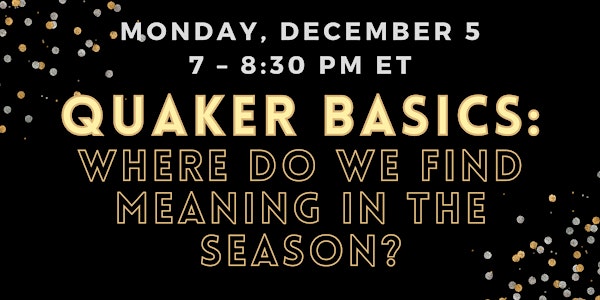 Quaker Basics: Where Do We Find Meaning In The Season?
With special welcome to folks new to Quaker faith & practice, we'll hear some personal reflections from Friends, then reflect and discuss.
About this event
The Quaker Basics series focuses on topics at the core of Quaker faith & practice, and especially welcomes those who are new to Quakerism, as well as longtime attendees who wish to reflect with a beginner's mind.
In the first hour, you'll hear some basic Quaker concepts, and hear a panel of Friends share personal reflections. Then, we'll have 30 minutes of reflection and discussion to close out the evening.
All perspectives and questions are welcome!
THIS MONTH'S TOPIC: WHERE DO WE FIND MEANING IN THE SEASON?
Christmas, Advent, New Year, Chanukah, solstice, and more...it's a special time of year for many Quakers. Warning! A wide variety of experiences may ensue, including but not limited to: joyful; lonely; fun; meaningful; exhausting; silly; holy; frustrating; invigorating; all of these; none of these.
Whichever holidays you choose to observe...
...what meaning do they have for you?
Whether you are celebrating with your children, reconnecting with extended family, investing in meaningful time with friends and community, or saving time for solitary practices...
...what kinds of connection are possible at this time of year?
In a time of year that can be full of hustle and bustle, and the pains and joys of giving and receiving...
...can we connect with what our own inner guides have to offer us around simplicity, integrity, and community?
If you are hungry for some centering time with fellow seekers just as the holiday season begins to pick up steam, please join us for a lively and grounding discussion.
//////////
WHAT TO EXPECT & HOW TO PARTICIPATE:
This event takes place online using Zoom. The first hour will also be recorded and released for video viewing after the event.
You can expect a group of about 15-40 participants in the Zoom room, with at about half of registrants being fairly new to Quakerism (ranging from "never attended" to "I've been around for a year or more but I still feel new!"). You'll be invited to offer your perspectives and questions if you wish, but can also just listen if you prefer!
If you're wondering what it will be like, you can always check out the video of our most recent session here: https://www.youtube.com/playlist?list=PLH32jw9M1rDUOCmLRd19Ivt7SF5jiG_2Q
//////////
ABOUT QUAKER FAITH & PRACTICE:
Quaker Meeting for Worship is rooted in silence, but the silence is not emptiness—rather, Friends gather in expectant waiting. We believe that there is "that of God" in all people, and through Meeting for Worship, we make space to encounter it. Anyone at a Quaker meeting might be led to speak; ministry and encounters with Spirit may also occur in silence.
More: https://neym.org/beliefs/faqs
ABOUT FRIENDS MEETING AT CAMBRIDGE (FMC):
FMC is a gateway to Quakerism in New England and beyond. Our meetinghouse is located near Harvard Square in Cambridge, MA, USA, and we also welcome folks from all over the world via Zoom. We are a large community, with about 100-125 attendees each Sunday morning, and we especially welcome newcomers. https://fmcquaker.org/you-are-welcome-here/
//////////
ACCESSIBILITY & INCLUSION:
—You may participate via Zoom or phone, with or without video. Live auto-transcripting will be enabled.
—You are invited to share your pronouns if you wish.
—If you have additional accessibility or inclusion needs, please email spiritualed@fmcquaker.org.
WATCH PREVIOUS SESSIONS:
https://www.youtube.com/playlist?list=PLH32jw9M1rDUOCmLRd19Ivt7SF5jiG_2Q