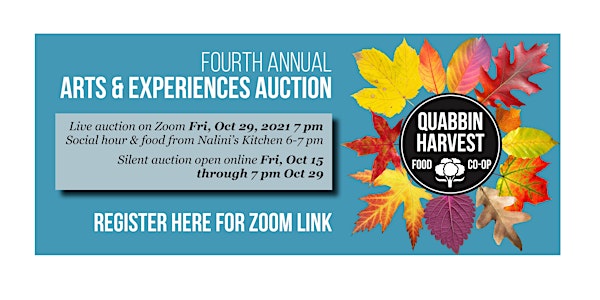 Quabbin Harvest 2021 Auction
Join Quabbin Harvest Food Co-op for our 4th Annual "Arts & Experiences" fundraising auction to benefit the work of the co-op.
About this event
Our annual auction showcases the creativity and generosity of our co-op community in the North Quabbin region of Massachusetts. Proceeds support our goal of building a vibrant local food business while making good food from close to home affordable for as many people in our community as possible. Due to ongoing COVID-19 concerns we're once again holding this year's auction virtually, with three components:
a Silent Auction starting Fri, Oct 15 and wrapping up at 7 pm on Fri Oct 29
a warm-up Social Hour on Zoom before the Live Auction starts (6-7 pm on Fri Oct 29), with a guest appearance by storyteller Norah Dooley
a Live Auction on Zoom from 7-8 pm on Fri, Oct 29, with auctioneer Michael Humphries
and a special option: a grazing box of finger foods from around the world, made in Nalini's Kitchen and available to order by 7 pm Tues, Oct 26 and pick up after 2 pm on Fri, Oct 29 to enjoy at home during our Zoom social hour (6-7 pm)
Register here to receive the Zoom link for the Live Auction shortly before 6 pm on Oct 30.
Visit the auction catalog here and bid on Silent Auction items starting Oct 15.
Check out Live Auction items in the catalog and get ready to bid starting at 7 pm on Oct 29!
You can also donate directly on a one-time or recurring basis to support Quabbin Harvest here.