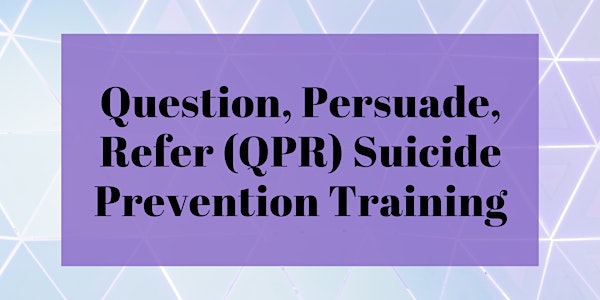 QPR (Question, Persuade, Refer)
Learn a set of suicide prevention skills that will help save a life.
About this event
Presenter: Beth Zietlow-DeJesus, ADAMHS Board Director of External Affairs
Online training via Zoom
QPR- Question, Persuade, Refer Suicide Prevention Training
If a friend, co-worker, or family member is showing signs of suicide, do you know what to do or say?  Everyone has a role to play in suicide prevention.  During this unprecedented time of COVID-19, we must increase prevention efforts to provide support and instill hope for those at risk of suicide. 
The ADAMHS Board is offering  FREE QPR – Question, Persuade, Refer training in support of Suicide Prevention Month.  QPR is an Evidenced Based Practice Model that teaches three simple steps that anyone can learn to help save a life from suicide.  The training will raise awareness about suicide, dispel myths and misconceptions and teach warning signs of suicide followed by QPR Gatekeeper intervention.
The QPR training will be done via the Zoom on Thursday, September 29, 2022, from 1:00 pm to 3:00 pm