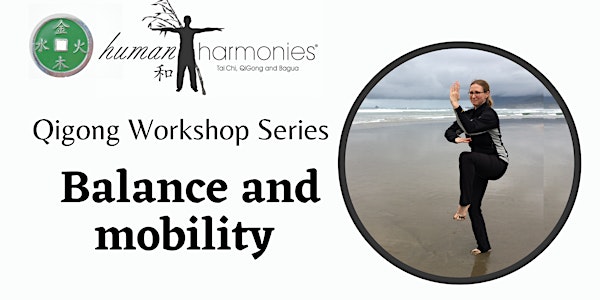 Qigong Workshop: Balance and Mobility
Learn Qigong movements to improve balance, stability, and mobility.
Refund Policy
Contact the organizer to request a refund.
Eventbrite's fee is nonrefundable.
About this event
As we get older, fall prevention becomes very important. Falling is the leading cause of injuries and death in the US in adults 65 and older(1). According to the National Council on Aging, falls are not a normal part of aging; most falls can be prevented by taking simple steps including an appropriate exercise regimen(2).
Qigong
Qigong uses low-impact movements that combine balance, strength, and flexibility training. Multiple studies have demonstrated that Tai Chi and Qigong have many health benefits including improved balance. We conducted our own study at our Swampscott location in Massachusetts, in collaboration with Dartmouth-Hitchcock and Zen Wellness(3), and found that participants' balance and mobility improved by 25% on average after 12 weeks of doing the movements.
The movements presented in this workshop are gentle on the body and joints and can be done at different intensities making it suitable for people with a wide range of physical abilities.
Workshop description
The 1-hour workshop will focus on Qigong movements used to improve stability, mobility, and balance. It will start with a short lecture, followed by learning specific movements. The workshop is recorded, and participants will have access to the recording for 1 month after the lesson.
No prior experience needed. Well suited for beginners.
Attending the workshop
After registering, you will receive an email with a link to attend the live lesson on Zoom. The lesson will be recorded, and the recording will be emailed after the lesson for those who missed the lesson or want to review the information. The recording will be available for 1 month.
References:
(1) Bergen, G., Stevens, M.R. & Burns, E.R. (2016). Falls and fall injuries among adults aged≥ 65 years—United States, 2014. MMWR. Morbidity and mortality weekly report, 65, 993-998. DOI: http://dx.doi.org/10.15585/mmwr.mm6537a2.(2) National Council on Aging. (2017). 6 steps to prevent a fall [Infographic]. Retrieved from https://www.ncoa.org/healthy-aging/falls-prevention/preventing-falls-tips-for-older-adults-and-caregivers/take-control-of-your-health-6-steps-to-prevent-a-fall/(3) Stahl, J., et al. (2020). Medical Qigong for mobility and balance self-confidence in older adults. Frontiers in medicine. Volume 7, article 422
Release of Liability
I consent to voluntarily participate in Human Harmonies', Human Harmonies Northwest's and Boreale Wellness LLC's, (individually and collectively, the "Releasee") class with knowledge of the danger involved and assume any and all risks of injury, death, or property damage. I acknowledge that I am physically fit to participate in Releasee's class. I, on behalf of myself, my heirs, next of kin, executors, administrators, and assigns, hereby release and forever discharge Releasee, their respective employees, agents, officers and members, heirs, administrators and executors from any and every claim, demand, action, right of action whatsoever, kind or nature, either in law or equity, arising from or by reason of any bodily injury or personal injuries, known or unknown, death and/or property damages resulting from, or to result from any accident which may occur as a result of my participation in martial arts instruction with Releasee, or any activities in connection with martial arts instruction with Releasee whether by negligence or not.